ECB Warns of Risks to Banks
As the NYT reports, the ECB is concerned that European banks are at increased risk of failure due to the ongoing economic contraction and that another banking crisis could be in the offing, in spite of the fact that sovereign debt risks have gone away for the moment:
The European Central Bank warned on Wednesday that the euro zone's slumping economy and a surge in problem loans were raising the risk of a renewed banking crisis, even as overall stress in the region's financial markets had receded.

In a sober assessment of the state of the zone's financial system, the E.C.B. said that a prolonged recession had made it harder for many borrowers to repay their loans, burdening banks that had still not finished repairing the damage caused by the 2008 financial crisis.

Last year "was not a good year for banks at all," Vítor Constâncio, the vice president of the E.C.B., said Wednesday.

While the E.C.B., as customary, did not mention specific banks, it said the most vulnerable were those in countries with high unemployment or falling house prices. That list would include Italy, Spain, Greece and Portugal among others. But ailing banks are also a problem in stronger countries like Germany, where Commerzbank and publicly owned landesbanks, or state banks, are struggling with bad loans to the shipping industry and other problems.

Germany has drawn criticism for lecturing other countries on excessive government debt, while trying to protect its own banks from greater scrutiny. "They are very virtuous when they look at national accounts but less when they are looking at their own banks," said Stefano Micossi, an economist who is director general of Assonime, an Italian business group.
We have included the comment about German banks because many of the biggest ones are among the most highly leveraged banks in the world. They are lucky that Germany has skirted the crisis so far, but obviously that doesn't mean that they aren't exposed to a lot of risk.
Investors Remain Sanguine For Now

Investors are currently still quite sanguine about European banks, as our bank CDS index shows (see below). Similarly, share prices of European banks remain buoyant, as evidenced by the Euro-Stoxx bank index. However, they remain far below their former highs and are a long way from recovering the ground U.S. bank stocks have recovered by comparison.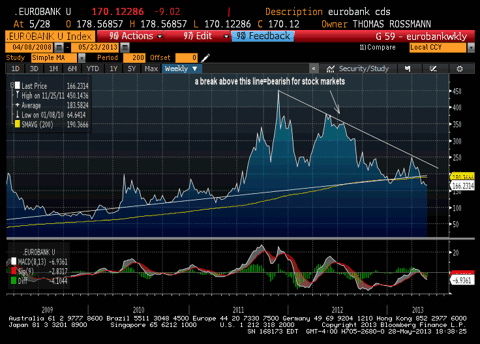 Our unweighted index of 5-year CDS on 8 major European banks (BBVA, Banca Monte dei Paschi di Siena, Societe Generale, BNP Paribas, Deutsche Bank, UBS, Intesa Sanpaolo and Unicredito) – still heading lower.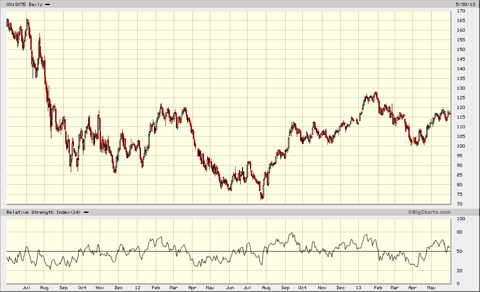 The Euro-Stoxx bank index remains firm for now.
As Fitch recently reported, U.S. money market funds have also once again increased their exposure to commercial paper issued by euro area banks. From Fitch's report:
After retreating in March, U.S. prime money market fund (MMF) exposure to eurozone banks rebounded in April (see chart, Eurozone Bank Rebound). As of end-April 2013, money fund allocations to eurozone banks represented 15.1% of assets under management within Fitch Rating's sample of MMF assets, a 14% increase relative to end-March. Since the end-June 2012 trough, money fund allocations to eurozone banks have almost doubled on a dollar basis, a sign that investor sentiment to the region has substantially improved after last summer's European Central Bank actions.

Despite recent increases, MMF exposures to eurozone and French banks remain less than half of their end-May 2011 levels. Given the volatility experienced in the latter half of 2011, eurozone banks likely have a diminished appetite for this form of funding. Additionally, reductions in some banks' overseas lending have likely curtailed their need for U.S. dollar borrowing, including from U.S. money market funds.
(emphasis added)
In so many words, nothing can go wrong. Even at half the exposure of May 2011, U.S. money fund exposure to euro area banks (especially French banks) remains quite substantial. The greatest surge in U.S. money fund exposure has, however, been to Japanese banks. That is not necessarily a comforting thought at this point.
Charts by Bloomberg, BigCharts