By Todd McDonald, Analyst
Summary: The leading U.S. automakers are expected to post monthly sales on Monday, June, 3. Analysts are looking for an increase in sales of approximately 6%, compared with the year ago period. The anticipated strength can be partly attributable to Memorial Day Weekend discounts and an increase in pickup truck sales, which tend to correlate with the housing market. A stabilization of automotive sales will also allow the major firms to more accurately plan operations, which will improve the companies' respective bottom lines.
Overview: Ford Motor's (NYSE:F) hybrid sales have already surpassed its prior full-year record in the first 5 months of 2013. Crossovers have also been a popular option, according to KBB.com, due to new offerings such as the Ford Escape, along with reasonable gasoline prices. Truecar.com, in particular, is looking for a very strong month for Ford.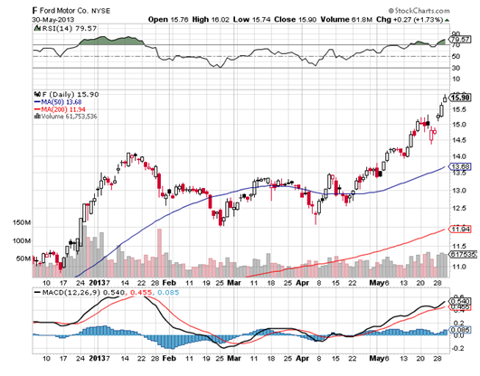 Technical Review: Ford's shares have significantly outperformed the broader market gauges, rising over 50% in the past year, versus the S&P 500's increase of just under 30%. The RSI is currently at an overbought reading of almost 80, which could suggest upside is limited in the near term. $16 is longer-term resistance, dating back about two years. Initial support is near $15, then $14.50.
Estimates
TrueCar.com: 20.1% (Source: Truecar.com)
Edmunds.com: 15.0% (Source: Edmunds.com)
Kelley Blue Book: 8.7% (Source: KBB.com)
Overview: General Motors (NYSE:GM) According to a post on StreetInsider.com, Goldman Sachs reiterated its Buy rating on General Motors after the last earnings release, citing improving margins, international expansion, and the firm's $19 bln in cash. GM also offers a solid lineup of pickups, which are expected to have a solid month.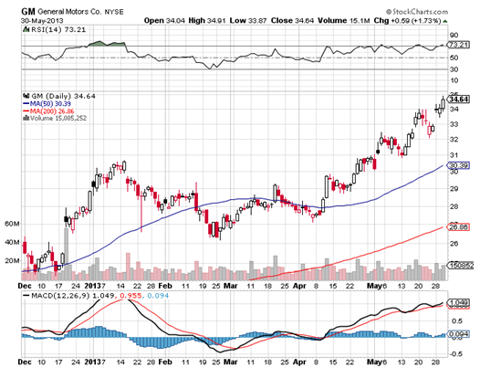 Technical Review: General Motors' shares have also outperformed the S&P 500, rising about 55% and 30%, respectively. Longer-term resistance at $33 has been surpassed, leaving only the $44 all-time high as the only reference point to the upside. The RSI is at an overbought reading near 73. If results disappoint, look for initial support near $34, followed by a potential gap-fill near $33.
Estimates
TrueCar.com: 8.5% (Source: TrueCar.com)
Edmunds.com: 5.2% (Source: Edmunds.com)
Kelley Blue Book: 5.6% (Source: KBB.com)
Disclaimer: By using this report, you acknowledge that Selerity, Inc. is in no way liable for losses or gains arising out of commentary, analysis, and or data in this report. Your investment decisions and recommendations are made entirely at your discretion. Selerity does not own securities in companies that they write about, is not an investment adviser, and the content contained herein is not an endorsement to buy or sell any securities. No content published as part of this report constitutes a recommendation that any particular investment, security, portfolio of securities, transaction or investment strategy is suitable for any specific person.
Disclosure: I have no positions in any stocks mentioned, and no plans to initiate any positions within the next 72 hours. I wrote this article myself, and it expresses my own opinions. I am not receiving compensation for it (other than from Seeking Alpha). I have no business relationship with any company whose stock is mentioned in this article.