What does Leading Brands, Inc. (NASDAQ:LBIX), a Canadian company with a $12.6 million market cap, have in common with Starbucks (NASDAQ:SBUX) and Apple (NASDAQ:AAPL)? Starbucks and Apple have each written their own remarkably successful turnaround story, and now it's Leading Brands' turn.
Since its foundation in 1986, LBIX had struggled to determine its purpose in the world. As of 2004, it was a "premium beverage company," which sold an array of fruit juice, tomato juice, energy drinks, and bottled water within Canada, the U.S., and Mexico. However, LBIX was achieving a trailing 12 months (TTM) gross margin of 27% and TTM net income margin of -3%.
Things began to change when LBIX introduced TrueBlue in November 2004. It realized there was significant demand for healthy beverage options and, in July 2007, LBIX redefined itself as a "healthy beverage company." The company had a purpose.
In 2008, when the U.S. entered its recession, LBIX faced increased slotting fees (the fee paid to the supermarket in order to have product on the shelves). LBIX realized it had overreached with its distribution network and could not afford to keep product on U.S. shelves. LBIX immediately reduced its distribution and focused on its core Canadian market. Although the top line has been cut in half, as of Feb. 28, 2013, TrueBlue and its subsequent iterations have helped LBIX achieve a TTM gross margin of 37% and TTM net income margin of 3%.
Today, LBIX is a fully integrated healthy beverage company, headquartered in Vancouver, British Columbia. It currently serves customers across Canada, the western United States, and Asia, with product lines including TrueBlue, PureBlue, LiteBlue, BabyBlue, and Happy Water.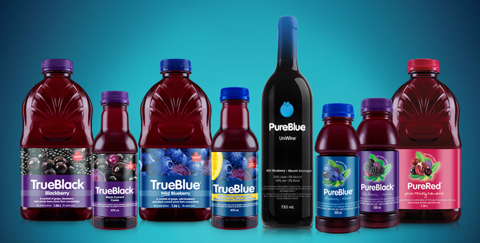 On Feb. 21, 2013, LBIX announced the Canada-wide launch of its new brand Happy Water. The product offers a blend of 100% pure natural spring and lithia waters, providing natural alkalinity (the ability for water to neutralize an acid). Many foods today create an acidic state within the body, creating stress. Happy Water claims to help offset this acidic state with its natural alkalinity.
Happy Water was initially launched in Vancouver, but has expanded as far west as Toronto. As of May 13, 2013, according to the Happy Water Facebook page, it is available at the following Canadian locations: Urban Fare, Choices, MarketPlace IGA, Nesters, Safeway, Save On, and Buy-Low. This expansion suggests that Happy Water is gaining traction among consumers and demand should continue to increase as brand awareness improves. The success of Happy Water will serve as a leading indicator regarding LBIX's ability to develop and promote healthy, high margin brands. LBIX currently maintains distribution channels throughout Canada, the western U.S, and Asia; however, unlike its juice offerings, which are offered in all three locations, Happy Water is currently being sold exclusively in Canada.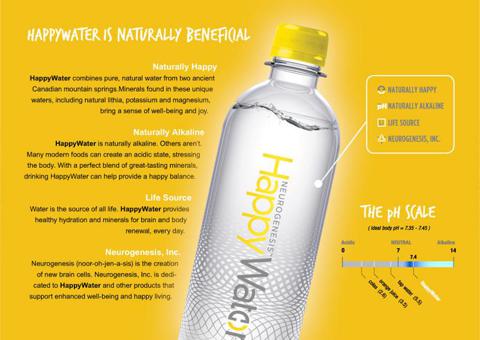 LBIX has partnered with a distributor to sell its products in Asia. Currently, TrueBlue is sold at Sam's Club in China (all products are shipped FOB Vancouver). The selling price is approximately $11 for a 1.89L bottle. We believe Chinese citizens are willing to pay a premium because Canadian and U.S. brands, especially within food and beverage, carry with them an inherent air of quality. Currently, over 90% of LBIX's revenue is from sales within Canada, which leaves enormous room for growth in Asia and other global markets. Combine this growth potential with an $11 price tag, and it becomes very clear that China represents an unbelievably lucrative market for LBIX.
LBIX derives its revenue from two main sources: 1) a major "co-pack" customer for which LBIX produces and bottles product upon request, and 2) distribution of its own branded juice and water products. It is attempting to reverse the current sales mix from what we believe to be approximately 60% co-pack and 40% branded products. As of Feb. 28, 2013, a single unnamed co-pack customer represented 83% of the company's total revenue. However, if we assume that the company is able to achieve 15% gross margin from its co-packing (consistent with competitor, Cott), and that 83% of total revenue is from co-packing, it would be impossible for the branded products (assumed 17% of revenue) to achieve a high enough margin to arrive at a combined 37% gross margin. This leaves only two explanations: 1) the company achieves greater than 15% gross margin on its co-pack products, or 2) the 83% of revenue from the largest customer contains a mix of co-pack and branded revenue.
We believe the largest customer contributes a mix of co-pack and branded revenue somewhere in the area of 60% co-pack and 23% branded. Logistically this makes sense, as the customer is already receiving a shipment of its co-pack product from the bottling plant; there would be little marginal cost for the customer to have branded product included in the same shipment. While there is risk in relying on a sole customer for 83% of revenues, we believe the relationship is secure due to the unique synergies each party receives.
The competitive advantage of LBIX is its ability to develop new and exciting product lines; in fact, its motto is "We Build Brands." LBIX has begun to pursue a healthy beverage brand development model rather than a beverage distribution model (successfully demonstrating this with the introduction of TrueBlue) and will continue to demonstrate this with the success of Happy Water. LBIX will not expand its physical bottling facilities, and thus will not expand its co-pack output. If branded products sales increase significantly, LBIX will have to license its products to other bottling companies in order to fulfill demand. This will also lead to a broader distribution network, which we believe could allow LBIX to penetrate new markets.
LBIX currently maintains 24 registered trademarks, some of which may relate to upcoming product launches. Those we believe relate to future products include Liquid Potential, and Think it. Drink it. Repeat. Both of these trademarks were registered March 2012 and are LBIX's most recent. We believe LBIX currently maintains multiple product lines at various stages of development. The trademark for Happy Water was initially filed on March 3, 2011, meaning that it took approximately two years from the date of filing to when the product was launched. Assuming a similar development period, it is realistic to expect LBIX could release the next product in March 2014.
Ralph McRae, president and CEO, has proved that he can develop high-quality products, and Milwaukee Private Wealth Management expects LBIX to continue launching new products at fairly regular intervals. McRae admits to making mistakes in the past but states that he has learned from his experience over the past 15 years in the beverage industry. We anticipate that McRae will continue to surround himself with intelligent management and leverage the unique experience of his board members.
McRae has returned the company to profitability and built a strong balance sheet. LBIX currently maintains zero debt, has significantly reduced its operating lease liability, and provided positive operating cash flow each of the last 17 quarters. LBIX has repurchased $4.9 million of outstanding shares over the last 11 quarters, which represented 24% of diluted shares outstanding. The risk of relying too heavily on management is, of course, whether the company can remain successful even after the CEO is gone. In 2008, Starbucks Founder and former CEO Howard Schultz had to return to the company in order to orchestrate the necessary turnaround, and Apple CEO Tim Cook is still struggling to fill the shoes of Steve Jobs since his passing in 2011.
The fact that the market has yet to recognize this turnaround story could potentially be attributed to:
Small market cap makes it impossible for a large institutional investor to own
Thin trade volume does not allow for timely and accurate valuation
LBIX is just beginning to write its story
Assuming LBIX is able to grow its branded product revenue by 25%, an extremely conservative figure for a small company with a strong product pipeline, earnings per share could grow to approximately $0.50. Maintaining the current P/E ratio of 14.5x implies a potential stock price of $7.25.
Leading Brands was once a struggling distributor, unsure of its purpose. Ralph McRae has since found its niche, transforming it into a healthy beverage brand development company with a product pipeline capable of producing gross margins far in excess of 40%. LBIX remains an overlooked and undervalued issue; however, it will not remain so for long-Leading Brands has begun to write its story.
Disclosure: I am long LBIX. I wrote this article myself, and it expresses my own opinions. I am not receiving compensation for it. I have no business relationship with any company whose stock is mentioned in this article.
Disclaimer: The security described in this article is owned by the contributor and clients of Milwaukee Private Wealth Management, Inc., an investment management firm owned by the contributor. Thus, the contributor has a financial interest in any future price increase of the security.