Recently Lions Gate Entertainment Corp. (LGF) reported fourth quarter earnings, figures that included $785.7 million in revenue and 66 cents in earnings per share for the fiscal fourth quarter - easily ahead of what Wall Street was looking for. According to Bloomberg News, Wall Street analysts were looking for $447 million in revenue and earnings per share (on an adjusted basis) of 44 cents. Although shares of LGF popped 3% after the earnings report, shares fell by 41 cents on the day due to negative expectations prior to the report.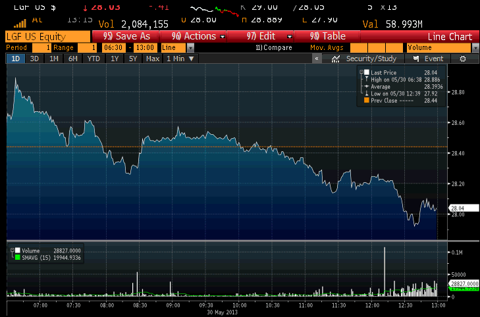 Having said that, we can't just ignore the incredible run that LGF has been on. From the chart below, we can derive a year-to-date return that exceeds 70%.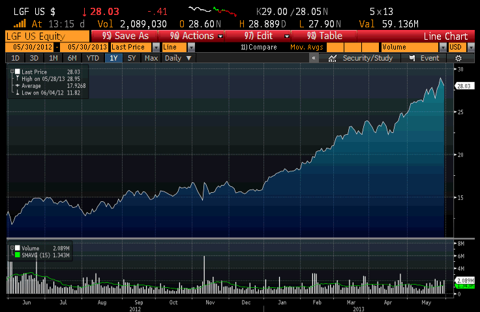 Comparative Performance
Comparatively, LGF has outperformed its peers in sales, earnings and share growth. Attached below are comparative figures on Cinemark Holdings Inc. (NYSE:CNK), Regal Entertainment Group (RGC) and DreamWorks Animation Inc. (NASDAQ:DWA).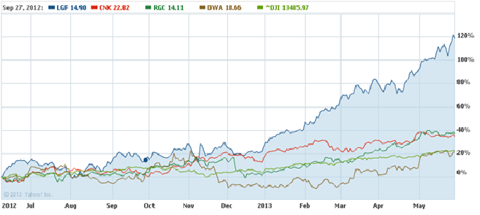 Movie Segment Remains Crucial to the Business
LGF's big franchises - although in different parts of the universe now - contributed to top line sales figures exceeding analysts' expectations. "The Twilight Saga: Breaking Dawn Part 2," grossed $812 million in worldwide ticket sales after its release in November. The reason why I say the franchises are in "different parts of the universe" is because each individual franchise is in different stages of the entertainment pipeline. Some are in theaters or will be in theaters again, while others are already available on demand. This strategy helps to create and re-create buzz throughout the year which may have contributed to the company's incredible stock rally.
Some installments, especially "The Hunger Games" and "Twilight" franchises, have helped the home entertainment business grow while, at the same time, fueling overall box office revenues. TV production, although nothing close to what movies generate in terms of revenue, remains a very integral part of the overall business.
Resurgence of TV Production Required to Lift Share Price Higher
As mentioned, the TV segment is still an important part of LGF's overall business. Having said that, I believe the underperformance of this segment is a cause for concern for investors. There has been a YOY decline in revenues for LGF's TV segment in part due to the licensing deals from "Mad Men," which is produced in partnership with Netflix. The problem with LGF is getting sufficient funding for the rights to the different TV shows.
Questions Going Forward
I think the question going forward is what additional "big hits" will LGF cook up for the rest of the year? Will these products have the same kind of feel as the "Hunger Games" and "Twilight" franchises? Or will they take the other, less profitable, route and produce another "Madmen?" Of course, the next installment of "The Hunger Games" will be out this fall so people will have high expectations for that as well.
Another key item that investors are asking for is solid forward-looking data on how they plan to sell the rights to some of their movies. The company spoke at the Big Cannes Film Festival and highlighted some of these plans but I think more opportunities are available for the company. They mentioned distribution deals right now are close to a quarter of a billion dollars, but there are film territories around the world where they don't distribute movie rights for a variety of movies.
If you believe LGF can implement solid plans to expand into these major areas, an investment in the company now is warranted. However, a short term consolidation in the common stock is more likely given the poor economic numbers that came out earlier today in the United States. As an investor, I look toward the future and will not be excited by a single positive earning report. After all, the company reported several consecutive quarters last year of negative net income. I would hold off on the stock until more solid and convincing data is released from the company regarding its future plans.
Disclosure: I have no positions in any stocks mentioned, and no plans to initiate any positions within the next 72 hours. I wrote this article myself, and it expresses my own opinions. I am not receiving compensation for it (other than from Seeking Alpha). I have no business relationship with any company whose stock is mentioned in this article.