Units of Linn Energy (LINE) have had an atrocious month of May, with the stock down over 15% as of this writing. A similar decline has been seen in shares of LinnCo (LNCO). Most of this decline was a result of a rather bearish commentary published by Barron's on May 4. However, as seen in the chart below, Linn Energy has continued its decline. With this price drop, Linn Energy now yields nearly 9%.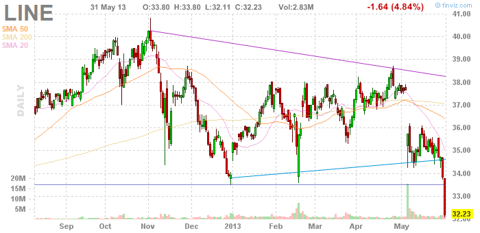 Click to enlarge
Linn Energy's continued woes are frankly confusing. The broader MLP market, as shown by the Alerian MLP ETF (NYSEARCA:AMLP), is down only 3% in recent days. Yet, Linn Energy has collapsed about 8% in this same timeframe. The market must be ignoring some of the upcoming positive catalysts for Linn Energy or pricing in some other bad news.
The major upcoming event which should drive Linn Energy higher is its closing of the Berry Petroleum (BRY) merger, which is expected to occur on or before July 1, 2013. Berry would diversify Linn Energy's asset mix toward more liquids and boost its overall production by over 30%. Linn Energy's proved reserves would be boosted by nearly 35%, with liquids reserves increasing 54%. Berry's production profile is similar to Linn Energy, as it is mature and in a low decline (15%).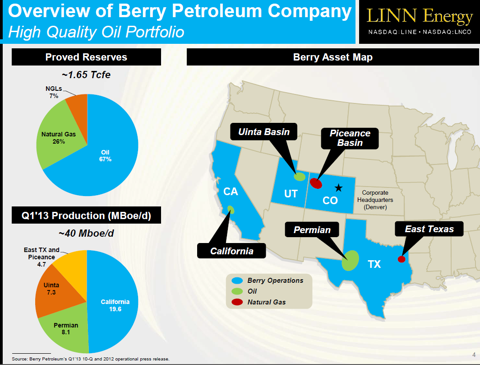 Click to enlarge
Linn Energy anticipates that this deal would be significantly accretive to its DCF. As a result, Linn Energy has announced that it will change from quarterly distribution payments to monthly payments starting in July 2013. Along with the change to monthly payments, Linn Energy will also be boosting its distribution to $3.08 annually, or $0.2566 per month, up 6.20% from $2.90. Note that this increase is subject to the closing of the Berry deal. This change to monthly distributions would lessen the impact of ex-dividend days often seen from quarterly distributions.
Linn Energy is probably the most hedged upstream MLP out there. The company has 100% of its expected pre-Berry acquisition production hedged through 2016. While this does limit some upside if energy prices improve, it does allows Linn Energy to lock in current margins on production. Sharp changes in energy prices are not a good thing if you are paying out nearly 100% of DCF like Linn Energy. While some may take issue with Linn Energy's aggressive hedging policy, it does allow the company to have a more stable cash flow outlook.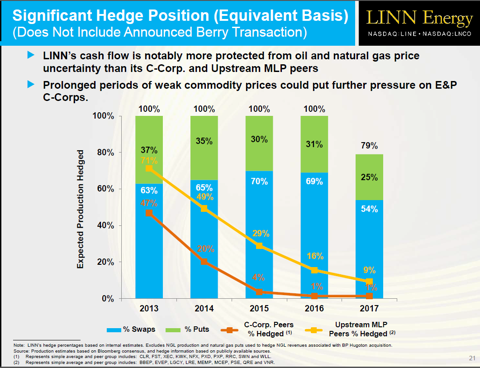 Click to enlarge
Linn Energy has been paying out and growing its distribution through many commodity price cycles. Since its 2006 IPO, Linn Energy has paid out cumulative distributions of $18.02 per unit and has posted a 200%-plus total return when reinvesting distributions.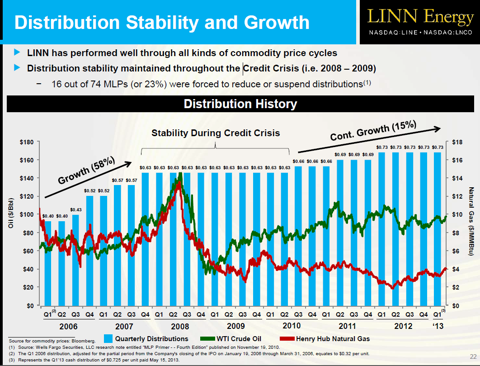 Click to enlarge
Conclusion
As an aside, our friends over at Barron's recently posted a MLP Q&A session with veteran energy investor Darren Schuringa. Mr. Schuringa noted that Linn Energy's recent accounting concerns are not material to the underlying business or the quality of its assets. In addition, Mr. Schuringa mentioned that it was easy for him to project Linn Energy's future DCF as its production is 100% hedged for four to six years out.
I am glad that Barron's has published both the bull and bear sides of the Linn Energy debate as it was seeming as if that publication was "piling on" the company.
For those looking to start a position in Linn Energy, this decline represents a great buying opportunity. The Berry deal is just around the corner, along with monthly payments and a 6% distribution boost. For those currently long Linn Energy, I suggest that you should not panic. The market is selling off nearly everything with a high yield, including MLPs. Linn Energy is considered a "risk-off" investment, while the market is looking to take on more risk.
Disclaimer: The opinions in this article are for informational purposes only and should not be construed as a recommendation to buy or sell the stocks mentioned. Please do your own due diligence before making any investment decision.
Disclosure: I have no positions in any stocks mentioned, and no plans to initiate any positions within the next 72 hours. I wrote this article myself, and it expresses my own opinions. I am not receiving compensation for it (other than from Seeking Alpha). I have no business relationship with any company whose stock is mentioned in this article.