Introduction
I always find spin-offs and M&A activities to be especially interesting in the world of investing. Usually there's a wealth of informative articles on Seeking Alpha regarding these events. But in the case of the Pfizer-Zoetis (NYSE:PFE) (NYSE:ZTS) split-off, I've only seen one article with analysis anywhere. You can read it here. Since I'm a Pfizer shareholder, I decided to write my own article with my own analysis. Please realize that my reasons for tendering my Pfizer shares are strictly my own, and other people may reach opposite conclusions, as we shall see.
Zoetis Split-Off Highlights
Shareholders of Pfizer have the option of exchanging their shares for shares of Zoetis.
The exchange ratio will be set at the end of the trading day June 19th.
The exchange ratio has an upper limit of 0.9898 with no lower limit.
The exchange ratio formula provides for a 7% discount for Zoetis in dollars.
400,985,000 shares of Zoetis will be distributed at a prorated rate depending upon the number of tendered shares of Pfizer.
The minimum tendered shares of Zoetis are 160,394,000 or the split-off won't occur.
As of 05-29-2013, the fundamentals of Pfizer and Zoetis are: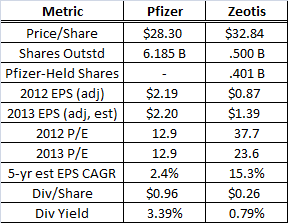 *5-yr estimate courtesy of finviz.com
Now my reasons for tendering my Pfizer shares:
1. I can make a better long-term case for Zoetis than for Pfizer
Zoetis is in the animal pharmaceutical business. The company makes a great long-term case for its products in a recent presentation here. The company is separated into two major divisions: livestock and companion animal. I see the livestock business as something similar to the food-stuffs industry. As long as the world population is increasing, there will be a larger need for more meat. More animals mean more vaccines and other medicines will be needed.
As for the area of companion animals, the American Pet Products Association has seen increased pet spending every year since 1994 (not all of this is pharm-based, however). Although I see more and more people with pets, I see this division to be more of a cyclical business. For example, when times are good, people may be more willing to pay for pain meds for their cats and dogs. But when times are tough, the humane society sees an influx of pets. Still, I see the long-term spending outlook for pets to continue upward, especially in first world countries.
Regarding Pfizer, it's harder for me to state the long-term outlook. Although there will be more and more older people who need drugs, there seems to be a big push to generics and other healthcare cost-cutting maneuvers. Big pharma's earnings are heavily dependent upon proprietary drugs. It takes several "Blockbuster" drugs to continue the growth for a $200 billion company such as Pfizer. Those "blockbuster" drugs just don't move the needle as much for the larger pharma companies.
Finally, I'll point you to each company's forward-looking earnings estimates, such as in my chart above. The short-to-medium term outlook for Zoetis is much rosier than for Pfizer.
2. I see higher earnings quality for Zoetis than for Pfizer
Zoetis seems to have the ability to grow organically. This is huge in my book. Pfizer, on the other hand, decided to sell off its nutrition business to Nestle (OTCPK:NSRGY), performed a 20% IPO of Zoetis, and plans to split-off the rest of Zoetis. In all three instances, Pfizer plans to use the proceeds for share buybacks. Pfizer decided to trade two growth engines for a 1 time EPS injection. To me, this is crazy. Yes, the company boosted EPS this year, but what about next year? Does Pfizer plan on selling off another division? In my book, I would never sell a good long-term growth story for a single cash infusion unless I REALLY needed the money.
Like other big pharma companies, Pfizer seems to be trying to grow through acquisitions. I became a Pfizer shareholder through its acquisition of Wyeth. It seems like every year, there's a large acquisition: from Wyeth to King Pharmaceuticals to Icagen. The occasional buyout isn't a red flag for me, but large multiple buyouts are.
3. I see higher and sustained dividend growth for Zoetis than for Pfizer
The current dividend yield of Pfizer is almost 4x as much as Zoetis. This is the hardest factor in my decision to split off. Fortunately, my family and I do not need the current income as we're in our 20s and I have a good career ahead of me. I can see a situation where someone such as a retiree would need the income to live off of. In that case, all other arguments are nil, because they need income.
However, I see the dividend growth occurring at a much faster rate in Zoetis, rather than Pfizer. This would be due to the assumption of higher earnings growth in my 1st point.
4. It is a tax-free exchange
For most of my Pfizer shares, I am currently long with a >50% unrealized gain. If I decided to sell my shares I would incur the 15% capital gains tax rate and a huge tax bill. With this split-off, I can keep my unrealized gains and not have to pay those pesky capital gains taxes. If I was already thinking about selling some shares of Pfizer (which I was), this is a great opportunity to diversify into another company without a tax penalty.
5. Reducing my Pfizer share count aligns with my morals
As stated in the previous bullet point, I was already considering selling my Pfizer shares. Pfizer makes abortifacients and contraceptives. As a person who sees children as one of God's greatest gifts, it bothers me to receive the proceeds (dividend income) from the selling of these products. Since Zoetis doesn't make any such products (at least not on humans), this deal is a great way to distance myself from Pfizer.
6. Case History: Mead Johnson (NYSE:MJN) split-off from Bristol-Myers Squibb (BMY)
Since split-offs are rare, I wanted to see if there was a similar history. The Mead split-off is particularly illuminating, since it's the same case of a parent drug company splitting off a small company with a bright outlook. Since Mead Johnson is a nutritional company, it's not exactly like the Pfizer-Zoetis split-off, but it's pretty darn close. Let's take a look at what happened.
Nov. 16, 2009 - BMS announces the split-off of the remaining 83% of Mead Johnson's share count. The terms were:
10% discount in dollar of Mead
170 million shares of Mead to be split off at an upper limit of 0.6027
Split-off to be completed Dec 14th
Dec. 7 - Exchange ratio upper limited changed to 0.6313 and completion date changed to Dec 17th
Dec. 18 - BMY announces preliminary results of split-off (matches the official results on Dec. 23)
Dec. 23 - Mead Johnson successfully split-off
The final exchange ratio was 0.6313.
An oversubscription of 500 million shares of BMY were tendered (out of 1.72 billion outstanding shares)
Only 269 million BMY shares were exchanged for 170 million shares of Mead
So at the end of this deal, if you had 100 shares of BMY, tendered all of them, you would've kept around 50 shares of BMY and received around 30 shares of Mead, pro-rata. And this would've been at an adjusted upward upper limit exchange ratio. I fully expect that Pfizer saw the adjusted exchange ratio by BMY and took it into the calculations of its current upward exchange ratio of 0.9898. But if the Mead split-off is any indicator of the Zoetis split-off, I believe most Zoetis acquirers will come out quite happy.
In case you're interested in this information, search forms "S-4" or "425" in the BMY and MJN databases at the Edgar online database.
End Result
I think people are looking at this split-off in the wrong way: they should be looking at the share-to-share exchange ratio and be focusing less on the actual dollars involved in this transaction. As a long-term investor, I want to maximize the number of shares I get in the split-off. I suppose traders and short-term investors may be interested in the stock prices, but it concerns me less.
Another point about the split-off: people seem upset that Pfizer didn't do a normal spin-off of Zoetis. For me, it's understandable. Have another look at the share counts for both companies: 6.185 billion for Pfizer and 0.5 billion for Zoetis. Had Pfizer forgone the Zoetis IPO and instead did a normal spin-off, you would've needed 12.37 shares of Pfizer to receive 1 share of Zoetis. Most spin-offs are of the realm 1:1 (like ABT, ABBV) or 2:1 (like COP, PSX). Most small investors wouldn't know what to do with 8 shares of Zoetis (assuming 100 shares of Pfizer). At least during a split-off, stock owners have the choice to split or not. To me, this does show a pinch of shareholder friendliness.
Assuming that the Zoetis split-off will trade around the upper range of the exchange ratio, it would be around a 1:1 swap for a share of Pfizer for a share of Zoetis. This would be the ideal case for me. I'd say that the exchange ratio would need to be in the 0.8-0.85 range for me to even consider withdrawing my tender offer. Although Zoetis's valuation does seem higher than Pfizer, the tax-free exchange, the 7% discount, and higher growth prospects for Zoetis should provide me with the margin of safety I need to happily exchange my shares of Pfizer for Zoetis.
Disclosure: I am long PFE, ABBV, COP, PSX. I wrote this article myself, and it expresses my own opinions. I am not receiving compensation for it (other than from Seeking Alpha). I have no business relationship with any company whose stock is mentioned in this article.