Of all the publicly traded companies with exposure to uranium, my favorite is Denison Mines (NYSEMKT:DNN). It has put itself in solid position to generate some serious growth when the price of uranium resumes its upward trajectory.
Before we get into it, Denison isn't my favorite just because it's trading below $2.00 a share and is assumed to have great upward potential for that reason only. After all, there are many companies trading at these levels because that's all they're worth.
Denison is my favorite because of the number of properties it owns with a solid uranium base included with them in aggregate, which when the demand for uranium pushes the price upwards, it will strongly participate in that trend.
I do believe Denison is going to soar again, and its low price in that regard is attractive, but it's the growing demand for nuclear energy that is driving the narrative, and that will be what will bring the company success going forward, as it will all companies exposed to uranium.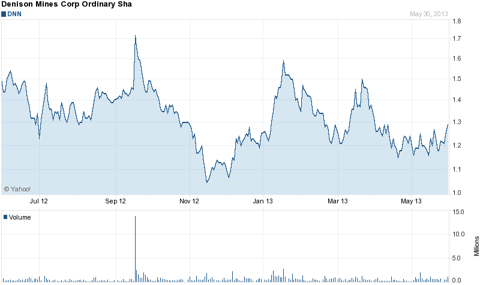 Denison's Projects and Interests
With Denison consistently entering into new deals, it's hard to keep up with the large number of projects the company is engaged in, but we'll look at what it is involved with as best as can be followed at this time.
Athabasca Basin is among one of the richest uranium deposits in the world, and Denison has about 50 projects going on in the Basin, which covers about 658,000 hectares in Saskatchewan, Canada. Other properties include a 60 percent interest in the Wheeler River project which includes the Phoenix deposits; a 25.17 percent interest in the Midwest uranium project; a 22.50 percent interest the McClean Lake deposits, which includes a uranium processing mill.
Beyond North America, Denison owns all of the conventional heap leach Mutanga project, in Zambia, and 85 percent of the in-situ recovery projects held by the Gurvan Saihan Joint Venture in Mongolia.
To expand its footprint in the Athabasca Basin, Denison acquired JNR Resources Inc. and Fission Energy Corp. The Fission deal also brought the two joint ventures in Nambia, as well as properties in Nunavut and Quebec. Denison acquired all the outstanding common shares of Fission, with Fission spinning out some of its assets into a new exploration company named Fission Uranium Corp. That deal closed in April, while the JNR Resources deal closed in January, 2013.
Denison is selling all of its U.S. assets to Energy Fuels.
What's important isn't the number of projects held by Denison, but that they represent different levels of progress and development, which bodes well for the future of Denison because it'll bring new product online over time, which should offer stability for many years into the future.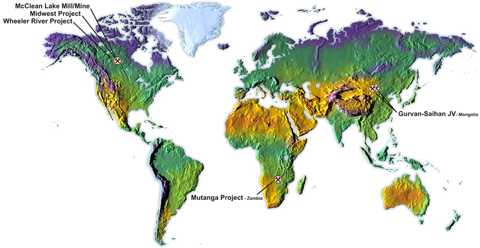 Quality of Ore
The grade of the ore that uranium is extracted from is important because the less uranium in the ore, the more it costs to process it.
In that regard, Denison is positioned strongly because of its exposure to Athabasca Basin, which has the richest ore deposits in the world. At this time, Canada has the best uranium ore, and the only country with a lot of ore above the 1 percent range. Approximately 20 percent of Canada's uranium deposits are in that category.
Other major uranium deposits, for example, in countries like Australia and Kazakhstand, have a poorer grade of ore, with 90 percent of the uranium grade in Australia having less than 0.6 percent, and the majority of ore in Kazakhstan less than 1 percent.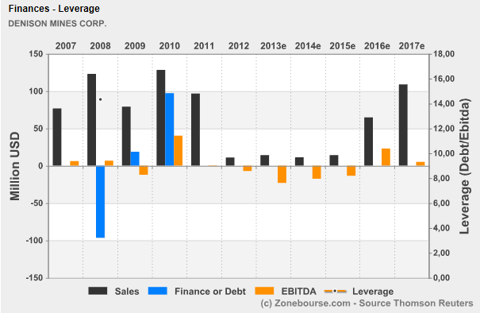 This means those with uranium exposure in Canada will be able to process it at a much lower cost, giving them a strong moat against their competitors. This is a solid advantage for Denison.
When researching any uranium company, keep in mind where it has its major exposure, as costs come into play even more depending on the quality of the ore.
Uranium Supply and Demand
Watching the response to the nuclear energy and uranium sector, even after proof is offered that the industry is booming, many people still seem to not believe that it's true. It appears this is from the focus on the Fukushima disaster in Japan, whereby they shut them down while dealing with the fallout from it while looking at the appropriate time to start them up again, which Japan will do.
Having said that, the World Nuclear Association has stated there are 60 nuclear reactors being built right now, with about 150 more being planned. They are scheduled to come online within the next ten years. That's not all. There are more than 200 more nuclear reactors in the pipeline, which ensures growth for decades into the future.
Uranium demand is expected to grow between three and four percent over the next decade (Compound Annual Growth Rate).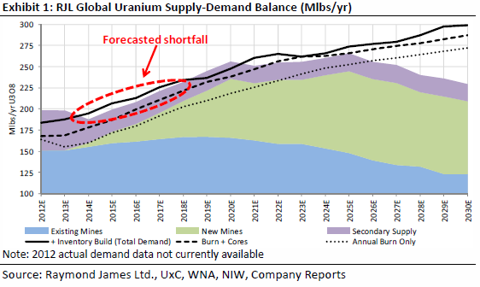 As for uranium supply, the short-term catalysts will be the restarting of nuclear reactors in Japan and the expiration of the Russian HEU agreement. One will boost demand and the other will stifle supply.
The ending of the Russian agreement will remove approximately 24 million pounds of U3O8 a year from the market.
According to the WNA, uranium mine production for 2013 will be around 55,000 tons, while the demand for uranium will be 65,000 tons. Usually the shortfalls are taken care of by the recycling of uranium from Russian nuclear weapon stockpiles or other secondary sources. That will change at the end of 2013, making the uranium supply equation even more contracted than it already is.
Later on in 2013 we could see that start to push uranium prices up, or possibly in the early part of 2014; that is, unless the Russians change their minds.
Those thinking about investing in uranium need to watch supply and demand of the industry, and not listen to news reports, as they are largely slanted to the negative, and really don't represent the realities of what is actually happening.
According to Fission Energy's Dev Randhawa, "A move in January by Russia's State-owned uranium company Atomredmetzoloto, to take uranium exploration company Uranium One private, is also a sign that the market has likely reached bottom."
Uranium Prices
With the uranium supply and demand picture pointing to a shortage, there is only one thing that can happen with uranium in order for Denison and others to supply enough uranium to meet demand, and that is the price of uranium must rise or the companies won't be able to expand existing operations or continue exploration for more deposits. At the current price it simply isn't financially sustainable.
To understand the significance of uranium prices, investors need to know it is different than many other commodities, as the contracts employed in the industry are for longer periods of time, usually in the 5-year to 10-year range. That means spot prices are less important or relevant than they are for most other commodities.
Why that's important is, if we work off of current uranium spot prices, it would look like it would be impossible for the price to rise to levels it would sustain and expand the industry.
The spot price of uranium stands at about $40 a pound at this time, so when I mention it will probably have to reach a range from $70 a pound at the lowest, to up to $85 a pound, it may seem too much of a stretch. Again, that's if we're looking at it from a short-term contract perspective, which isn't the most useful benchmark.
When measuring the price of uranium by long-term contracts, the price levels become more realistic, as they stand at $57 a pound. So going from $57 a pound to a minimum of about $70 a pound, isn't that much of a stretch at all, especially as supply gets squeezed more.
Even with long-term contracts, does this look realistic? Yes. I draw my conclusion from the fact prices before Fukushima for the long-term uranium contract were at $73 a pound. With demand for uranium even stronger now than then, it's only a matter of time before that affects the price.
Another element to consider in the price of uranium is the production costs associated with it. Large companies have put off huge uranium projects because of the current price of uranium. Not only does that point to supply challenges over the long term, but puts pressure on the price of uranium in order for future supply to be ensured.
For these large projects to go online, the price of uranium will have to be somewhere in the $75 a pound to $85 a pound range. If the market demands more nuclear energy, the price of uranium must go up. It's only a matter of when, not if.
Denison's Latest Quarterly Results
For the latest quarter ended March 31, 2013, Denison had a net loss from continuing operations of $5,469,000, or $0.1 a share. Last year in the same quarter the company had a net loss from continuing operations of $9,516,000, or $0.03 a share.
Also in the three months ended March 31, 2012, Denison recorded a loss of $42,475,000, or $0.11 a share from discontinued operations.
Revenue for the quarter was $2,291,000, down from $3,604,000 from the same quarter last year.
Working capital for the quarter was $27,372,000.
Income Statement

Cash Flow Statement

Balance Sheet

While the company has slowly been improving, it's not the technicals or financials that are the most important, it's the trend trajectory uranium is on, and since Denison is pretty healthy, it should have no trouble lasting through the waiting period until the prices line up with the market demand.
Denison's Income Statement and Estimates Through 2017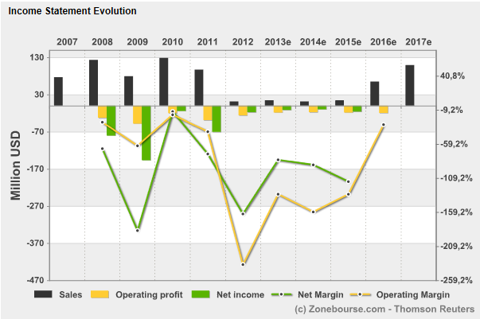 Industry Consolidation and Denison
Another important piece of information that needs to be considered for Denison is the continual rumors it may be an acquisition target of larger companies in the sector.
That also reflects the uranium industry in general, which will no doubt go through a period of mergers and acquisitions as the smaller miners won't be able to continue on as long as it's cost prohibitive. There is no doubt we'll see some go out of business or be acquired going forward.
As for Denison, that provides an interesting scenario, because if a company is really interested in acquiring it, it would have to be before the price of uranium shoots up, because once that happens, the value of Denison will soar, making the company extremely expensive to acquire.
Below you can see that it has climbed above $20 a share in the past, and since that would be almost twenty times what it's trading today, no company wants to buy it at a top, taking into consideration the company has the ability to go that high. In the near term, I would look more realistically at the company jumping as high as the $5 range, with the near term referring to the response of the company's share price to the price movement of uranium when it goes up, not a general time frame.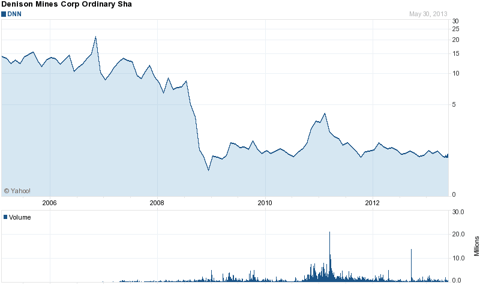 Things can happen quickly in the nuclear sector, so if Denison is going to get acquired, I would think it won't be too long before we hear of some verifiable news that things have been set in motion.
Whether acquired or it continues to run on its own, Denison will bring some good returns for shareholders. When the smoke clears, the surviving uranium miners are going to do extraordinarily well. Denison will be among them.
Conclusion
Denison Mines has more risk than its major competitor Cameco (NYSE:CCJ), but it also has tremendous upside. While being more volatile, I don't see Denison as the extraordinary risk usually seen in small-cap companies.
Total Return Comparisons

It has a terrific group of properties, including in the best uranium ore grade region in the world. It keeps costs under control very well, and has continued to acquire projects and properties to build out its reserves. That means it has capital available to make deals, as well as confidence in the future of the nuclear industry.
The risk I see with Denison is only in short-term fluctuations, not in the performance of the company overall.
If it can be called a risk, the other major factor is the timing of the inevitable rise in uranium prices. Russia is still providing secondary source until the end of the year, and that may keep prices where they are until then; although anticipation of a big uranium source being taken off the market could fuel higher prices quicker than the official ending of the deal.
Denison, as its competitors, will ride the trend of growing uranium demand, and that will overcome any other factors associated with the company, which is very well run.
Over the long term, as far as a small-cap stock goes, I see Denison being among one of the more sure places to put some of our risk capital. This company will eventually take off, and even if it is acquired, its properties ensure a very good price for those getting in at these price levels.
Disclosure: I have no positions in any stocks mentioned, and no plans to initiate any positions within the next 72 hours. I wrote this article myself, and it expresses my own opinions. I am not receiving compensation for it (other than from Seeking Alpha). I have no business relationship with any company whose stock is mentioned in this article.