By Sumit Roy
Commodities were mixed this week as palladium and soybeans outperformed, while energy underperformed. Gold ended the session fractionally higher, but remains volatile amid much uncertainty. Stocks, as measured by the S&P 500, ended the period close to unchanged, leaving the year-to-date gain near 16%.
Macroeconomic Highlights
The focus for traders this week was interest rate movements. In particular, a surge in the yield on the U.S. 10-year Treasury note has many worried for its potential dampening effect on housing and other segments of the economy. The yield reached as high as 2.23% -- the highest level in over a year. Bond traders have been selling Treasuries (sending yields higher) on speculation that the Federal Reserve could pare back or end its quantitative easing programs in the coming months. Of course, the Fed said it would only end QE if the economy showed signs of a self-sustaining recovery. In that regard, this week's data was mixed.
Housing remains a bright spot. S&P/Case-Shiller reported that its U.S. home price index rose by 1.12% in March, the 14th-straight monthly increase. On a year-over-year basis, home prices were up by 10.87%, the fastest pace of growth since 2006. Meanwhile, pending home sales in the U.S. in April were up 13.9% year over year and at the highest level in three years.
Data on income and spending were more disappointing. The Bureau of Economic Analysis said that personal income in the United States was unchanged in April, underperforming the 0.1% increase that was expected. Personal spending dipped by 0.2%, worse than the unchanged reading that was anticipated. Finally, across the Atlantic in Europe, Eurostat reported that the unemployment rate in the eurozone ticked up from 12.1% to 12.2% -- a euro-era record.
Commodity Wrap
| | | |
| --- | --- | --- |
| Commodity | Weekly Return | YTD Return |
| Palladium | 3.43% | 6.81% |
| Soybeans | 2.71% | 6.84% |
| Corn | 0.91% | -5.01% |
| Platinum | 0.55% | -5.16% |
| Gold | 0.45% | -16.86% |
| Wheat | 0.29% | -10.03% |
| Copper | 0.00% | -9.86% |
| Silver | -0.49% | -26.56% |
| WTI | -1.35% | 1.15% |
| Brent | -1.50% | -9.01% |
| Natural Gas | -5.42% | 19.70% |
Gold attempted to claw itself from the depths this week, but prices ultimately ended the period only fractionally higher. Silver fell slightly and remains precariously close to its $22 support level. Choppy trading action has made it difficult to take any short-term trading positions in either gold or silver. Nevertheless, our outlook remains unchanged. The medium-term trend is bearish barring a break of $1,525 on the upside, while the short-term trend is neutral barring a decisive break above $1,400 or below $1,322.
Gold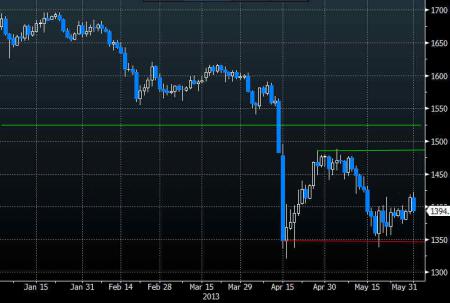 Silver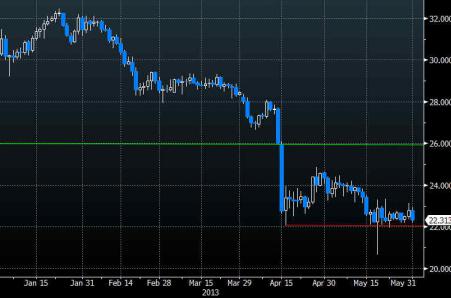 Platinum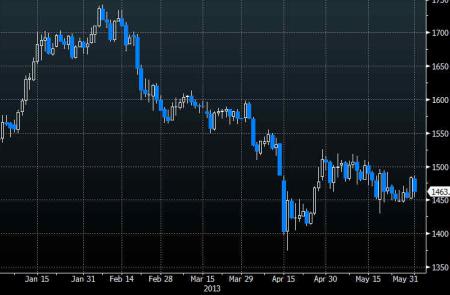 Palladium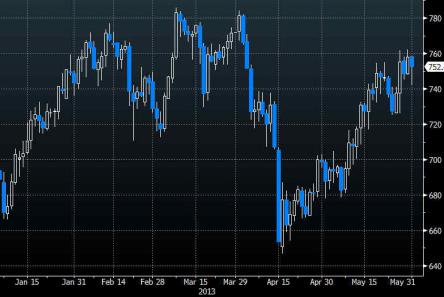 Crude oil drifted lower after OPEC left its output quota unchanged at 30 million barrels per day. Member countries expressed their concerns about booming U.S. shale production, but were content with prices in the $100 range. In our view, OPEC will be reluctant to cut its output and its market share. But rising inventories (see "Crude Oil Retreats After Inventories Hit Highest Level On Record") point to a growing oversupply in the market and, unless the cartel acts, may push prices sharply lower later this year.
Brent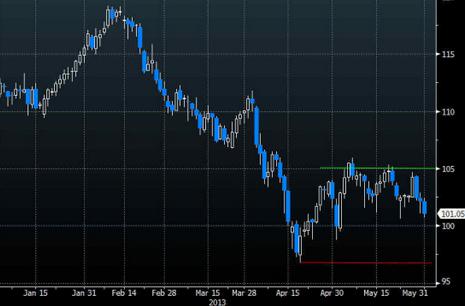 WTI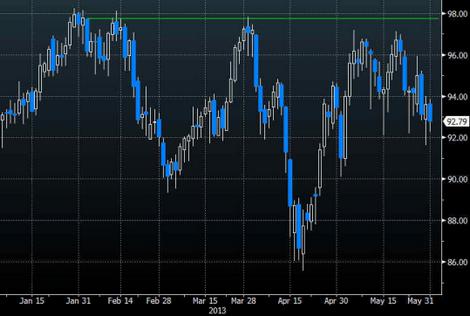 Grains outperformed amid persistent rains in the growing regions, which may delay plantings. "Nobody wants to be short due to the planting issue. There's concern now that not everything will get planted," said Roy Huckabay, analyst for Linn Group. From a technical perspective, corn and wheat look uninspiring. However, soybeans threaten to breakout above resistance near $15.20/bushel.
Corn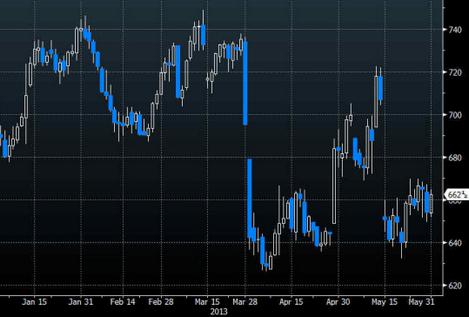 Soybeans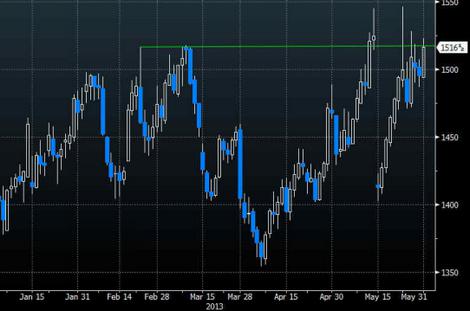 Wheat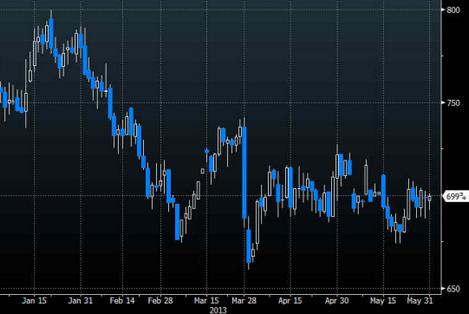 Copper didn't budge this week. Prices look comfortable between $3.25/lb and $3.40.
Copper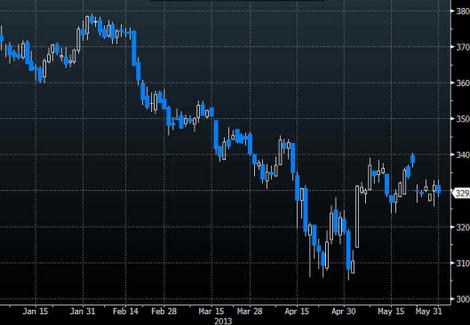 Natural gas plummeted after weather forecasts shifted to show milder temperatures, particularly across the South. Still, the market looks balanced, thus the trading range between $3.85/mmbtu and $4.40 is likely to hold for the time being (see "NatGas Plunges After Failed Test Of Range Top; Outlook Unchanged As Deficit Holds Steady").
Natural Gas