The Wall Street adage to "Sell in May and Go Away" did not hold for my portfolio of 5 Natural Gas Transportation Stocks for 2013. Along with the broader market, the nat gas transportation portfolio was up nicely in May led by a jump in the stock of #1 pick Cummins Inc. (NYSE:CMI). CMI was up over $13 (12.3%) in the month of May.
Just to review, the portfolio's primary objective is to profit on the global natural gas transportation revolution by owning stocks that provide:
Exposure to the fast growing NGV market.
Exposure to natural gas production and refueling infrastructure.
Exposure to international and domestic natural gas markets.
Dividend income.
The year-to-date performance of the individual stocks is shown in the following chart: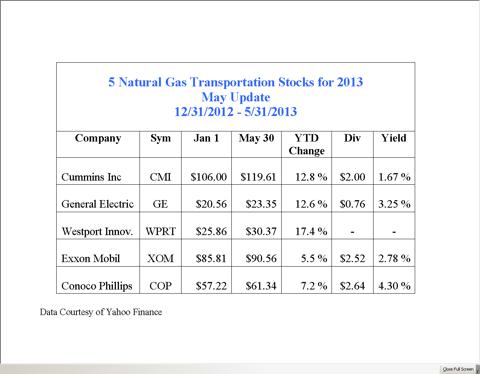 Assuming equal weight investments, the portfolio's YTD return is +11.3%. There were no portfolio dividend payments during the month of May. The total return of the portfolio, including dividends, is +12.1% YTD. In comparison, the S&P500 is up 14.3% so far this year.
Newsworthy Company Updates For May
Cummins announced Q1 2013 earnings on April 30 that were somewhat of a disappointment. However, the company maintained its full year guidance for revenues and EBIT.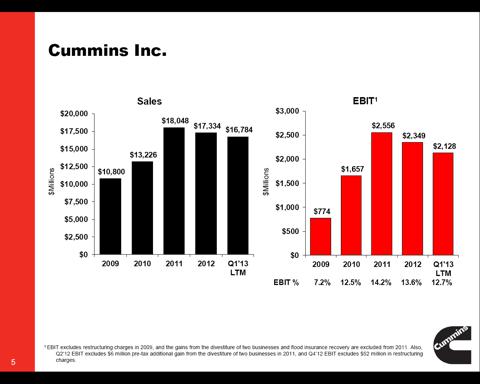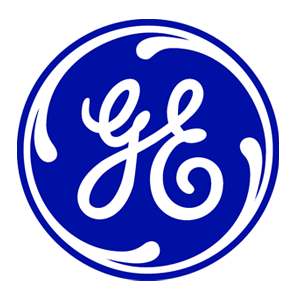 General Electric (NYSE:GE) announced that Saudi Aramco upgraded its Haradh gas/oil separation plant with the company's advanced compressor control technology. Saudi Aramco manages the fourth largest gas reserves in the world: 263 trillion cubic feet.
GE also announced two new 5-year agreements to supply StatOil (NYSE:STO) with turbomachinery equipment for STO's onshore and offshore projects in Norway.
GE plans to open a laboratory in Oklahoma that will study ways to improve horizontal drilling and fracking. Mark Little, GE senior VP said the company had invested more than $15 billion in oil and gas over the past few years.
Although it has nothing to do with natural gas transportation, GE shareholders were happy to hear GE Capital plans to pay $6.5 billion in dividends to its parent GE in 2013. Also, Boeing (NYSE:BA) just received an order for 60 737 MAX planes from British firm TUI Travel. A GE joint venture makes the engines for the 737 MAX.
Westport Innovations (NASDAQ:WPRT), the global leader in natural gas engines, reported Q1 2013 earnings on May 2. While it was disappointing that both revenue and earnings were down year over year, there were several highlights to the company's report. In China, the Weichai joint venture shipped more than 8,500 engines in Q1, up over 200%. In addition, David Demers, CEO of Westport, had this to say about a new emerging growth market in the rail industry:
"Perhaps the most interesting news this quarter was the extent of interest in use of LNG in the rail industry. Our programs with Caterpillar (NYSE:CAT) to develop locomotives and mining applications that use Westport™ HPDI technology for high performance and fuel economy that matches diesel are going well and we are seeing high commitment to building an LNG fuel distribution system dedicated to the rail industry."
Russia Adopts A Strategic Natural Gas Transporation Policy
Russia joined the EU and China by adopting a very robust natural gas transportation policy. This week Westport announced an agreement with the GAZ Group, Russia's largest manufacturer of commercial vehicles, to design and develop spark ignited natural gas systems for a new range of CNG commercial vehicles.
Henry Hub Natural Gas Spot Price data by YCharts
While the Henry Hub spot price for natural gas dropped from around $4.30 at the beginning of the month, it is still over $4/MMBtu and substantially higher year-over-year. This should make for easy YOY earnings comparisons for portfolio components ExxonMobil (NYSE:XOM) and ConocoPhillips (NYSE:COP), the #1 and #7 largest domestic producers of natural gas, respectively.
ExxonMobil announced its new Singapore Chemical Plant is now producing ethylene from the facility's second world-scale steam cracker.
India's government approved ONGC Videsh's plan to buy COP's 8.4% interest in the Kashagan oil & gas field for $5.5 billion. All that is needed now to complete the transaction is the Kazakh government's permission. However, analysts at the Eurasia Group said the Kazakh government could veto the sale in favor of a Chinese buyer to strengthen its energy sector relations with Beijing. I too believe this to be a distinct possibility and said as much in ConocoPhillips: Who Will Buy Its $5 Billion Stake in Kashagan - India or China?
Portfolio Outlook
Although I was tempted to rebalance portfolio weightings during the month (reduce WPRT, increase CMI), I decided to give WPRT another quarter or two to improve results. WPRT has a great market niche and its future is bright. That said, we need to start seeing an improvement in profitability.
The broad market appears to be rotating out of utilities and defensive sectors and into energy, industrials, and more economically sensitive sectors. That said, XOM and COP have underperformed the market YTD. I believe the energy sector is substantially undervalued given today's commodity prices and after lagging the market badly for several years now. At the same time, market volatility is rising. In the event of market weakness, dividend paying stocks like XOM and COP should provide support. Both stocks went ex-dividend in May with payouts in scheduled for June.
Summary and Conclusions
The economic, environmental, and national security fundamentals supporting natural gas transportation could not be stronger. In the past 12 months the EU, China, and now Russia have all announced strategic long-term natural gas transportation policies. The notable exception is the United States. As Winston Churchill once said:
Americans Will Always Do the Right Thing - After Exhausting All the Alternatives.
Let's hope Mr. Churchill is right. The U.S. has wasted millions of dollars and much precious time with malinvestment on ethanol mandates, "clean coal," and over-the-top funding for EV, battery and solar programs. There is very little to show for it all (at least very little good). The U.S. needs to get on board with the natural gas transportation revolution taking place around the world. Otherwise, it could find itself addicted to high-priced, dirty, and foreign oil (i.e., gasoline) while its economic competitors have transitioned to cheaper, cleaner, and abundant natural gas.
Nonetheless, it's steady as she goes for this natural gas transportation portfolio. This portfolio will do fine regardless of U.S. energy policy because it is nicely exposed to the worldwide natural gas transportation market. If the day ever comes when the U.S. government adopts strong natural gas transportation policies, this portfolio would really take off.
Disclosure: I am long COP, XOM, STO. I wrote this article myself, and it expresses my own opinions. I am not receiving compensation for it (other than from Seeking Alpha). I have no business relationship with any company whose stock is mentioned in this article.
Additional disclosure: I am an engineer, not a CFA. The information and data presented in this article was obtained from company documents and/or sources believed to be reliable, but has not been independently verified. Therefore, the author cannot guarantee its accuracy. Please do your own research and contact a qualified investment advisor. I am not responsible for investment decisions you make. Thanks for reading and good luck!