Introduction
In my previous article, I took a look at many different economic indicators in order to determine the strength of the economy, and to gain insight as to whether the current stock market surge is artificial or actually driven by an expanding economy. The goal was to help predict future movement in the general stock market best measured by the ETF SPY (NYSEARCA:SPY). The result was that the indicators seemed to say the economy is only slightly improving and the stock market rally is mostly artificial. In this article, I will look at the same indicators and compare them to their levels before the dotcom bubble burst in 2000, and before the stock market crash in 2008. Since many of these indicators are released monthly, I will compare the most current release of each indicator to the market high in September of 2000 and the market high in October of 2008. Instead of explaining what each indicator is and why it is important, which I did some of in my previous article, I will simply compare the indicators at these time periods and attempt to explain any differences. Hopefully, this will give insight on the probability of a market crash in the short term.
Existing Home Sales (source: Bloomberg)
Existing Homes September 2000: 5.29M (2.3% M/M)
Existing Homes October 2008: 4.09M (-4.2% M/M)
Existing Homes April 2013: 4.97M (0.6% M/M)
The existing homes sales before the dotcom bubble crash were actually increasing, which makes sense since the underlying economy was actually fairly healthy. Even after the bubble burst, existing home sales did not decline dramatically. Home sales at the market high in 2008 showed a different story; they had already declined 4.2% from the previous month and would decline a massive 8% in the next month. This does make sense since there was a housing bubble, which was one of the main problems in 2008. Currently home sales are improving slightly and this neither indicates rapid economic growth nor an imminent stock market collapse as in 2008.
Housing Permits and Starts (source: US Census Bureau)
September 2000: -10.5% M/M
October 2008: -10.2% M/M
April 2013: 19.3% M/M
In both months when the stock market reached its high, the housing starts had declined about 10% from the previous month. Since housing starts are forward looking, it is clear that in comparison the recent numbers for housing starts look much more bullish and do not indicate an imminent recession as they had in 2000 and 2008. It is interesting that housing starts indicated a problem in 2000 while home sales did not. At the moment, I have no justification for this except that housing starts are more forward looking than home sales.
Total Automobile Sales (source: Bloomberg)
September 2000: 18.24M (7.8% M/M)
October 2008: 10.74M (-15% M/M)
April 2013: 14.9M (-2.2% M/M)
Total automobile sales definitely indicated a severe problem in 2008 when the market reached its high. In 2000 automobile sales were actually quite positive, again because the underlying economy was still healthy. Currently, although the recent automobile sales were bad, they were nowhere near the October 2008 numbers, therefore automobile sales do not indicate an approaching recession.
Consumer Sentiment (source: FRED)
September 2000: 106.8
October 2008: 57.6
April 2013: 83.7
Consumer sentiment is yet another indicator that clearly showed problems in 2008, but did not indicate that anything was wrong in 2000. Again this is likely due to the fact that in 2000, the decline in the stock market was mostly due to the tech bubble bursting rather than an actual economic slowdown. The recent numbers once again are neither strongly bullish nor bearish.
Durable Good Orders (source: US Census Bureau)
September 2000: 1.8% M/M
October 2008: -6.8% M/M
April 2013: 3.3% M/M
Durable good orders are similar to automobile and home sales in that they represent large purchases. Therefore, the numbers are very similar. In 2008 durable good orders had slowed, indicating an impending recession. In 2000 the numbers appeared to be fine, and currently the numbers give a good outlook with no impending recession likely.
Industrial Capacity Utilization (source: federalreserve.gov)
September 2000: 81.2%
October 2008: 74.8%
April 2013: 77.8%
Capacity utilization was high in 2000, however it indicated problems in 2008 by reaching into the low 70s and decreasing even more in the following months. Currently the capacity utilization is not phenomenal, but once again does not indicate a looming recession. Industrial capacity utilization should be monitored carefully to makes sure it does not decline in the following months, which could indicate underlying problems.
Book to Bill for Semiconductors (source: SEMI.org)
September 2000: 1.17
October 2008: 0.96
April 2013: 1.08
Interestingly the book to bill ratio for semiconductors did not indicate any strain on the month that the market reached its high. However, if we look around the month the market achieved its high, a better picture is presented. In September of 2000 the book to bill ratio looked fantastic, however, every month after this the ratio decreased sharply ,reaching a low of 0.44 in April of 2001. So in 2000 the indicator lagged the decline in stock prices slightly. In October of 2008 the ratio was 0.96, which at first glance does not look awful. However, upon further inspection, the ratio had been below the 1.00 level for many months, which did indicate trouble ahead. Currently, we are not in the same situations since the indicator has been above the 1.00 level for a few months.
ISM Manufacturing Survey (source: Bloomberg)
September 2000: 49.7
October 2008: 38.9
April 2013: 50.7
This is one of the few indicators that both foretold stock market declines in 2000 and 2008. At both of the market highs the survey was below its neutral point of 50. In the months following September 2000, the ISM survey fell even further to the low 40s. Currently, the survey is slightly above 50, which does not indicate an approaching recession.
Producer Price Index (source: Bloomberg)
September 2000: 0.8% M/M
October 2008: -2.4% M/M
April 2013: -0.7% M/M
Although the PPI is usually used to forecast future inflation, it is interesting to see that it fell sharply in 2008. This is probably due to the fact that when the economy slows down, there is less of a demand for certain resources and materials, consequently driving their prices down and lowering the PPI. Currently, the PPI has declined, but not nearly as sharply as it did in 2008. Therefore, it also indicates no severe problems.
Philadelphia Fed Business Conditions (source: Philadelphia Fed)
September 2000: no data
October 2008: -4.0
April 2013: -0.5
Unfortunately I could not find data in 2000, however as shown by the graph, this indicator definitely predicted the depth of the recession in 2008. Right not this indicator is not particularly bullish, but definitely does not see another major recession in the next few months.
Philadelphia Business Outlook Survey (source: Bloomberg)
September 2000: 5.5(sharp decline from 17 last month)
October 2008: -37.5
April 2013: -5.2
The business outlook survey definitely indicated the recession in 2008 and to some degree forecast problems in 2000 because the indicator had actually just fallen from 17 the month before September 2000. The most recent number neither signals major strength or weakness in the economy.
Baltic Dry Index (source: investmenttools.com)
September 2000: 1,500
October 2008: 9,000
April 2013: 905.42
Although this index is a little less clear than some of the others, by looking at the graph, one can see that it indicated some problems in 2008 due to the major fluctuations. Currently, the index is much more stable and at a low level, which is likely a positive sign.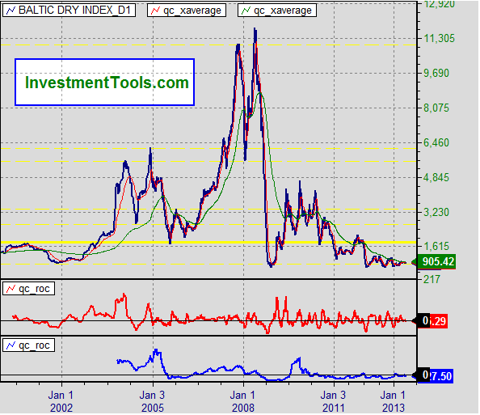 Click to enlarge
Oil Inventories (source: Bloomberg)
September 2000: No Data
October 2008: 1787K Barrels
April 2013: 5180K Barrels
To really see what this indicator is saying, it is important to look at the increase or decrease in the inventory in the weeks around the market peak. The data was not available in 2000; however in 2008 around the peak, inventory was generally increasing, indicating economic weakness. Currently, inventory has been increasing, but a longer trend is needed for any conclusions to be drawn.
Weekly Leading Index (source: ECRI)
September 2000: -1.2%
October 2008: -17%
April 2013: 6.8%
The weekly leading index is another indicator that showed problems in 2000 as well as in 2008. In 2000, there were a few slightly negative reading, but in 2008, there were persistent large negative readings, indicating a major recession was on the way. Currently, the reading is actually positive, which defiantly contradicts the view that a major recession is around the corner.
Personal Savings Rate
September 2000: 2.6%
October 2008: 5.7%
April 2013: 2.5%
The personal savings rate only indicated a problem in 2008. When people save more, they spend less, which is actually hurtful for the economy in the short term. Currently, as in 2000, the personal savings rate is around 2.5%, which is actually a positive sign.
M2 Monthly Change
September 2000: 12.4B
October 2008: 57.7B
April 2013: 4.9B
The M2 money supply is a tricky indicator. It did not indicate major problems in 2000, and had actually already slowed down its growth considerably in 2008. In April 2013, it grew at a relatively slow rate, which is somewhat worrisome, however, a longer trend is needed before any meaningful conclusions can be drawn.
TED Spread (source: WSJ Market Data Center)
September 2000: 0.5%
October 2008: 2.5%
April 2013: -0.2%
The TED spread indicated no problem in 2000, but definitely signaled the 2008 credit crisis. Currently, the extraordinarily low level is positive for the economy and the market in general, and does not indicate another imminent credit crisis.
Credit Spread AAA BAA
September 2000: 73 Basis Points
October 2008: 260 Basis Points
April 2013: 84 Basis Points
Similar to the TED spread, the credit spread only indicated a problem in 2008. Currently, it looks relatively healthy and appears bullish for the economy.
Yield Curve (Spread between 10Y Bonds and 3M Treasuries)
September 2000: -0.38%
October 2008: 3.12%
April 2013: 1.7%
The yield curve indicated problems in 2000 and had actually already increased rapidly by October of 2008. In both cases, the stock market declined. Currently, there have not been any recent major changes in the yield curve and it still is a bullish indicator for the economy.
VIX (using new method) (source: CBOE)
September 2000: 20.25
October 2008: 69.95
April 2013: 14.39
This VIX spiked in 2008, predicting the stock market collapse. However, it had only a little to say in 2000. Currently, the VIX does not indicate any imminent problems and is also bullish for the stock market.
Conclusion
After comparing many recent economic indicators to their levels during the market highs in 2000 and 2008, there seems to be very few similarities. This is definitely good and could mean the stock market has higher to go. However, the Federal Reserve is much more involved in the economic situation than it was in 2000 and 2008, therefore, it is entirely possible that the next major stock market decline will not be economically driven at all and instead will be caused by the Fed ending QE either too early or too quickly.
Disclosure: I am long VB. I wrote this article myself, and it expresses my own opinions. I am not receiving compensation for it (other than from Seeking Alpha). I have no business relationship with any company whose stock is mentioned in this article.