New Gold (NYSEMKT:NGD) is a rapidly growing Canadian gold mining company with no lesser a goal than "To establish the leading intermediate gold company." On May 31 2012 the New Gold announced its latest acquisition, namely a friendly takeover of Rainy River Resources (OTC:RRFFF). This latest event seemed to serve as a good enough excuse for us to summarize our notes on this particular company.
New Gold has a market capitalization of $3.25B and a dual listing on the Toronto and New York stock exchanges. The forward P/E is listed at 14.49 in line with peers in the gold mining sector. 55% of the company's outstanding shares are held by institutions with Van Eck Associates holding the largest portion at 10.8% and institutional holdings increasing during Q1/2013. Management and the board of directors collectively hold in excess of $100M of company shares. (data source)
Analysts have published price targets between $9.00 and $15.48 with a median price target of $11.13. Shares are trading significantly below all targets at $6.83 at the time of writing. Analysts also give a buy recommendation of 1.7 which is one of the best in the sector at present (1 means a strong buy; and 5 means a sell). New Gold is part of the Market Vectors Gold Miners ETF (NYSEARCA:GDX) and within the peer group considered in this particular ETF New Gold has shown a performance smack on the median over the past year. The chart below compares the price development of gold as expressed by the SPDR Gold Trust ETF (NYSEARCA:GLD) and the GDX since the start of 2012.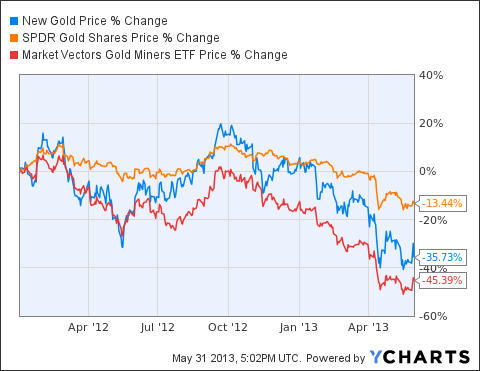 To date New Gold has four 100% owned operating assets: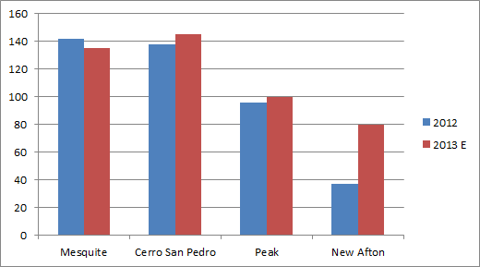 All four assets are solid low-cost producers. Overall cash cost on a by-product basis were $421 in 2012 and are forecast to drop to $265 - $285 in 2013 due to the high copper content at New Afton. These cash costs are among the lowest in the industry. The highest cash costs within this portfolio are recorded at Mesquite ($690 in 2012 rising to around $840 in 2013), and the lowest costs are forecasted for the New Afton mine with negative cash costs of $1400. It should be pointed out, that these numbers are cash costs which is a non-GAAP measure that neglects various cost components and expenses. The gold mining industry is slowly waking up to criticism with regards to explaining their production costs and a new measure called all-in sustaining cash costs is emerging, possibly as a new future industry standard. New Gold seems to be supportive of this trend and has published a 2013 estimate of $875 per ounce all-in sustaining cash cost. If achieved, this performance would be significantly less than most other producers and bode very well for New Gold's future cash flow.
New Afton will drive growth in the short-term. For the mid-term the company has two very interesting development projects:
The Blackwater development project is located in south-central British Columbia, Canada. New Gold acquired the project in 2011 has since added the adjacent Capoose deposit and has expanded the total measured and indicated resource to almost 8M ounces of gold and over 60M ounces of silver plus additional inferred resources to boot. A PEA was completed in September 2012 with a production target of 500,000 ounces per year in mind. Completion of a feasibility study is anticipated for later in 2013 and tentative plans for production by 2017 have been mentioned. The project will require considerable capex due to the low grades that will require high throughput. Without doubt, the results of the FS will be eagerly anticipated by investors.
The second development project by the name of El Morro in Chile is a joint venture with Goldcorp (NYSE:GG). New Gold's 30% share of this project is free-carried to production and a $71M loan associated with this project is only repayable from production. The project is of significant size with current reserves measured at 2.9M ounces of gold plus 2.1B lbs of copper and blue sky exploration potential. This project is presently suspended due to a dispute with native land owners. These native land owners are the same people fighting against the nearby highly problematic Pascua Lama project of Barrick Gold (NYSE:ABX) and are tough opponents to have when trying to develop a mining operation.
Both these projects represent opportunities for New Gold, but in their own right both these projects are problematic when looking from a potential investor's point of view. Blackwater will need significant amounts of cash to be brought into production, and El Morro might turn into a second Pascua Lama if managed inappropriately.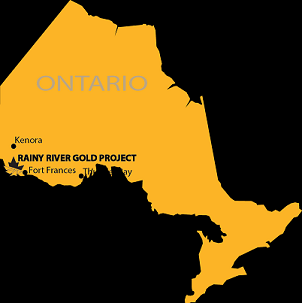 And this might be the right place to introduce Rainy River, New Gold's latest acquisition. The flagship project of this exploration company is the Rainy River project in NW-Ontario. This project has proven and probable reserves of 4M ounces of gold plus 10.3M ounces of silver. A feasibility study has been completed based on assumptions for an open pit reserve at just over 1.3g/t gold equivalent and an underground reserve at just over 5g/t gold equivalent. This study assumed annual production of 326,000 ounces of gold plus 494,000 ounces of silver and computed an after-tax NPV of $931M, an after-tax IRR of 23.7% and payback within 3.2 years at a gold price of $1400. For a project this size, these metrics are very attractive, even though the gold price is hovering just under the project assumption at the moment. The initial capex is estimated to $713M and foreshadows the need for substantial financing. The timeline for approvals presently stretches into 2015 with construction commencing earlier in 2014. First production is apparently possible late in 2016.
In other words: Rainy River might sneak in before Blackwater in the development pipeline.
This brings us to our main concern with regards to New Gold's development plans. The company has currently $800M in outstanding unsecured notes which is a significant debt burden already (note to those checking the debt on yahoo.com: we are not counting the $71M debt in connection with the El Morro project). This long-term debt is due in 2020 at current terms. On the other hand, the company holds 672M in cash of which presumably $198M will be spent on the Rainy River acquisition leaving around $474M in the kitty, plus $100M of undrawn revolving credit. Recent growth has been impressive, but a significant portion of the growth has been financed by debt. Fellow author Jeff Williams has analyzed New Gold's debt positions and concluded that New Gold is already exposed to more financial risk than peers like Goldcorp or Kinross (NYSE:KGC) due to its debt. Having said all this we would also like to note that New Gold has been shown to be a diligent manager of debt repaying the development loan for Mesquite four years ahead of schedule.
Looking at the Rainy River and Blackwater developments we envisage the need for combined capex in the order of $1.5B to $2B. This is a lot of money to raise for a company with a market capitalization of $3.3B. New Gold has a couple of years of strong cash flow ahead and will certainly improve its cash position further. However, a strong gold price will be necessary to keep enough cash coming in to service the existing debt on the one hand and to build capital for mine development on the other. Net earnings of $36.3M in Q1/2013 showed continuing strength and we will watch with interest when Q2 results are released that will be affected by the recent drop in spot price.
Goldcorp putting El Morro into production might just provide the windfall necessary for New Gold to be able to put Rainy River and Blackwater into production without significant dilution or further debt.
In Summary
New Gold has a declared focus on aggressive growth and it certainly walks the talk as evidenced in past years and also by its most recent acquisition of Rainy River Resources. We believe that the price of $198M is a fair consideration for the project and the acquisition was done at an opportune point in time.
New Gold operations offer solid and reliable low-cost production and free cash flow. Earnings from operating assets should provide a significant portion of capital towards project development; however, additional debt or share dilution seems probable considering the assumed development costs.
The company already carries significant debt and an increase in this debt position would increase the financial risk associated with New Gold.
New Gold is a growth story and should be treated as such by investors. In our view New Gold represents a high risk/reward investment proposition that requires close monitoring of debt levels and cash flow.
Given the focus on growth we suggest that investors should not expect meaningful dividends in the near future.
Disclosure: I have no positions in any stocks mentioned, and no plans to initiate any positions within the next 72 hours. I wrote this article myself, and it expresses my own opinions. I am not receiving compensation for it (other than from Seeking Alpha). I have no business relationship with any company whose stock is mentioned in this article.