Potash Corporation of Saskatchewan (NYSE:POT) produces fertilizers and industrial feed products primarily in Canada and the U.S. It is one of the largest miners and producers of potash, which is utilized throughout the world as a fertilizer. It also sells animal feed supplements and other industrial/chemicals, including hydrofluosilicic acid, silicon tetrafluoride, ammonia, urea, ammonium nitrate, and nitric acid. It primarily mines from Saskatchewan and New Brunswick, Canada. The company was founded in 1953 and is headquartered in Saskatoon, Canada. To be considered for a potential investment selection, Potash meets my nine key criteria:
Key Selection Criteria
A market capitalization over $10 billion.
A leadership position within a growing industry.
A dominant, or large, market share within its product mix.
A strong position internationally.
A strong balance sheet and high credit rating.
A high free cash flow number.
A low historical relative valuation as measured by price/sales and/or price/earnings ratios.
A strong dividend growth rate.
A catalyst of new revenue opportunities
Capitalization
Potash is a large-cap materials firm, with a current capitalization of $36.5 billion.
Leadership
Potash maintains a leadership position in the materials area and with a 20% plus market share, the firm is the largest producer of potash fertilizer. With a 20% share, Potash is the world's largest producer of potash fertilizer by production capacity. It is also the leader in cost side of the equation. Potash's six primary mines in Canada are able to produce materials at a significantly lower cost than many of their rivals. The firm also maintains strong positions in the nitrogen and phosphate fertilizer markets, ranking in the top three in both areas. POT derives 45% of revenues from potash, 27% from phosphate and 28% from nitrogen.
International
Potash International Sales
| | |
| --- | --- |
| Fiscal | Intl.%Total (Excluding CAN) |
| 2007 | 70% |
| 2008 | 70% |
| 2009 | 75% |
| 2010 | 73% |
| 2011 | 71% |
| 2012 | 72% |
Source: Potash Annual Report
Potash generates a substantial portion of revenue from international markets at just over 70%. Additionally, the revenue from emerging markets such as China, India, and Brazil is expected to accelerate. Potash is projecting, based on historical precedent and income growth in emerging markets, that the big three emerging economies of China, India, and Brazil will generate double digit growth rates in sales over the next couple of years.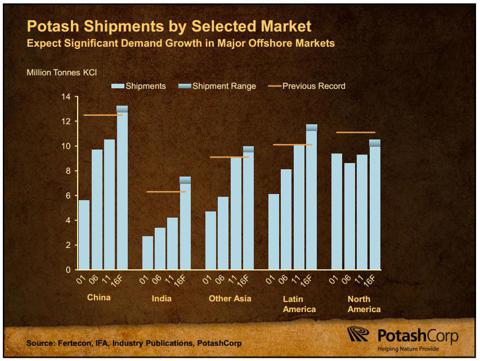 Balance Sheet/FCF
The balance sheet of Potash is in excellent condition. The firm maintains a credit rating of A- from Standard & Poor's Ratings Service. This rating was affirmed last year. Standard & Poor's upgraded its outlook on the fertilizer producer's credit rating to "stable" from "negative." The analysts at Standard & Poor's commented:
"The outlook revision reflects our view that strong demand for fertilizers will allow the company to generate sufficient discretionary cash flow in 2011, allowing it to reduce debt, and bring leverage closer to 1.5x and more in line with our target for the rating."
Free Cash Flow History
| | | | | |
| --- | --- | --- | --- | --- |
| | 2009 | 2010 | 2011 | 2012 |
| | -894M | 981M | 1237M | 1021M |
Source: Potash Annual Report
Free cash flow generation has been strong after the negative number in 2009. FCF will likely grow much faster during the next few years as the capital expenditures line drops. Potash has indicated that total capital expenditures will drop by 50% over the next year, which has allowed Potash to substantially increase the firm's dividend.
Relative Valuation
As for relative valuation, I have a preference for price/sales ratio when examining the merits of a company in the materials sector, as it demonstrates more consistency than a price/earnings analysis. Potash has traded at a wide price/sales ratio range of 1.9 to 9.2 in the past decade. The average price/sales ratio since 2004 has been 5.6. Sales per share have more than doubled since 2005 from 4.1 to 9.5. Earnings have also risen substantially over the past decade, rising from $.54 in 2005 to $3.05 expected this year. Net margins have shown dramatic improvement since earlier the prior decade, where net margins stayed in the low double digits. Net margins have remained above the 25% level since 2009, with period of net margins in the low 30% range.
Potash has indicated that future sales growth should not be at the same level as a decade ago. I am projecting a more moderate 8% sales growth over the next five years. These figures could be conservative projections, given that production capacity at Potash will jump from roughly 12 million metric tons of finished potash fertilizer per year to 17 million metric tons by 2015 (a 40% increase). Sales growth per share could also be assisted as well by future stock buybacks. Potash previously had consistently purchased shares of company stock, as the share count of POT dropped from 973 million in 2007 to 877 million in 2011. Although the firm did not buyback any stock in 2012, management has indicated it would purchase more stock in the future. I anticipate a continued repurchase of shares beginning in 2014 as free cash flow generation improves.
| | | |
| --- | --- | --- |
| Date | Price/Sales Ratio Avg. | Sales Per Share |
| | | |
| --- | --- | --- |
| 2013 | 4.4 | 9.45 (exp.) |
| 2012 | 4.5 | 9.17 |
| 2011 | 4.2 | 10.15 |
| 2010 | 7.2 | 7.66 |
| 2009 | 8.1 | 4.48 |
| | |
| --- | --- |
| 2016 SPS Projected | 11.9 |
| Price/Sales 2016 | 5.0 |
| | |
| Target Price 2016 | $59.50 |
Source: Potash Annual Report
Based upon a below average conservative 5 price/sales ratio (below the mean 5.5), my expected price for Potash would be nearly $60 a share within a three-year time frame. This would result in a $17 capital gain profit based on today's price of $42 a share. Importantly, this does not include dividends, which will be a strong additional component in total return for Potash investors.
Dividends
One of the primary attractions of Potash is the strong recent commitment to dividend growth. Potash is one of many firms within the more cyclical sectors (material, industrial, and energy) that have started a fundamental focus on returning cash to shareholders.
Potash Dividend Payout History - 6 Years
| | | | | | | |
| --- | --- | --- | --- | --- | --- | --- |
| | 2007 | 2008 | 2009 | 2010 | 2011 | 2012 |
| Dividends Per Share | 0.10 | 0.10 | 0.13 | 0.13 | 0.24 | 0.56 |
Source: Potash Annual Report
The firm has paid 82 consecutive quarterly dividend payments since initiation in 1992. Since 2011, management has made dividend growth a primary focal point. On May 16th, Potash announced a 25% increase in its quarterly cash dividend from 28 cents per share to 35 cents per share. Remarkably, this is the fifth dividend hike in the past two years. Management indicated the rapidly rising dividends were the result of the company's ability to pass on more cash to shareholders through a future planned reduction in capital expenditures. This is in no part due to the ability of Potash to wind down its 10-year, $8-billion expansion budget for its upgraded Canadian potash mines by the end of 2014. CEO Bill Doyle commented:
"The confidence we have in our ability to generate strong cash flow in the years ahead has enabled us to strengthen our dividend for the fifth time since 2011."
I expect Potash to sustain this strong dividend growth profile, raising the recently advanced dividend from $1.40 a share in 2013 to $2.12 a share by 2016. This expectation would be below the most recent period. At this expected rate of increase of 15% per year, it would result in an additional collection of dividend payments over time of $1.61 (2014), $1.85 (2015), and $2.12 (2016) over the three-year period. The collection of $5.58 in dividends over my three-year time horizon would add to my capital gains projection ($17 share), and could result in a total appreciation from both capital gains and dividends of over 50% over a three year period. Notably, this also does not include reinvested dividends. As I have mentioned in all my previous buyside articles, building wealth through dividend growth and reinvestment of dividends is a strong methodology for outperforming the markets over time.
Catalysts
In order for Potash to grow its sales per share and meet my expectations for strong dividend growth, Potash must meet its goal of added capacity and pricing must remain consistent. Potash's management team must also refrain from acquisitions or additional capital expenditures beyond 2014. Fortunately, Potash scrapped a proposed takeover bid for Israel Chemicals Ltd. after opposition to the deal from workers and Israeli politicians. Although this acquisition would have given Potash control over the world's sixth largest producer and expanded the firm's market share, it would have also had a negative impact on free cash flow generation in the next few years.
According to the U.S. geological survey, world consumption of potash is projected to grow at a rate of about 3% per year through 2016, owing to world population growth and the associated need for food and biofuels. This projection is similar to POT's, as the firm forecasts that total worldwide potash shipments will reach nearly 65 million tonnes by 2016.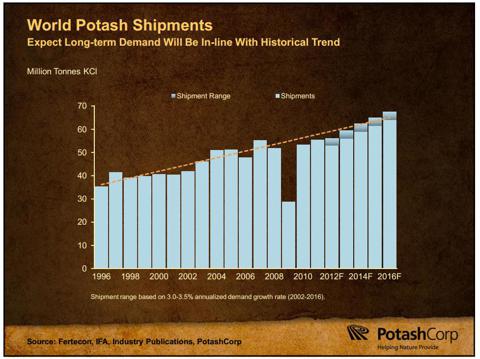 Potash prices should firm up in 2014 from prevailing Saskatchewan spot levels around $405 per metric ton. Although the $550 metric ton price of 2011 will most likely not be seen in the next several years, a mid-$400 price level seems to be in everyone's best interest. One key element to future pricing and margins is competitor OAO Uralkali, the Russia's largest producer. OAO Uralkali, fortunately, has put an emphasis on keeping pricing within a reasonable level. The Russian entity recently cut shipments to China to hold the line on pricing. OAO Uralkali has estimates the entire 2013 potash market volume to come in about 54 million tonnes. However, this estimate could be low as a recent pickup in demand from Brazil and China has shown up in May. Another potential threat to future pricing is the BHP Billiton (NYSE:BHP) expansion project of Jansen. But, BHP Billiton's chief executive Andrew Mackenzie commented in May about actually decreasing capital expenditures by $4 billion in 2014 and a further reduction of $15 billion reduction after that. It seems that most of the big players like BHP and Mosaic (NYSE:MOS) are shelving any attempts of expanding capacity, a good result for pricing in the next several years.
Potash remains a viable investment option for any investor seeking both capital gains and dividend growth. It maintains a strong financial profile, a dominant market position, impressive international and emerging market revenue growth, above-average dividend growth, and a moderate valuation based upon price/sales analysis. With the defensive sectors such as utilities and consumer staples demonstrating strong relative performance in the preceding 12 months, a catch up by the cyclical portion of the market could offer investors of POT strong upside potential.
Disclosure: I am long POT. I wrote this article myself, and it expresses my own opinions. I am not receiving compensation for it (other than from Seeking Alpha). I have no business relationship with any company whose stock is mentioned in this article.