"Look! It's moving. It's alive. It's alive... It's ALIVE!". These were the famous words Dr. Henry Frankenstein shouted when he had realized his dream of creating a living Monster in the timeless Mary Shelley novel Frankenstein. It's hard to pinpoint exactly when it happened, but over the last ten years or so, The Gap, Inc. (NYSE:GPS) has become a Frankenstein's Monster of sorts. An incredibly large, inefficient, meshing together of parts that didn't appear to have any solid connections between each other. Needless to say this stumbling monster of a company was in desperate need of some major changes and it appears that those changes are in the process of being made and they should lead to some handsome rewards for shareholders.
The Gap, Inc.
The Gap, Inc. operates as an apparel retail company. It offers apparel, accessories, and personal care products for men, women, children, and babies under the Gap, Old Navy, Banana Republic, Piperlime, Athleta, and Intermix brands with the majority of its sales and revenue coming from the first three companies listed. The company operates in multiple channels including outlet, specialty, franchise, and online.
The Gap, Inc. hasn't been a bad stock to own over the years and has steadily moved higher in price on a regular basis. The underlying company, however, has managed to get progressively less efficient and has fallen behind when it comes to basic evolutionary changes being made in their industry. It's rare that you see a company failing to evolve, while their stock continues higher but as evidenced here, this is one of those occasions.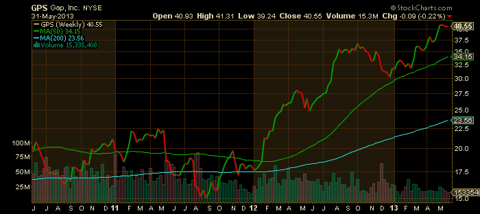 Knowing the stock can and does perform well even under current circumstances is just another good sign that when the changes are made, the stock growth should accelerate with sales and revenue.
Growth Is Good But Just Getting Started
The company just closed out a stellar quarter and is showing some amazing signs of breathing life back into their brands. As reported on their Q1/2013 earnings call, the company grew EPS 51% year over year, net sales 7%, net earnings 43%, operating income 34%, gross profit 12%, and most importantly operating margins by 2.9%. They also saw a 27% uptick in online revenue which is particularly impressive for a company this size.
They also plan on opening 80 net new stores globally in 2013 (9 stores were opened in Japan in Q1) in the US, Canada, Europe, China, and Japan. The openings will be heavily weighted towards Gap China, Old Navy Japan, and global outlets. Closings of inefficient locations will be weighted towards Gap North America. This square footage optimization strategy is the foundation of the larger strategy to become more efficient, something that is long overdue.
Evolution Leads to Margin Expansion
The company has a two pronged strategy that branches out from the square footage optimization strategy just mentioned. It may seem obvious, but the company is just now realizing that making every business process as efficient as possible and creating one continuous company within the six smaller companies is the easiest and fastest way to grow margins, sales, and revenue. Not only that, because they are essentially the last company in their space to optimize their business process, they have a fairly straight forward blueprint to follow, which should make their changes even faster than the industry standard.
The first change to be implemented, and it's a big one, is the introduction of "Reserve-In-Store" and " Ship-From-Store". Reserve-In-Store is exactly what it appears to be, the ability for the online customer to reserve an item located in the store for pickup, eliminating the hassle of finding the item and the question of will the item be in stock. What this also does is bring the impatient online shopper inside the larger store where they can be exposed to accessories and the full product line currently being offered. Ship-From-Store also creates convenience for the online shopper in a very important way. When an online customer places an order, the company performs a check to find out if the item can be delivered to the customer within two days from a distribution center. If the item cannot be delivered in two days, the system will send an order for the nearest store to the customer to package and ship the item from the store directly. This ensures the item will almost always be in stock and that the item will always reach the customer within two days, a key timeframe to avoid cancelled or missed sales. The exposure of the online customer to the in store product, the multiple channel sales potential for all in-store inventory, and the shortening of shipping distances from distribution centers (if delivery would take over two days) will all lead to a much greater inventory control. The increase in inventory control should and will lead to a decrease in the frequency of markdown items which is paramount to maintaining and expanding margins. Both of these procedures should also help boost an already impressive online sales and revenue growth, two margin expanders than can help a company in very noticeable ways.
The second change to be implemented, and again you would think this would have been done long ago, is an aggressive optimization of the company's supply chain efficiency and responsiveness. With the recent technological advances of vendors being able to do more with fabrics (washing, treating, etc.), the company sees an opportunity to have fewer overall fabrics inside each one of their brands and the ability to commit for a longer period of time to each fabric. The increase in vendor sophistication will allow for a maintained designer and merchant flexibility and product efficiency while eliminating waste. This will help make the company much quicker on basic inventory and especially seasonal inventory needs. Finally, this will be a huge opportunity to drive average unit cost down without compromising any integrity or variety of product. All contributing to margin expansion at the most basic levels.
I believe that between the inventory management that will be greatly improved from the Reserve-In-Store/Ship-From-Store and the supply chain optimization, the company can become an industry leader for margins by late 2014. I think this is a very reasonable expectation based on margin growth experienced by peers after implementing these changes. I feel that the company's failure to evolve these procedures is a major contributor to their margins being 3-5% lower than the current industry leaders. These are basic changes that have already shown to be effective at many other companies in The Gap's space and should provide significant upticks in sales, margins, and revenues and should start to be reflected as soon as next quarters earnings.
The Beginning Of Something Special
There is risk that comes with investing in an apparel retail company. The Gap, Inc. is dependent on many factors that it cannot control to meet its expectations and drive sales and revenues. I feel outside of extreme weather for extended periods of time and a general breakdown in the economy that the largest immediate threat that The Gap faces is the translation of their foreign revenues into dollars and that this may negatively impact net sales, mostly speaking in terms of the Japanese Yen. The Gap does a fair amount of business, and growing, in Japan and the Japanese Yen has been steadily devalued against the dollar over the course of the last year. The company tried to reflect this risk into their yearly guidance but depending on how weak the yen gets, the damage could be substantial. Most don't expect the yen to move too much further against the dollar, but it has been devalued 30% year over year and 10% since the company announced full year guidance. This is something to keep an eye on.
As much as I feel like the company has done a poor job in staying on the front end of the curve of industry evolution, overall management has done well over the last five years in the face of a laundry list of tests. They have faced macroeconomic challenges, restructuring, bringing new talent to the organization, cultural shifts, entry into China, and many other issues, and shown that they are a relatively battle tested and resilient group. The company as a whole has finally finished establishing the necessary infrastructure globally to give them the ability to go global with all brands at a high speed with great efficiency (and getting more efficient). They appear to have a plan in place to execute the above changes that are desperately needed to make them an industry leader in margins. I like The Gap, Inc. as a way to own a growth oriented company that also pays a competitive dividend.
Disclosure: I have no positions in any stocks mentioned, but may initiate a long position in GPS over the next 72 hours. I wrote this article myself, and it expresses my own opinions. I am not receiving compensation for it (other than from Seeking Alpha). I have no business relationship with any company whose stock is mentioned in this article.