On Friday, agricultural seed and chemical producer Monsanto (MON) endured a strong whiplash from the market upon news of South Korea's suspension of wheat imports from the United States. The company's stock fell 4.12% to $100.64 on the news as South Korea became another Asian importer joining Japan's decision to halt wheat imports from the United States. As of now, the country may not be the last to follow suit as other Asian countries are currently mulling over similar decisions. The international drama appears to have been sparked by concerns over Monsanto's inability to control its non-authorized genetically-engineered product.
On May 29, the U.S. Department of Agriculture announced test results proving the presence of genetically-engineered glyphosate-resistant wheat plants in samples taken from Oregon. Additional testing showed they were of the same variety Monsanto was authorized to field test in 16 states from 1998 to 2005. Monsanto also claims that the products were of a program ended nearly a decade before the discovery, and was entirely separate from its new field trials now underway for an experimental wheat modified to survive its Roundup herbicide.
However, what has resulted is very quickly growing into a problem that Monsanto would rather have go away. The harsh reaction by countries around the world remains reminiscent of the Mad Cow beef scare more than a decade ago, an incident that crippled global sales of beef as countries banned imports from the United States. Yet unlike that incident in which contamination bore a true safety concern, it's not believed that such a problem exists with Monsanto's uncontrolled product. The USDA itself confirms that the wheat variety does not pose a food safety concern.
Implications to Consider
The escalation of a seemingly minute incident to one that is now being played out on an international stage raises many questions as to the market environment that is currently developing. While it is much too early to know how this incident will play out, the harsh reaction against a non-authorized genetically modified wheat variety and its ability to be controlled raises the risk profile of all players within the industry. Companies like Syngenta (SYT), Dow Chemical (DOW), and DuPont (DD) all maintain exposure to the design of genetically modified crops. However, Monsanto and Syngenta maintain the most direct exposure as can be noted in the market's reaction over the past month.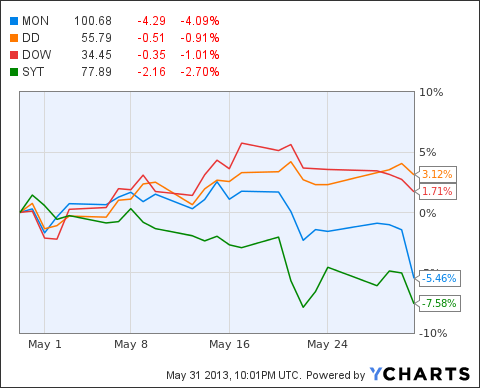 The concerns against genetically-engineered product contamination extends beyond just Asian importers. Most recently, the European Union also urged its 27 member states to test certain wheat shipments from the United States. Such actions prompt the question of what would happen should contamination be found. As it stands, Monsanto recently announced its plans to halt lobbying for genetically modified plant varieties in Europe citing low demand from local farmers. With such a backlash being felt on the European front as well, the tightening demand profile gives way to the longer-term implications of market expansion opportunities.
The longer-term regulatory environment also remains suspect. The Oregon incident provides additional proof that Monsanto's non-authorized variety managed to thrive nearly a decade after its testing was completed. More attention may soon be driven to the inability to control plant varieties once they are introduced into the natural environment. The problem would also not be the first instance for Monsanto. A recent documentary named "David Versus Monsanto" highlights this growing problem as one farmer struggled to defend his land against invasive contamination by Monsanto's products. With the problem now being played out as a global incident, expectations of a tighter regulatory environment is not difficult to imagine.
Conclusion
At its current price of $100.64, Monsanto now trades at a market capitalization of $53.73 billion. This represents an above average price-to-earnings ratio of 19.02 looking forward and a PEG ratio of 1.77. It also represents a somewhat high price-to-book ratio of 4.24 and a price-to-sales ratio of 3.80. Over the past year, the company has also seen its stock rise a healthy 38%.
Having already experienced sizeable gains over the past year, investors might be wise to anticipate additional downward pressure looking forward. Operationally, the company appears to be backing out of a region (Europe) it once found to be ideal. The negative public image is also likely to worsen should the contamination threat turn out to be more prevalent than previously believed. Above all, the market environment is likely to become more volatile as uncertainty becomes more widespread throughout the industry. This is especially so now that the situation is being played out on an international scale.
Disclosure: I have no positions in any stocks mentioned, and no plans to initiate any positions within the next 72 hours. I wrote this article myself, and it expresses my own opinions. I am not receiving compensation for it (other than from Seeking Alpha). I have no business relationship with any company whose stock is mentioned in this article.