Have you ever gotten the feeling that all of the exciting stuff happens when you're not watching? Well, I've been away from the markets for about a week, and now that I'm back, I'm taking a look at my portfolio along with my watchlist for some interesting deals to highlight for my readers. Peeking at my own portfolio, I've noticed that my shares of Qualcomm (NASDAQ:QCOM) - which I recommended buying in the $61-$62 range following its earnings report - are down a bit from the $66 local maximum that they hit shortly after that earnings drop. At $63.48, is it time to jump in/add to the position?
Check #1: Is The Technical Picture Intact?
I do not buy the notion that technical analysis is "voodoo" magic, and I believe that all investors - fundamental, technical, and swing - should at least pay attention to the technical picture to try to get a sense of what the market is thinking. Matching the price action with the current fundamental (and macro) "mindset" allows you to make a more informed judgement as to whether to go contrarian (as you expect the sell-off is overdone and that the fundamentals are still intact), or if the market is telling you something that may not be immediately obvious.
Let's look at the chart: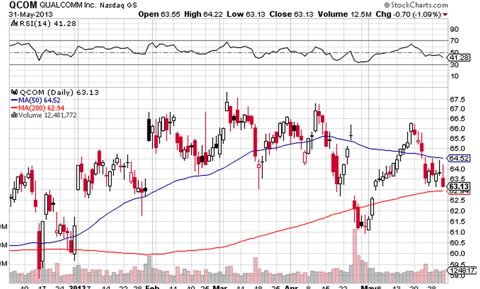 While I'm not here to give short term trading advice (there are technical analysis gurus who know quite a lot more than I do - talk to them), I do see that while we are below the 50 day moving average (not great), we are still a hair above the 200 day moving average of $62.94. At first glance, this isn't the healthiest chart, but it doesn't seem to be broken.
Additionally, the 50-day moving average is still quite a bit ahead of the 200 day moving average, which further suggest that technically things are looking okay.
Check #2: Is The Fundamental Picture Intact?
Of course, the more important thing to keep in mind is the fundamental picture (although, again, I do not think fundamental and technical are disconnected). The positives here are numerous and clear:
Qualcomm owns the LTE modem market, with recent market share numbers suggesting that the firm took 97% of the market. The company owns 59% of the overall baseband market, leading the second place player by a substantial amount (Intel (NASDAQ:INTC) is #2 with 12%)
The company is well capitalized, with over $30B net cash on the books
Aggressive R&D in modems, processors, and other IP related to smartphone SoCs will allow it to continue to hold a solid market position in the smartphone space going forward
The company pays a decent dividend and appears to have the capacity to be aggressive in expanding it
Qualcomm gets paid a hefty royalty for each 3G/4G device sold, independent of whose applications processor powers the device
Of course, nothing is without negatives, and I could see the following bearish drivers:
With Intel, Broadcom (BRCM), and Nvidia (NASDAQ:NVDA) making serious pushes into the LTE space, and with all three of these vendors integrating LTE onto their applications processor, there could be downward pressure on modem and integrated apps processor ASPs and/or market share loss.
There are fears that a mix shift towards lower cost/less differentiated processors could put Qualcomm at a competitive disadvantage to firms such as MediaTek, firms with lower development costs as well as lower gross margin needs
The company seems to have a buyback program in place and yet did not repurchase shares during the most recent quarter; it remains to be seen if the firm will become more aggressive on this front and/or the dividend
Insiders have been selling fairly heavily, with over 3 million shares unloaded over the last six months, although this is fairly standard practice among large-cap tech stocks
Conclusion
Qualcomm is a leader in its field, but shares have lagged year-to-date against many of its peers. I believe that while there are certainly reasonable fears here, the stock is not exactly priced for perfection - at less than 13x forward earnings and with plenty of room to grow the dividend, it is tough to see too much downside at these levels apart from a broad macroeconomic collapse or unexpectedly rapid share gains from a competitor (but this shouldn't really be a risk until 2014).
Disclosure: I am long QCOM, INTC, NVDA. I wrote this article myself, and it expresses my own opinions. I am not receiving compensation for it (other than from Seeking Alpha). I have no business relationship with any company whose stock is mentioned in this article.
Additional disclosure: I may go long BRCM at any time.