The month of May was horrible for bonds, with the benchmark 10-year US Treasury jumping about 0.44% to yield 2.11%. The widely followed Barclays Aggregate Bond Index, which includes Treasuries, Government Agencies, Mortgages and Corporate Bonds, lost 1.78% including income, leaving it down 0.9% in 2013 thus far. While an almost 2% decline may not sound like so much, it wipes out almost a year's worth of income. For some perspective, we can see the move in the iShares Core Total U.S. Bond Market ETF (NYSEARCA:AGG), which tracks the index: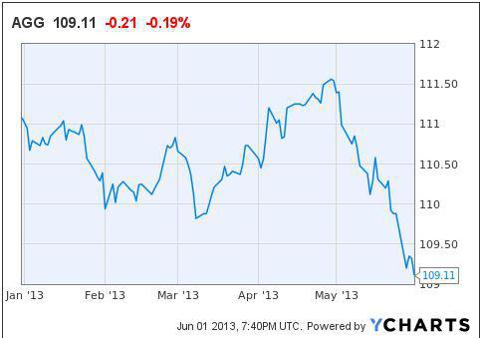 A long-time bull, I have gotten cautious on stocks as I shared last week. I am concerned that rising interest-rates could pressure stocks in the near-term. As I explained several weeks ago as I discussed reasons not to fear the potential end of easy monetary policy, there are two ways that higher interest-rates can hurt stocks. First, bonds become more attractive alternatives. Second, higher interest-rates can stifle economic growth. While I do expect interest-rates to continue to rise gradually as the economy emerges from recession-like conditions, I think that stocks, in aggregate, generally have priced this in. Still, in the very near-term, I am expecting a knee-jerk reaction that could move the S&P 500 down as much as 10% from the recent all-time high.
For many investors who have pursued yield-substitution strategies in the equity market, this changing landscape could have deleterious effects on their portfolio. The flight to dividends has been quite apparent so far in 2013, but the last few weeks have seen a massive reversal in the beneficiaries: Consumer Staples, Utilities, REITs, MLPs. My proxies are the SPDR Consumer Staples (NYSEARCA:XLP), the SPDR Utilities (NYSEARCA:XLU), the iShares Dow Jones U.S Real Estate (NYSEARCA:IYR) and the JPMorgan Alerian MLP index ETF (NYSEARCA:AMJ). The following chart compares each of them to the S&P 500 (NYSEARCA:SPY):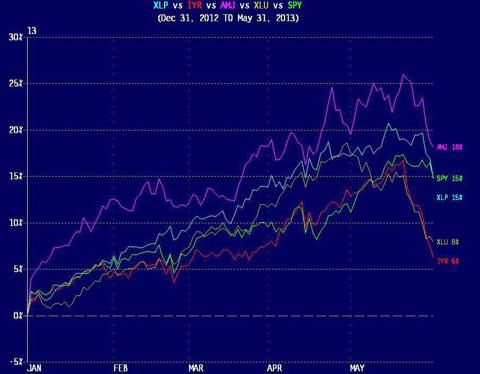 It's a little busy, but one can see that all of these were beating SPY (green) in late April. The month of May took each of them below the end-of-April levels (though SPY rose over 2%), with XLU and IYR hit the hardest and now lagging SPY YTD.
Utilities, while down a lot, offer the worst prospects for a rising rate environment, as their underlying growth is quite low. The typical utility trades at a PE of 15-16X, a premium to the S&P 500 and reflective of the yield offered.
REITs and MLPs can't be dismissed so easily. On the one hand, higher rates could impede growth, as they must borrow (as well as issue equity) typically to grow. On the other hand, an economic environment with higher growth is likely positive for REIT rents. As far as MLPs, many of the infrastructure-related MLPs have tremendous growth potential. My advice for bond bears is to focus less on the yield, which is based on today's price and today's dividend or distribution, and more on the growth of the dividend or distribution.
Some of the valuations in the Consumer Staples sector have pushed extremes. I was a little early in mid-April when I called out the sector for being extremely overbought and a crowded and potentially dangerous trade. Even with the hit the sector took in May, the group has still matched the market in 2013. Looking ahead, if the economy's strength is what's driving rates higher, investors are not likely to continue to support above-market PEs for these companies, since they have limited leverage to an improving economy. The same could be said for the Telecommunication Services sector.
Rising interest-rates will likely pressure all stocks in the near-term, creating an opportunity to get into stocks with positive exposure to the improving economy. For now, equity investors should be reducing exposure to parts of the market that have served as bond substitutes and preparing to take advantage of lower prices in the near future in other parts of the market that will likely overreact to this initial rise in interest-rates.
The Bottom Line
Rising interest-rates are likely to pressure stocks, but the impact will vary from sector to sector or even within sectors. In the simplest analysis, the more bond-like a stock is, the more likely it is to perform poorly relative to the overall market. Equity investors should be careful with Utilities and Telecommunication Services as well as to be discriminating among Consumer Staples names. Within REITs and MLPs, considering growth potential of the dividends or distributions is probably more important than the absolute yield level. Use this knee-jerk reaction in the broad market to increase exposure to cyclical sectors.
Disclosure: I have no positions in any stocks mentioned, and no plans to initiate any positions within the next 72 hours. I wrote this article myself, and it expresses my own opinions. I am not receiving compensation for it (other than from Seeking Alpha). I have no business relationship with any company whose stock is mentioned in this article.