Today I would like to highlight one of small E & P concerns that make up a good portion of my aggressive growth portfolio. The name of the company is Triangle Petroleum (NYSEMKT:TPLM) and its core acreage is situated across Montana and North Dakota. The stock trades at just $5.40 a share and I believe the shares could easily double in two years if the company can hit its internal projections. In this article I will provide an overview of the company, a review of the stock's valuation, analyst commentary on the shares, the company's production growth trajectory, highlight its strong balance sheet and then do a "sum of the parts" analysis that gets us to a value that is more than twice the company's current stock price.
Company Overview:
Triangle Petroleum is a small oil and gas exploration and development company focused on the Bakken and Three Forks formations where it holds approximately 86,000 acres across Montana and North Dakota. 85% of its current production is oil.
It also owns RockPile Energy Services which provides hydraulic fracturing services not only to Triangle, but also to third-parties exploiting fields in the Williston Basin. This subsidiary recently closed a $20mm credit facility with Wells Fargo and will be self-funded going forward. Triangle believes Rockpile will be running at over a $50mm annual EBITDA rate by the end of 2014.
Finally, the company owns 30% of Caliber Midstream Partners in a joint venture with private equity firm First Reserve. This entity was formed in late 2012 and will focus on gathering, transporting and processing oil, gas & liquids in the Williston Basin. Triangle projects its share of Caliber will contribute annual EBITDA of ~$9mm by year end 2014.
Traditional Valuation:
The company lost 31 cents a share in FY2013 but the current consensus estimates call for 56 cents a share in profit for FY2014 which started this January. Consensus expectations also project over 90 cents a share of profit in FY2015. This values TPLM at less than 6x next fiscal year's earnings. Kodiak Oil & Gas (NYSE:KOG) will similar acreage is selling at 9.4x next fiscal year's projected earnings even as its production growth rate is slower than Triangle's. TPLM revenues are expected to ~triple this fiscal year and grow at just under 50% the following fiscal year. Even though the company posted a loss in FY2013, it was cash flow positive for FY2013. It has been nicely cash flow positive two of the last three quarters as well.
Analyst Commentary:
The 12 analysts that currently cover the stock have a $9 median price target on TPLM. Price targets range from $7 to $11 a share. Global Hunter just upgraded the shares from "Accumulate" to "Buy" on May 29th. In late March Topeka Capital initiated the shares as a "Buy" with a $9 price target. Analyst Gabriele Sorbara (A four star rated analyst according to TipRanks) believes as the company's investments in Rockpile and Caliber mature they will become important sources of capital to Triangle to fund further exploration. He also cited its solid balance sheet and private equity partners as positives. Finally, Mr. Sorbara sees production growth of ~80% next year, significantly higher than the current consensus.
Production Growth:
As can be seen by the slide below, production growth historically been extremely strong and projections call for this growth to accelerate in the quarters ahead. Proved reserves are on a similar trajectory. Finally, as also can seen on the slide below more and more of Triangle's production is coming from operated wells which should improve margins.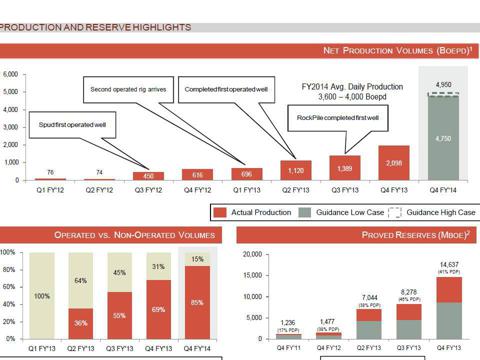 Balance Sheet & Other Considerations:
The company has $185mm of overall debt. Against that it has $65mm in cash and around $70mm left available on two revolving facilities. It also recently received a $55M infusion from Natural Gas Partners that will fund a third rig to expedite its current drilling program. Most of its production is hedged. Given the company is already cash flow positive and has huge production/profit gains on the horizon, the company's financial position seems very solid.
Sum of the Parts analysis:
In Triangle's latest corporate presentation, management provided a sum of the parts analysis of the three parts of the company based on where they see the company at year end 2014. This part of the presentation is captured in the slide below.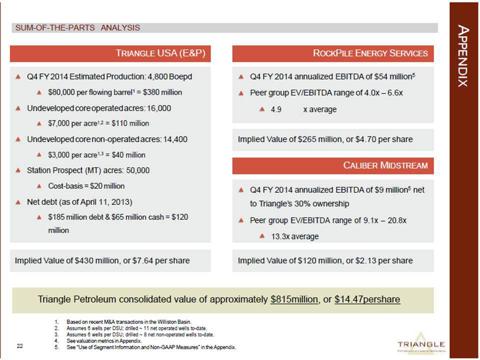 The bulk of the value and the easiest to value of is that of the company's reserves, properties & the 4800 BOE/D (Barrels of Oil equivalent/Day) production the company sees hitting in ~18 months. Triangle values this part of the business at $7.64 a share. Given the amount of M&A activity in this space the value the company uses for what it believes its acreage & production are worth seems reasonable and in line with where other purchases have been made. Nevertheless we will discount their projected value by 10% to get a value of $6.87 a share or more than what the stock is currently fetching in the market. Triangle values its RockPile subsidiary at $4.70 a share. Although this is in line with peers in this space (see slide), this is a more subjective entity to evaluate. Let's be more skeptical with this part of Triangle's business and discount their value on Rockpile by 20% to get down to $3.76 a share. Finally it values its 30% of Caliber at $2.14 a share. This venture has some of the same valuation challenges as RockPile and it is a joint venture to boot. We will apply a 30% discount to Triangle's valuation to get a value of $1.50 a share for its share of Caliber.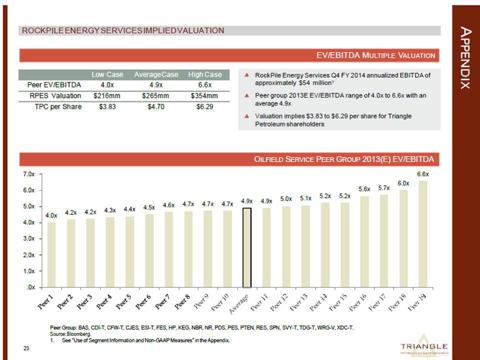 This leaves us with following valuation for the three parts of Triangle. Acreage & Production ($6.87 a share) + RockPile ($3.76 a share) + Share of Caliber Midstream ($1.50 a share) or a value of $12.13 a share for the entire company. This is more than twice the current value of the stock and seems a reasonable price expectation if Triangle can continue to meet internal & analysts' targets over the next 18-24 months.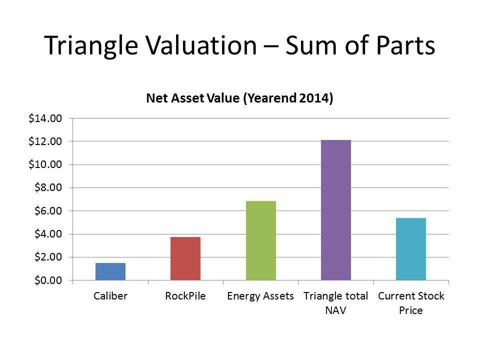 Disclosure: I am long TPLM. I wrote this article myself, and it expresses my own opinions. I am not receiving compensation for it (other than from Seeking Alpha). I have no business relationship with any company whose stock is mentioned in this article.