By Paul Carton
Jean Crumrine co-wrote this article
Overall smart phone ownership continues to rise, according to a June 9-15 survey by ChangeWave research, with 37% of respondents now reporting they own a smart phone.
Importantly, 14.4% say they plan on buying a smart phone in the next 90 days, the highest percentage ever recorded in a ChangeWave survey.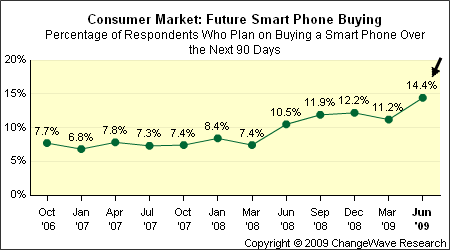 The survey of 4,063 respondents focused on consumer smart phone market trends, including demand for the new Palm (PALM) and Apple (NASDAQ:AAPL) offerings.
Smart Phone Demand
In terms of current market share, Research In Motion (RIMM; 41%) remains the market share leader among consumers – unchanged since our previous survey in March – with Apple (25%; up 1 point) now firmly in second place. We note that Apple has experienced continuous market share growth each and every quarter for the past two years.
Palm (7%) remains far behind in third place, but their market slide finally appears to be slowing – down just two points in the past six months compared to 5-points in the six months before that.
But it's when we ask respondents about their planned smart phone purchases over the next 90 days that the full impact of the new Apple and Palm product launches becomes apparent.
Palm's percentage of planned smart phone purchases among consumers has doubled since our previous survey (8%; up 4-pts), indicating the Pre is off to a very solid start.
At the same time, the release of the iPhone 3GS along with price cuts to their basic model have led to a big spike in future demand for Apple. A total of 44% of respondents planning to purchase a smart phone in the next 90 days say they'll get an Apple iPhone – a major 14-point jump from three months ago.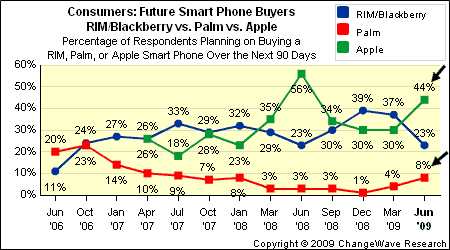 The next-generation iPhone 3GS is available in either the 32GB ($299) or the 16GB ($199) model. Apple is also selling its basic 8GB iPhone 3G at the reduced cost of $99.
To determine the relative demand for each, we asked the 44% of smart phone buyers who say they'll purchase an iPhone to tell us which of these Apple models they'll buy.
Here is the percentage of Apple smart phone buyers planning to buy each model type: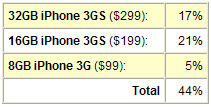 In addition, better than two-in-three planned iPhone purchasers report they do not currently own an iPhone. Such a high percentage of planned first time purchasers is good news for Apple.
What about RIM? Similar to our findings of a year ago at the time of the Apple 3G launch, Research In Motion's share of planned purchases going forward (23%; down 14-points) is taking a short term hit. But this is likely a function of the timing of the survey.
The results tell us that:
RIM's most recent product launches (Bold, Storm, Curve) have temporarily peaked in terms of market share gains, and their overall momentum has reached the normal slowdown point in the product cycle – just as Apple and Palm are launching new models.
While a slew of new Blackberry product launches are on the way, the announcements and publicity campaigns hadn't begun during the time this survey was in the field. New product launches for 2nd half 2009 include the Blackberry Tour (note the Tour 9360 was announced after the survey was completed), the 3G Pearl and the Storm 2.
Once the new Blackberry releases are announced, RIM is likely to show the same burst of momentum in planned buying we've picked up in our previous three surveys. The impact of the new RIM models is something we'll watch closely, and will be the subject of an upcoming ChangeWave consumer survey.
More on the New Palm Pre
We took a closer look at consumers who plan on buying the new Palm Pre – breaking them down by the cell phone they currently own.
Current Palm owners are of course most likely to buy the new Pre model, with 11% saying they're Very Likely and 18% Somewhat Likely to buy the new Pre – far more than the customers of any other manufacturer.
But above and beyond existing Palm owners, the Pre also shows it has the momentum to attract customers from Palm's competitors – particularly Sanyo (7%) and HTC (3%).
Bottom Line
Clearly, the Palm Pre is breathing new life into the company. Future demand appears strong, although the Palm brand name no longer commands the same presence it did back in its pioneer days. After years of market share decline, the road back for Palm looks much brighter – even though it promises to be a long and complicated one.
The far bigger story, however, is that of the iPhone 3GS. The new model release has resulted in a huge spike in demand for Apple going forward. Moreover, consumer plans for smart phone buying in the next 90 days are more than a third higher than they were a year ago (14.4% this June vs. 10.5% last June).
Later this month we'll conduct a follow-up survey among brand new owners of the Apple iPhone 3GS and the Palm Pre. But at the moment, one negative still confronting both Apple and Palm is the exclusivity deals they have with their carriers.
One-in-four (20%) consumers say the most important reason they're not considering buying an Apple iPhone is because they don't like the requirement they have to use AT&T (NYSE:T). Similarly, 16% say they won't buy a Palm Pre because they'd have to use Sprint (NYSE:S).