The Dividend Champions spreadsheet and PDF have been updated through 5/31/13 and are available at http://dripinvesting.org/Tools/Tools.asp. Note that all references to Champions mean companies that have paid higher dividends for at least 25 straight years; Contenders have streaks of 10-24 years; Challengers have streaks of 5-9 years. "CCC" refers to the universe of Champions, Contenders, and Challengers.
New Column Added
At least two articles in the past week by fellow SA Contributors mentioned the use of the past five years' earnings-per-share growth in their screening processes. Since earnings are the source of dividends, this idea seems to make a lot of sense, and since the metric is readily available at FinViz, I decided to add a new column to display that data. You can now see that data as column AF, just to the left of the Estimated 5-year Earnings Per Share (percentage) growth. I think it provides a very useful comparison to both the estimate of future earnings and to the 5-year Dividend Growth Rate, which now appears as column AO. In general, if the DGR is higher than earnings have been, then the payout ratio is likely to have gone up, so that ratio (in column S) is worth examining. Keep in mind that the Payout Ratio in column S compares the current dividend rate to the trailing twelve months' earnings per share, so it doesn't indicate how much of earnings a company used to pay out. Nonetheless, I think the new column will help to show an important quality: consistency. Ideally, an investor wants to see that quality between past and future earnings and dividends.
We now appear to be entering the "Summer doldrums" in terms of expected dividend increases. Fewer than 20 CCC companies are still scheduled to announce the annual boosts in their payouts during June and July, and August is not a "busy" month for dividend increases, either. You can read more about the "seasonality" of dividend increases here: http://seekingalpha.com/article/275608-do-dividend-increases-have-seasonality One exception will be the two dozen or so MLPs (Master Limited Partnerships) that increase their distributions each quarter. That group will likely do so again in late July and/or early August.
Due to the continued rally in the market, the average prices of each group, except the Contenders, reached new highs (and the yield new lows), but the (percentage) strength of the dividend increases continued to be strong, as companies passed along a healthy portion of their increasing earnings to shareholders. However, a market pullback in the last 10 days of May limited the degree of change (from April), as indicated in the chart below.
As always, please use the CCC only as a starting point for more in-depth research. Feel free to leave any suggestions in the Comment area below.
Quick Summary
The Summary tab includes a table comparing the composite numbers from the latest update to those from the previous month and the end of the previous year. Below that is a summary of the latest month's activity, in terms of companies added, deleted, or promoted. That is reflected below:
Quick Summary:

5/31/13

Champions

Contenders

Challengers

Total

No. of Companies

104

207

160

471

Ave. No. of Years

39.5

14.2

7.1

17.4

Average Price

60.58

58.62

50.62

56.33

Average % Yield

2.61

2.84

3.30

2.95

Ave. MR % Increase

8.31

8.83

10.40

9.21

4/30/13

Champions

Contenders

Challengers

Total

No. of Companies

104

203

164

471

Ave. No. of Years

39.5

14.2

7.2

17.3

Average Price

60.57

58.79

50.36

56.25

Average % Yield

2.58

2.81

3.24

2.91

Ave. MR % Increase

8.29

8.86

10.27

9.19

12/31/12

Champions

Contenders

Challengers

Total

No. of Companies

105

183

170

458

Ave. No. of Years

39.0

14.3

7.2

17.3

Average Price

53.48

50.89

45.25

49.39

Average % Yield

2.93

3.02

3.62

3.22

Ave. MR % Increase

7.75

8.58

10.43

9.06

MR = Most Recent

Additions:

National Oilwell Varco Inc. (NYSE:NOV) to Challengers

United-Guardian Inc. (NASDAQ:UG) to Challengers

Unum Group (NYSE:UNM) to Challengers

Deletions:

Alterra Capital Holdings Ltd. (NASDAQ:ALTE) from Contenders

Campbell Soup Co. (NYSE:CPB) from Challengers

Landauer Inc. (NYSE:LDR) from Challengers (corr. From Contenders)

Promotions:

Assurant Inc. (NYSE:AIZ) from Challenger to Contender

Chesapeake Utilities (NYSE:CPK) from Challenger to Contender

National Healthcare Corp. (NYSEMKT:NHC) from Challenger to Contender

Northrop Grumman (NYSE:NOC) from Challenger to Contender

VSE Corp. (NASDAQ:VSEC) from Challenger to Contender

Xcel Energy (NYSE:XEL) from Challenger to Contender
(Table from author; may include underlying data from FinViz.com)
Every Picture Tells a Story
As a bonus, I'm inserting one of Chuck Carnevale's F.A.S.T. Graphs below, highlighting one of the companies listed above. When the stock's price line has moved into the green area, it indicates that the stock is undervalued in relation to its earnings. I'm attaching the chart below.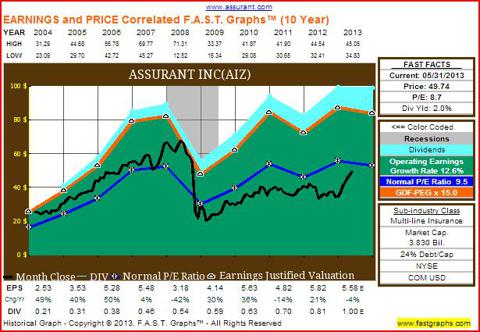 Disclosure: I have no positions in any stocks mentioned, and no plans to initiate any positions within the next 72 hours. I wrote this article myself, and it expresses my own opinions. I am not receiving compensation for it (other than from Seeking Alpha). I have no business relationship with any company whose stock is mentioned in this article.