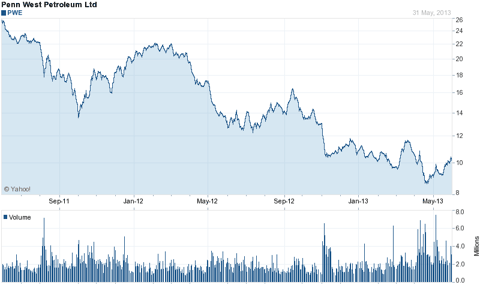 Click to enlarge
Look at that chart on Penn West Energy (NYSE:PWE). It is truly one that only a short seller could love.
Unfortunately for me, I'm not a short seller. I'm a shareholder.
I've bought Penn West shares as high as $20 and am clearly not thrilled today with a share price that is barely over $10.
So why did I think Penn West at $20 was a good place for my money? Because I thought Penn West was going to benefit like no other company from the horizontal drilling revolution that has revitalized the North American oil industry.
Smaller more entrepreneurial companies were the key to cracking the code to extracting oil from shale and tight oil reservoirs by applying horizontal drilling and multi-stage fracturing. But these companies weren't blessed with what Penn West was. Big land positions in almost every horizontal oil play in Canada.
Penn West already had over 6 million acres of land in Western Canada and that land includes large positions in the following horizontal resource plays:
- Cardium
- Carbonates (Swan Hills, Slave Point)
- Viking
- Spearfish
- Duvernay
Click to enlarge
So What Is The Problem?
Penn West has all of this land that everyone in the industry would love to have. That land has been made much more valuable with the application of horizontal drilling to tight oil resource plays.
Why then has the share price of Penn West done so poorly?
I believe it is a combination of two things. One that Penn West couldn't control, and one that the company is fully responsible for.
The first issue that Penn West as struggled with is extremely depressed Canadian natural gas prices.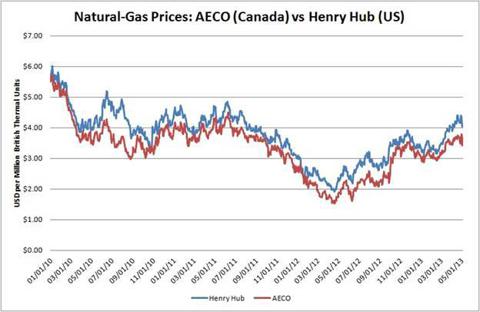 Click to enlarge
While Penn West is fairly heavily weighted to oil and liquids (64%) having natural gas drop to under $2 per mcf for much of 2012 really put an unexpected hole in the company's cash flow which led to a weakening balance sheet and eventually significant asset sales.
The second issue which Penn West is fully responsible for is poor capital efficiency. The company has been spending too much capital relative to the amount of production that spending is generating.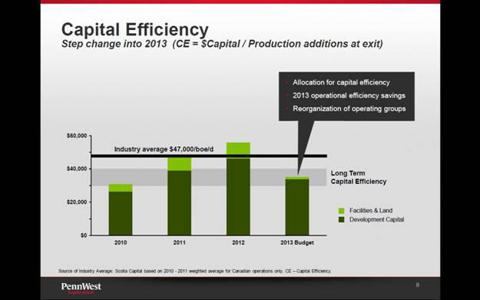 Click to enlarge
Improvements in capital efficiency are crucial to Penn West winning back investor confidence.
In the most recent earnings conference call CEO Murray Nunns discussed measures being taken to try and make significant improvements on the capital efficiency front:
On the capital efficiency objectives, focusing capital on fuel light oil areas and driving to reduce drilling and completion costs across all our light oil regions has resulted in positive outcomes. Across all regions improvements in well and pipeline repair, maintenance cycle times, all contributed to stronger production performance.

Cost structure improvements, increased reliability on base production and focused capital allocation gives us a high degree of confidence that Penn West is on track to hit its capital efficiency targets of 35,000 to 45,000 per flowing barrel as outlined in the 2013 capital budget.

We'll do a little bit more on these operational improvements, a bit later in the talk with Rob Wollmann, and I really want to underscore this. We're not finished on organizational and executional improvements. We are continuing to tighten the ship, we are enhancing production operations in the field, we're refining our second-half capital allocation and striving to realize further improvements on to cost structure.

Staff has also been reduced by 10% since the fall of 2012. This is an ongoing process as we focus on improving G&A cost corporately. In the fall of 2012, the existing executive team committed to and has been effective in initiating organizational and operational change at Penn West as evidenced by our performance in the first quarter.
The Turning of the Tide?
The most important moves Penn West has made to right the ship though may have happened very recently and involve the individuals at the very top of the company.
It was announced in early May that two legends of the Canadian oil industry have joined the Penn West Board of Directors.
Rick George, freshly retired as CEO and Chairman from Canadian Oil Sands giant Suncor (NYSE:SU) has been named Penn West's new Chairman of the Board. George was appointed CEO of Suncor in 1991 and created billions of dollars in value for shareholders.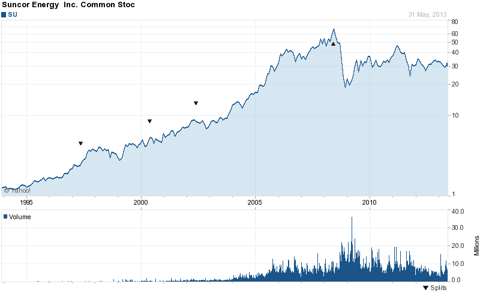 Click to enlarge
In addition to George, Penn West added the former Chairman of another Canadian oil industry giant (Canadian Natural Resources) Allan Markin as co-vice Chairman. Markin was Chairman of Canadian Natural (NYSE:CNQ) for more than 20 years as that company also created billions of dollars of value for shareholders.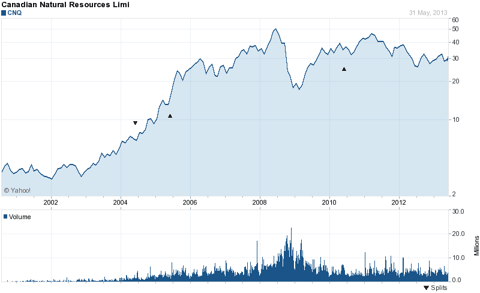 Click to enlarge
And Markin is putting his own money to work buying shares of Penn West.
On May 24, 2013 Allan Markin purchased 300,000 shares at $10.41 and then on May 27, 2013 he purchased another 65,900 shares at $10.34. That is almost $4 million out of his own pocket showing that he is both committed to Penn West and believes in the company over the long term.
I still think $10 is a great entry price on Penn West. The assets that this company has can't be replicated and with two very experienced and successful men now steering the ship the tide for investors may be about to turn.
Disclosure: I am long PWE. I wrote this article myself, and it expresses my own opinions. I am not receiving compensation for it (other than from Seeking Alpha). I have no business relationship with any company whose stock is mentioned in this article.