Danaher (NYSE:DHR) has built a terrific company by piecing together and then improving the business prospects of numerous acquisitions.
In the early '90s, Danaher was a conglomerate of cyclical businesses. In the mid '90s, their corporate vision morphed based on a concept they call "The Danaher Business System <DBS>." Under the DBS initiative, their goal was to reduce cyclicality and generate above average growth.
Figure 1 below clearly illustrates that the DBS initiative has been a resounding success. Since 1995 through 2008, Danaher has grown earnings/share at a compound rate of 19.9%.
FIGURE 1 DHR 1995-2008 Historical Earnings (see short video).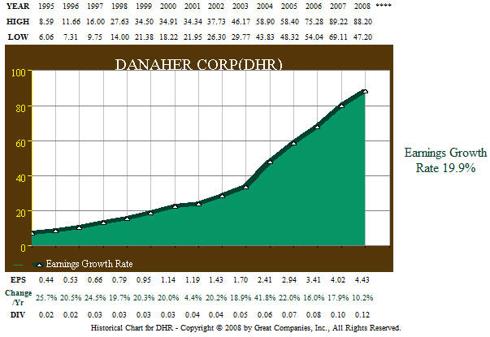 Figure 2 below shows that the market has rewarded Danaher shareholders with stock values that closely correlated to their earnings growth. Note that 2008 is the only year where Danaher's stock price fell significantly below its earnings growth rate.
FIGURE 2 DHR 1995-2008 Historical Earnings/Price Correlation (see short video).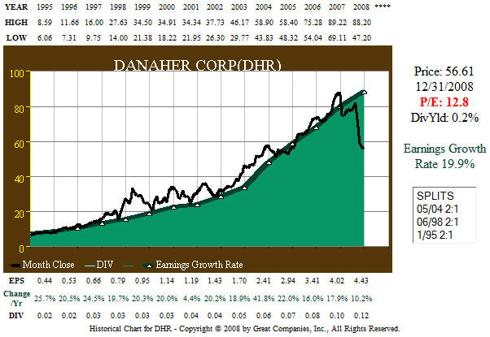 We always find it useful to calculate the track record of any company we are researching and compare its record to the general market (S&P 500).
Figure 3 finds Danaher shareholders earning a return significantly greater than the general market and that correlates to the company's excellent operating history, discounted by the current low valuation.
FIGURE 3 DHR 1995-2008 Price Performance (see short video).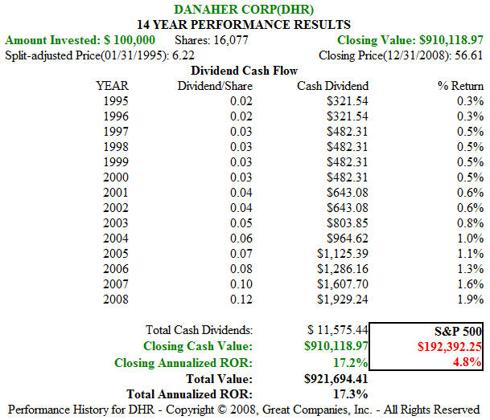 In Figure 4 we update the Danaher (DHR) graph to current, and overlay operating cash flow and free cash flow generation. We believe this clearly validates the DBS objective of creating strategic platforms with sustainable competitive advantages. Figure 4 also speaks to the quality of Danaher's operating achievement under the DBS plan.
FIGURE 4 DHR 19 Year OCF FCF Earnings/Price Correlation (see short video).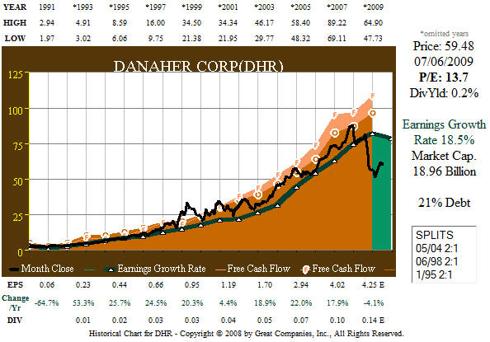 To call Danaher a well-diversified company would be a gross understatement of the facts. Their main business segments include: Professional Instrumentation with two strategic platforms: Test &Measurement, and Environmental. Medical Technologies encompassing three key businesses: Dental Equipment and Consumables, Life Sciences, and Acute Care Diagnostics. Industrial Technologies encompasses two strategic platforms: Motion and Product Identification and three niche businesses; Aerospace & Defense, Power Quality, and Sensors & Controls. Tool & Components encompasses one strategic platform; Mechanics Hand Tools and four focused niche businesses Jacobs Chuck, Delta Industries, Hennessy Industries, and Jacobs Vehicle Systems.
The top four business segments, Test & Measurement, Medical Technologies, Environmental and Product Identification generate 70% of Danaher's total revenue. Over half of total revenues come from outside the U.S. with China the largest foreign market followed by Eastern Europe, and then the rest of the world. Emerging markets contribute more than 15% of total revenue.
Acquisitions are a big part of Danaher's growth story. In 2008 alone they made 14 acquisitions with revenues exceeding $250 million.
However, we believe that it's more than growth by acquisitions that makes Danaher special. What they do with the acquisitions under the Danaher Business System is what is truly remarkable. Danaher (DHR) has a legacy of dramatic improvement in a businesses' core metrics once acquired. Inventory management and turn, productivity, margin improvement and increasing market share are just a few of the benefits of joining the Danaher family of companies. At Danaher it's called KAIZEN, the Japanese principle of continuous improvement.
Considering the state of the world economies, makes Danaher's strong financial position a major plus. Their balance sheet is healthy with a debt to capital ratio of 21%. Their debt is highly rated, with no maturities until 2011 and interest coverage of 16 times. Their strong cash flow generation and excellent capital structure provide large opportunity to continue their acquisition strategy at today's depressed valuation market levels.
Although not totally immune to the current economic crises, Danaher is poised to exploit the unfolding long-term opportunities. The Danaher Business System (DBS) initiative is based on proven principles of lean manufacturing and core values driven to continuous improvement.
In our opinion, today's adversity has spawned an exciting opportunity for long-term investors to accumulate this terrific business. Danaher's name is rooted in the Celtic word meaning swift flowing. We believe that is how your investment dollars should be moving into Danaher.
Full Disclosure: Long DHR at time of writing.