During the first quarter of this year Singapore's economy shrank unexpectedly by 1.4%. Singapore has been grappling with slow growth and relatively high inflation in recent years due to weakness in key export markets thanks to a gradually strengthening Singapore Dollar (NYSEARCA:FXSG). Much of this is due to the malaise affecting the major economies in Europe, the US and now China. The Monetary Authority of Singapore has been attempting to rein in inflation caused by its interest rate policy through controls on its property sector.
In spite of this, the Heritage Foundation's latest Economic Freedom Survey raised Singapore's score by 0.5 points to 88.0, placing it second behind Hong Kong and ahead of Australia. You can check the full details here. Advancement in financial freedom outweighed slight deterioration in five other areas measured by the survey. With the world in general moving towards stricter control of capital, Singapore is opening up. And, since we know that capital will flow to where it is treated the best, the long term investment thesis is pretty simple from the 30,000 foot level - long Singapore.
That said, however, its GDP growth has been slowing down. The Singaporean economy grew by 0.2% year over year in the first quarter, compared to 1.5% year-over-year growth in the preceding quarter.
The pull-back in momentum was mainly due to the decline in export sectors such as manufacturing and wholesale trade. The Singapore dollar has been steadily rising since last summer after extreme fear in Europe drained the FX markets of US dollars on the fear of liquidity drying up, resuming the decade-long trend of rising versus both currencies.
We are beginning to see a similar situation arise this month with secular US dollar strength creating weakness not only for the USD/SGD pair but also in the Malaysian Ringgit, Australian Dollar (NYSEARCA:FXA) and Thai Baht. The latter two have retreated more then 10% off of their recent highs in less than 6 weeks.
With exports falling, mostly in electronics and semiconductors, the manufacturing sector -- 20% of the country's GDP-- remains weak. A quarter or two of weakness in the Singdollar will help offset changes occurring in the PC industry and return some margin back to suppliers like Flextronics (NASDAQ:FLEX) and GlobalFoundries. On a quarter-over-quarter basis, manufacturing declined by an rate of 12.3% and 6.8% annually. The growth in construction, led by oil-rig maker Keppel Corp (OTCPK:KPELY), helped offset the weakness in manufacturing.
| | |
| --- | --- |
| Economic Sector | GDP Growth (annualized) |
| Manufacturing | -6.8% |
| Wholesale & Retail | -1.1% |
| Transportation & Storage | -0.5% |
| Construction | +7.3% |
Labor Issues Persist
Continuing tightness in the labor market -- it has been at or below 2% for the past 4 quarters -- is adding to domestic cost pressures, resulting in a stronger pace of cost pass-through to prices of consumer services. A surge in rental and car prices have supported Singapore's inflation rate, currently around 4%. But the CPI has dropped from nearly 6% in early 2012 and this is why the country is dealing with scant GDP growth now, i.e. tight monetary policy and an appreciating Singdollar.
According to the MAS, the inflation forecast for 2013 has been lowered to 3-4% growth from its previous forecast of 3.5% to 4.5% and the core inflation outlook has been cut to 1.5% to 2.5%. Labor market tightness, however, could be alleviated by loosening newly-placed restrictions on foreign workers, but with the ruling party suffering at the polls over the influx of foreign labor this is unlikely to change in the near future.
Equities Healthy
The equity markets reflect the cautious optimism of traders that improving inflation numbers and a weaker Singdollar will translate into improved earnings. The Straits Times Index is up just 5.3% this year, though trading at a 5 year high. The breakout from the 3 month consolidation between 3250 and 3300 is very bullish and confirms a continuation of the rally which began in December. The iShares MCSI Singapore Index ETF (NYSEARCA:EWS) is up, by comparison just 2.0% year to date.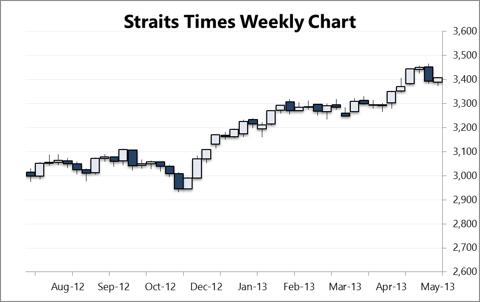 Click to enlarge
The MAS has stuck to its tight policy stance even though growth has struggled. Falling demand for the Singdollar is a temporary phenomenon as the MAS will continue to push its Nominal Effective Exchange Rate lower over time. In a world of nearly unlimited QE being practiced by the major central banks, the MAS is refusing to play the debasement game at the same rate. This will create problems in the short term as current volatility from the U.S. and Japanese bond markets will continue to produce temporary dislocations in the FX markets, but the long-term trend for the Singdollar versus the dollar and the euro (NYSEARCA:FXE) is down.
Singapore's policy is one designed to increase the investment attractiveness of its currency rather than boost GDP numbers through cheap export effects. In short, in a world of mercantilists Singapore is a free trader. Current MAS policy supports a shift in GDP composition away from exports and towards services and trading. A strong currency is needed to attract capital not a weak one.
And this will be extremely important in the coming years, especially with its first LNG terminal becoming active last month. The city-state now has the opportunity to become the trading hub of LNG for the entire Asia-Pacific region, relieving importers from having to rely on long-term contracts tied to Henry Hub or crude oil prices. This is fundamentally very bullish for the Singdollar as a regional trade settlement instrument.
The first-ever sale of yuan-denominated bonds being offered by HSBC (HBC) and DBS Group (OTCPK:DBSDY) in Singapore is another bullish development, and likely the beginning of a deepening of local Yuan liquidity. ICBC's Singaporean branch started Yuan clearing services this week which will increase the flow of Yuan around the region.
This is where Singapore's next phase of GDP growth is going to come from. We see its banking and insurance sectors as being in the strongest position to continue receiving the capital that is fleeing the West and moving East. With the probe into Singapore's offshore FX markets, the MAS is continuing to advertise to the world that it is serious about treating offshore capital well.
Because of this overall GDP growth will likely continue to be anemic in the medium tern as the country grapples with these changes in the balance of its GDP. It looks like the MAS is okay with this. We are of the opinion, however, that at some point in the future the MAS will have to decouple its benchmark lending rate from that of the Federal Reserve, especially if property prices stop responding to the latest rounds of controls.
With global bond yields on the rise, if the MAS wants to continue this policy it will have to accept either a weaker Singdollar or raise its lending rates. Because the Fed is not about to raise its benchmark lending rates anytime soon -- having stated that it will keep them near zero until at least 2015. Capital inflows will demand something be done.
For now, EWS looks attractive at a 3.9% yield and is shadowing an equity index that is rising healthily. The iShares MCSI Singapore Small Cap Index ETF is a more intriguing play since it has heavy exposure to a number of high-quality S-REITs and paid an enormous 19.3% yield in 2012. It is, however, trading at a much richer multiple of 19.9 as of April 30th. Both ETFs have corrected in recent days back near their breakout levels. A successful test of those levels and 3330 on the Straits Times Index would confirm an excellent entry point.
Disclosure: I have no positions in any stocks mentioned, and no plans to initiate any positions within the next 72 hours. I wrote this article myself, and it expresses my own opinions. I am not receiving compensation for it (other than from Seeking Alpha). I have no business relationship with any company whose stock is mentioned in this article.