I'll have to admit that at this time last year, my only experience with Cracker Barrel (NASDAQ:CBRL) was that I used to just see it listed as a funny named stock that has paid increasing dividends for ten years on the list that David Fish compiles monthly. Then that all changed when I had to head out to Missouri to do some inspections for my job. A friend of mine who happened to be from Missouri said that if I should come across a Cracker Barrel in the area that I should try it out for breakfast because it was "fabulous," according to her. So I did, and I was hooked on it, eating breakfast there every day! Less than a year later, I'm a shareholder and loving that part of it too, but I'd like to take a couple of minutes to check on the stock's current health.
Valuations
Cracker Barrel currently trades at a trailing twelve month P/E ratio of 18.95, which doesn't bother me too much because I like to purchase a stock based on where the company is going in the future as opposed to what it has done in the past. On that note, the 1-yr forward-looking P/E ratio at 16.12 is fairly valued to me. The PEG ratio, which measures the ratio of the price you're currently paying for the trailing twelve month earnings on the stock while dividing it by the earnings growth of the company for a specified amount of time (I like looking at a 5-yr horizon) does tell me Cracker Barrel is kind of rich with a value of 1.9. Earnings are expected to grow 10% in the next 5 years, which is pretty good but not good enough to lower the PEG ratio.
Financials
The premise of why I bought the stock back when I did was because of the dividend. The dividend currently stands at 2.24% (I know it seems small), but just at the beginning of May, it was at 2.42%. The stock itself is up 8.42% for the month of May, and year to date is up 39.22%. If you look back at the past year, you will see that there were very little opportunities to buy a "dip" in the stock. Other financial metrics I like to look at are return on assets, equity and investments. Cracker Barrel currently sports values of 7.96%, 29.69%, and 10.12%, respectively, which are all very respectable values. The dividend payout ratio on an earnings basis currently sits at 34.72%, which means there is more room to grow the dividend, and the last time the company raised the dividend, it raised it by roughly 43%! This company definitely has an excellent track record of ten years raising its dividend.
Technicals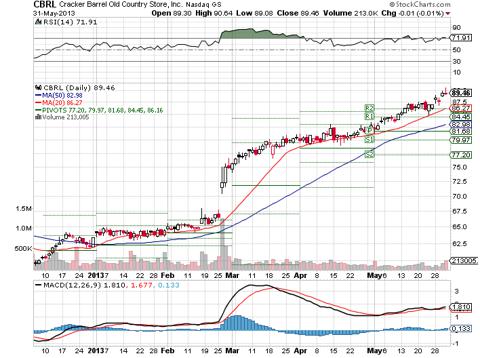 Immediately I see that on the relative strength index (RSI) chart the stock has hit overbought territory with a value of 71.91. Though in late February/early March you can see that it shot way past 70 and hit 90 due to the company beating earnings by $0.18 (the value of 70 indicates overbought while a value of 30 indicates oversold territory). Looking at the moving average convergence-divergence graph (MACD), which shows the momentum of the stock we see that the black line is above the red line (indicating upward price momentum) but is moving up at a very slow pace. From the main graph we see that this stock along with a few others I've written about recently is riding its 20-day moving average upwards, but in this stock in particular it has broken past all resistance levels. The stock is currently at an all-time high.
Recent News
On 30May13 BofA/Merril Lynch upgraded its rating on the stock from "underperform" to "neutral" and raised its price target from $68 to $99. That's a 10% increase from current levels.
Conclusion
Currently, the valuation portion of the story tells me that the stock is fairly valued, while the financials tell me that I'm picking up a delightful dividend with price appreciation. The technicals on the other hand tell me that we are overbought, but that doesn't necessarily mean there will be selling going on, especially if the stock chooses to take the path it did back in late February/early March. I think the point in time that all the algorithm traders are waiting for is this coming Monday, when Cracker Barrel is expected to report earnings. If the company beats again, I think we can see at least a 5% pop in the stock as it did back in late February (8.5% pop the day it reported). I will wait and see what happens on Monday with earnings to see what my next step in the stock will be.
Disclaimer: These are only my personal opinions and you should do your own homework. Only you are responsible for what you trade, and happy investing.
Disclosure: I am long CBRL. I wrote this article myself, and it expresses my own opinions. I am not receiving compensation for it (other than from Seeking Alpha). I have no business relationship with any company whose stock is mentioned in this article.