Most upstream MLPs (master limited partnerships) that produce oil and gas have similar business models: Lever up with debt to acquire mature, long-lived assets from other producers, hedge production for the long term, and then distribute cash flow through its partnership structure, thereby avoiding a corporate tax. They tend to grow production and earnings by acquisition, not the drill bit. And much like with upstream producers, crude oil is much more a sought after commodity than natural gas at this time due to the latter's low price in North America.
One upstream MLP, Vanguard Natural Resources (NYSE:VNR), has taken a contrarian approach, buying up mature gas fields from other companies for very low prices and multiples. Vanguard acquires and develops oil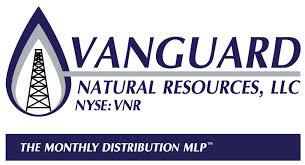 and natural gas properties in the United States. It owns and operates in the following areas: the Arkoma Basin in Arkansas and Oklahoma, the Permian Basin in West Texas and New Mexico, the Big Horn Basin in Wyoming and Montana, the Piceance Basin in Colorado, South Texas, the Williston Basin in North Dakota and Montana, and the Wind River and Powder Basins in Wyoming and Mississippi. In this article we will take a closer look at Vanguard, with an emphasis on its long-term prospects, valuation, debt, hedging strategy, and security of cash flow.
Cornucopia of Opportunity
As the shale revolution continues, companies are pouring capital into exploration and new production in North American shale plays. To finance this, many are also selling mature assets here in North America, exactly what the MLPs are targeting. Upstream MLPs have been finding an abundance of deals available. Take some of these recent anecdotal examples.
Clearly there is a lot of inventory that wants to move. And as long as exploration and production companies want to pour capital into developing existing shale plays like the Bakken, Eagle Ford, and Marcellus and explore for new plays, upstream MLPs will continue to fund their expansion by buying up older assets for their predictable cash flows.
Three Acquisitions Mark Change in Direction
In the past 18 months, Vanguard has made three important acquisitions. The first was a deal to acquire reserves of some 137 billion cubic feet equivalent (BCFE) from Range Resources (NYSE:RRC) in the Permian Basin for $275 million. Approximately 75% of current production is either natural gas or natural gas liquids (NGL). Seventy eight percent of reserves are already proven and the reserve-to-production ratio is 20 years. This deal is immediately accretive to distributable cash flow (DCF), and management is confident that more upside will be realized when pipeline companies finish several Permian projects. The Range deal is a sort of rain check.
Second is an acquisition in the Fayetteville and Woodford shales in Oklahoma and Arkansas ("Arkoma") from Antero. Production is 100% natural gas on proved reserves of 362 Bcfe. Their average working interest in each well is 22.5%, and these reserves are expected to last 16 years. Best of all, this acquisition is also immediately accretive to cash flow. Management expects superior returns on this acquisition even in a low natural gas price environment. Interestingly, there is also the possibility for inventory growth: If gas prices increase, the number of economically feasible projects will increase, too. Finally, Vanguard has rebuilt the hedge book to 100% of all production through 2017.
The company's third recent acquisition was in the Niobrara. It includes the Piceance Basin, Colorado and Wind River Basin in Wyoming, bought from the Bill Barrett Corporation (NYSE:BBG) for $335 million. Current production is 86% natural gas on reserves of 151 Bcfe. The Barrett acquisition is immediately accretive to cash flow, but there is also significant upside here: Vanguard will be able to drill more locations in the Piceance Basin provided we have $4.50-plus natural gas prices. A number of Powder River sites would be viable in an improved pricing environment, too.
A Contrarian Strategy
As you can see, Vanguard has chosen to mostly acquire natural gas assets of late, which has far less competition because many acquirers are focused on liquids assets. While natural gas does have a glut of supply and fetches far lower returns than oil at this time, it does have the following advantages:
Natural gas assets are selling for very reasonable prices right now.
In North America, natural gas tends to have a lower decline curve than oil as there is a lot more gas than oil in shale formations.
Natural gas is cheaper to hedge out for the long term. This fits with Vanguard's MLP business model because cash flow from natural gas can be more predictable.
However, there are some bleak price dynamics at work for North American natural gas right now. It is a substitutable commodity, and when natural gas prices venture too high, energy coal enters the market and knocks it back down. Also, the gap between North American natural gas prices and that of the rest of the world, specifically Asia-Pacific, are huge. This price gap could be exploited and eventually closed by exporting our natural gas, but it doesn't look like the U.S. will be significantly doing so anytime soon. We may never realize global LNG prices.
Click to enlarge images

Click to enlarge
Source: NAPTP presentation.
Vanguard's strategy is an interesting and contrarian one. It is important to know that this company is not married to natural gas, but is simply buying gas assets because they are cheap. Back in 2011, for example, crude oil comprised of over half of production.
Hedging Portfolio
Because most investors in an MLP are there for the distributions, a sound hedging strategy is very important for these companies. For example, Linn Energy, the largest upstream MLP, hedges 100% of its production four years out. While Vanguard's hedge book is fairly conservative, it is indeed not nearly as extensive as Linn's.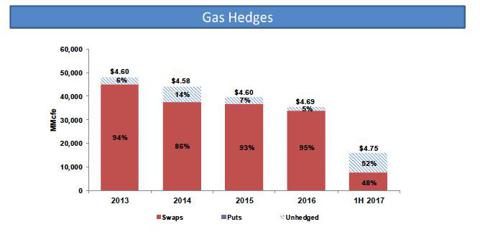 Click to enlarge
Nearly all natural gas is hedged through 2016. Crude oil, however, is a different story.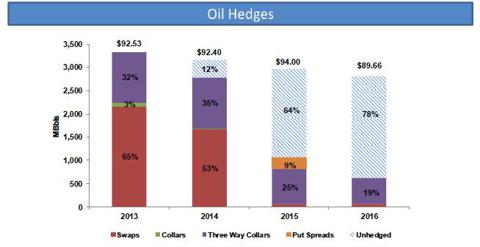 Click to enlarge
Source: NAPTP presentation.
Stress Test
Most oil production past 2014 remains unhedged. Its oil hedges average out in the low 90s per barrel. But what happens if global oil prices drop to $80 and stay there? The answer is probably not much.
Sure, margins for oil will drop and some production may not be economical, but remember, oil only accounts for a quarter of production anyway. Consider also that distributable cash flow sits at 1.1 times distributions, so we have at least a little margin for decline. It would likely take sub-$70 per barrel oil for an extended time before Vanguard's monthly distributions were in trouble. Indeed, management has thought of these scenarios and has shared its "stress test" with investors. Have a look: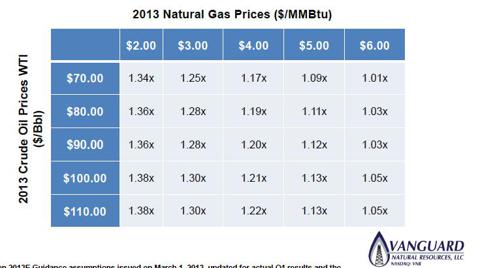 Click to enlarge
Source: NAPTP presentation.
Debt Profile
Vanguard is a secure company. It can maintain all operations as well as distributions from EBITDA alone. In fact, its adjusted EBITDA to capital expenditure (capex) is among the lowest in the upstream MLP space. Its general target for debt levels is three times EBITDA earnings, and it has consistently stayed below that number.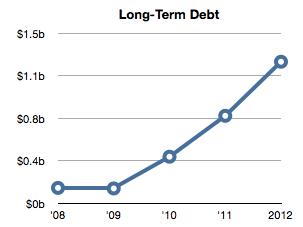 Source: Chart by author, data by Morningstar.
However, Vanguard must acquire to grow earnings, and that does result in a lot of debt. Most of this debt comes from either senior bond notes or a reserve-based credit facility, both of which have fixed rates. Despite the increase in debt, debt to market cap is still only 80% of present value (NPV10), compared to nearly 100% at Linn Energy.
Debt is still the greatest risk to Vanguard simply because it requires access to credit in order to grow. While the company may be able to fund its operations and hedge to distribute cash to unitholders without taking additional debt, it would not be able to grow distributions in such a scenario, thereby making the security more bond-like in nature. A hike in interest rates coupled with scarcity of credit may affect Vanguard significantly.
Valuation and Dividend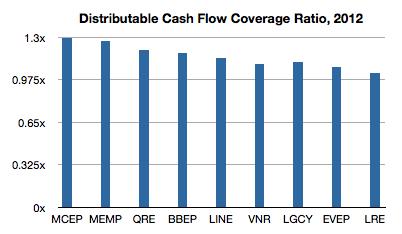 Source: Author.
Vanguard's generous monthly distributions are in no danger, nor can I see many cases where they would be. Its distributable cash flow/distributions ratio, important because it signifies the ability for an MLP to pay distributions, is right about in the middle of its peer group.

Click to enlarge
Source: YCharts.
Vanguard is called "the monthly distribution MLP." But there isn't much correlation between the stock price and dividend yield here. In addition, the stock does not seem to be as volatile as some of its other peers, for example BreitBurn or Linn. Trading at 1.33 times its PV10, an investor at these levels is not really getting a discount. There have been better times to buy, but I believe that Vanguard can still be picked up reasonably here, especially after a recent secondary offering has knocked the price down another 4.5%.
Conclusion
As an individual company, Vanguard's fundamentals are good. The greatest risk to a company such as this would be rising interest rates. This would make financing for future acquisitions difficult. However, Vanguard does fund all its existing operations and distributions from cash. A drop in bond prices could affect a high-distribution MLP, especially if it no longer has the means to grow distributions. Another risk is legislative: Congress at some point may get annoyed with upstream companies converting to MLPs, which was originally meant to build domestic energy infrastructure, and put a stop to the whole thing. Something similar did happen in Canada in the last decade. There hasn't been any talk of this lately, though.
Despite these risks, all part and parcel of upstream MLPs, Vanguard's contrarian strategy is a compelling one. Natural gas assets are selling cheaply and it is easier to hedge at this time. I believe Vanguard's strategy will pay off. And while its hedging program may not be the most extensive, a second look shows that it has secured the company's distributions in most scenarios.
An investment in Vanguard, therefore, is a bet that the company will continue to successfully find funding to grow its earnings. If management can do this, the rest will fall into place and I believe investors will be rewarded by generous and growing distributions.
Note: Data on each respective company can be found in the following Q4 2012 earnings transcripts: MCEP, MEMP, QRE, BBEP, LINE, VNR, LGCY, and LRE. Note also that the 1.2x coverage ratio for QRE was for Q4 and is a long-term target.
Disclosure: I am long LINE, BBEP. I wrote this article myself, and it expresses my own opinions. I am not receiving compensation for it (other than from Seeking Alpha). I have no business relationship with any company whose stock is mentioned in this article.