"With iron ore currently accounting for around one-fifth of Australia's exports, the greater use of shorter-term pricing has implications for the terms of trade. In general, the spot price for iron ore has tended to move in line with developments in Chinese industrial production and steel production, although disruptions to supply can also be important. Hence, changes in the outlook for Chinese growth and steel demand are likely to be reflected more quickly in the prices received by Australian iron ore producers than in the past." - Reserve Bank of Australia (RBA) in its Statements on Monetary Policy - August 2012 regarding iron ore pricing.
This assessment accurately portrays what has happened to iron ore prices in its latest swoon. Iron prices have plunged almost as severely as they did last August as steel rebar prices have fallen. From Reuters on May 31st:
"The price of iron ore is down almost 17 percent for the month…This week already, iron ore has fallen 9.4 percent…

The most actively traded rebar contract for October delivery on the Shanghai Futures Exchange hit a session low of 3,424 yuan ($560) a tonne on Friday, near Thursday's nine-month low of 3,420 yuan. For all of May, construction-used rebar is down 5.8 percent, its widest drop since August's 9 percent slide. Rebar's slump this week puts it close to its all-time low of 3,376 yuan reached on Sept. 6, around the same time that iron ore hit a three-year low of $86.70 when China's economic slowdown curbed steel demand."
These price declines would seem to be easy recipes for more rate cuts from the RBA. However this time around, we have the oddity of Chinese steel production roaring at exceptionally high levels. If this pace continues much longer, the current destocking cycle for iron ore will end and give way to a renewed surge of imports. In the Brisbane Times, Andy Home notes:
"The root cause of the current weakness in the iron ore market is the same as the last time around, namely margin compression in China's steel sector. Of course one of the main reasons for weak Chinese steel prices is too much production relative to demand. And what is curious about the current dynamic in China is that steel production itself shows no signs of slowing. Overly optimistic or not, it is this continued strength in steel production that marks the difference from last August."
At 76M tonnes, iron ore inventories are about 23% lower now than they were in August when steel production dropped 35% (annualized). Businessweek noted the following: "Iron-ore stockpiles at Chinese ports dropped to 66.26 million metric tons on March 8, the lowest since March 2009, according to data from Beijing Antaike Information Development Co. Inventories were 69.46 million tons as of May 24."
Regardless, if steel production continues at its robust pace, it should soon force a fresh restocking cycle that should in turn put a floor under iron ore prices. The RBA will have to determine (guess?) whether this strength in production will/can actually continue. If so, more rate cuts may not make sense except of course to continue targeting a lower Australian dollar (NYSEARCA:FXA); no domestic economic numbers suggest the economy has taken a sharp turn for the worse since the last monetary decision. If Chinese steel production will finally follow prices and collapse, then the RBA may find itself with far worse economic prospects come July.
Last year's plunge in iron ore prices made it clear that the RBA does not have a hot panic button tied to iron ore. As last year's plunge was well underway with iron ore prices just above current levels, on August 7, 2012, the RBA left its cash rate unchanged at 3.5%. There was no mention of iron ore prices. On September 4, 2012, the RBA once again left interest rates unchanged with no mention of iron ore prices. The assessment for the economy was relatively sanguine with risks pointed to the downside thanks to developments in Europe, not in China. If the RBA once again looks past the short-term volatility in China's economic performance, it will again not use iron prices as an excuse for lowering rates again. However, plunging prices certainly provide great cover for more rate cuts if the RBA intends to maintain an accomodative policy stance. In such a scenario, the RBA can avoid talking about targeting the currency for lower levels.
Under the current rate-cutting cycle, the RBA has given itself license to cut under the rubric of "scope" to ease policy. For example, from last month's decision on monetary policy (May 7, 2013):
"The Board has previously noted that the inflation outlook would afford scope to ease further, should that be necessary to support demand. At today's meeting the Board decided to use some of that scope. It judged that a further decline in the cash rate was appropriate to encourage sustainable growth in the economy, consistent with achieving the inflation target."
After that mystifying cut, I concluded that the RBA must be specifically targeting the Australian dollar for lower levels. Likely to the RBA's delight, currency markets finally got a clue in May. Partially thanks to a resurgent U.S. dollar, the Australian dollar proceeded to drop for all but 6 of the remaining trading days in May. The Australian dollar is now much lower than it was at the last trough of iron ore prices.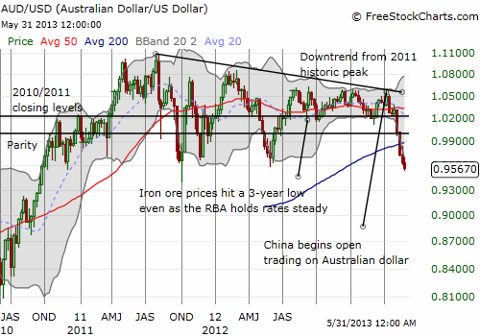 Australian dollar breaks 2012 lows... on its way to 2011 lows and lower?
Source: FreeStockCharts.com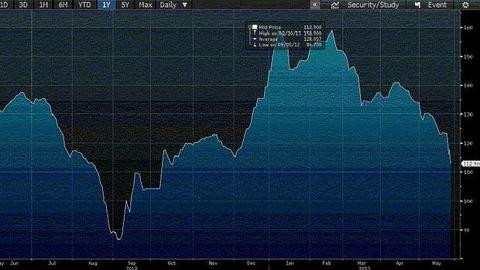 Iron ore prices the last 12 months
Source: Brisbane Times
Language in the next statement that confirms the RBA is still in an accomodative stance will likely punch the Australian dollar even lower. Paired with another rate cut, the skids should stay well-greased. The challenge for the RBA is whether the currency then starts to fall "too fast." Without a sense of the RBA's target, the market will be free to use its collective imagination, perhaps a drop to important levels from 2010 like 0.87 or even 0.82. Remember, the Australian dollar has become the latest "easy" trade fully supported by central banking authorities. After the Japanese yen (NYSEARCA:FXY) managed to stop plunging in mid-May, the Australian dollar obliged traders with the next momentum trade. The Australian dollar has even lost all its gains on the yen from the Bank of Japan's aggressive monetary policy statement in April.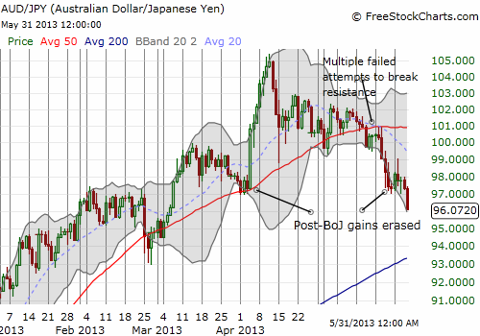 The Australian dollar takes over as one of market's weakest major currencies
Source: FreeStockCharts.com
The Australian stock market (NYSEARCA:EWA) also gives the RBA scope for lowering rates. Unlike the S&P 500 (NYSEARCA:SPY), the Australian stock market is nowhere near surpassing its all-time high.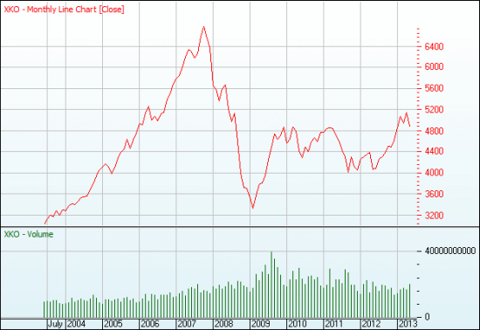 Post-crisis highs have not delivered all-time highs for the S&P/ASX 300
Source: Australian Securities Exchange
Instead of rallying over the past month like the S&P 500, the Australian stock market lost significant ground; it lost over 4%. At the current pace, it will erase all its 2013 gains by sometime this summer (Australia's winter, of course). A rate cut under such circumstances will certainly make sense to market participants who will hope that lower rates will soon support stock prices.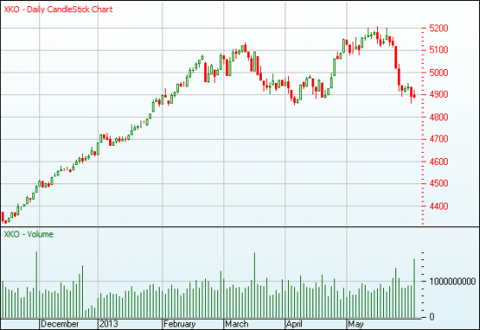 A rough May for the Australian stock market
Source: Australian Securities Exchange
For now, I have significantly scaled back all my bearish bets against the Australian dollar. I will likely maintain my default bullish stance into the June 3rd RBA monetary policy decision just to speculate on a relief bounce for the Australian dollar. After all, net short bets against the Australian dollar are now at levels similar to last year's low for the currency. Moreover, economists are not expecting a rate cut for the coming meeting, but futures are pricing in a small chance for a cut.
I am also sticking by my longer-term bet on iron ore prices with January call options on Cliffs Natural Resources (NYSE:CLF), just about the worst dog in the bunch given its high operating costs. Like Morgan Stanley (NYSE:MS), I will get much more aggressive on iron ore plays if (when?) prices drop to $100 and lower. Unlike previous commodity price declines and crashes, I am much less optimistic about the pace of future rebounds. I think it is time to expect much more modest upside scenarios for perhaps the next two or three years. In the coming weeks, I will post more of my thoughts on this assessment.
Be careful out there!
Disclosure: I am long CLF. I wrote this article myself, and it expresses my own opinions. I am not receiving compensation for it (other than from Seeking Alpha). I have no business relationship with any company whose stock is mentioned in this article.
Additional disclosure: In forex, I am net long the Australian dollar