Through all the speculation and rumor, BlackBerry (NASDAQ:BBRY) continues to push ahead with its plan of resurging to mobile dominance. Never before have I seen such a polarizing stock. With each new media release, the waves of impact splash over BlackBerry, violently yanking the stock price more than 5% up or down. Earnings predictions have been all over the board. With earnings less than a month away, I'd like to take the time to forecast earnings for the quarter (without using radical sales figures and bias).
BlackBerry Sales
Here is where most of the speculation comes in. Everything from 2 million-10 million BB10 units has been predicted. For this number, I have chosen appropriately 1 million Z10s per month. Why? Because I believe the Z10 has outsold the Nokia Lumia series, but not by much. This figure is indicative of that. As for the Q10, I feel that 1.5 million units is a fairly accurate number. I chose this figure because I believe the Q10 has not only sold 1 million units in Canada and the U.K., but that U.S. suppliers have ordered another 500,000 units to accommodate T-Mobile (NASDAQ:TMUS) and Verizon (NYSE:VZ) pre-orders. This will increase accrued revenue for the quarter. Last quarter's service revenue amounted to $950 million. When taken into account, we have an average price per phone of approximately $288 ($220 for BB7 phones, $600 for BB10 phones).
To predict 1st quarter sales figures, I used a 5% decrease in service revenue, and previously mentioned unit sales, along with 2.5 million BB7 phone sales as the company starts to fade out the older operating system. Therefore, this adds up to $2.7 billion in BB10 sales, $550 million in BB7 sales, and $907.5 million in service revenue. This gives us $4.1575 billion in revenue for the 1st quarter.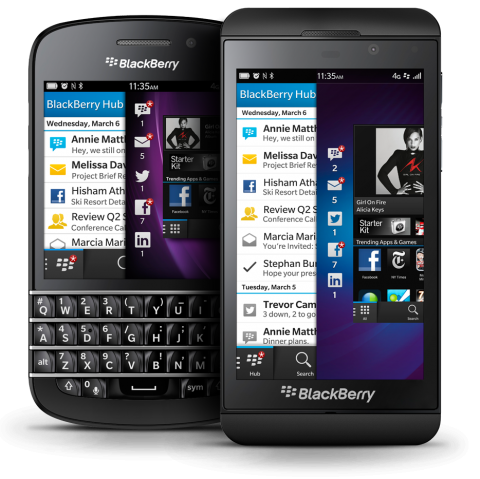 Costs
When calculating costs for the quarter, I left much of it proportionate to previous quarter costs. Cost of revenue was approximately 60% of sales. This gives us a figure of approximately $2.4945 billion. For all other operating costs, I raised the previous quarter's figure by 5%. This will take into account the larger costs that go along with the BB10 launch. Adding these line items, we calculate all other costs to be $1.1413 billion. Adding both of these numbers, we calculate all operating costs to be $3.6358 billion. Considering that BlackBerry has not paid taxes the past 5 quarters, but most likely will for this quarter, we will use a 35% tax bracket.
Net Income
From the previous sales and cost estimates (including 35% taken for taxes), we can offset these two numbers to give BlackBerry an estimated net income of $339.1 million for the 1st quarter of 2014, or $0.65 EPS. This is significantly above the 0.03 EPS Wall Street consensus. Even high estimates have EPS at only $0.50.
Shock And Awe
From these estimates, we can see that a surprise is in store for the market in late June. Anything close to these estimates will send BlackBerry into the high $20's, and the short covering may even magnify the increases in share price. Many have counted BlackBerry out and bashed the company as a "dead" company. What I believe is this, BlackBerry may not be the Wall Street tank it once was, but it is certainly emerging as a lean, agile company focused on a niche market. Think Porsche (OTCPK:POAHF), not Volkswagen (OTCPK:VLKAY).
Disclosure: I am long BBRY. I wrote this article myself, and it expresses my own opinions. I am not receiving compensation for it (other than from Seeking Alpha). I have no business relationship with any company whose stock is mentioned in this article.