Last week I was traveling in New York City with my oldest daughter (who just graduated from high school) and she wanted to check out a restaurant on the Upper East Side. She said that she wanted to get an ice cream sundae and maybe get a glimpse of a famous celebrity. Not knowing much about my daughter's restaurant vocabulary, I trusted her instinct and headed over to the "heart of Little Italy" to find this amazing new secret: Serendipity 3.
As I walked into the restaurant with my daughter, my first thought was that I was inside a general store filled with all kinds of relics and playful accessories (kind of like a Cracker Barrel retail store on steroids). I was not totally in the dark there as I had heard that Andy Warhol was once a frequent customer at the boutique sweet shop.
We headed up the stairs where we found an amazing display of Tiffany glass with patrons smiling from ear to ear. Knowing now that Serendipity 3 is known for its incredible ice cream - and its trademark original, outrageously divine, Frrrozen Hot Chocolate® - I decided to sink my teeth into a Hot Fudge Peanut Butter Sundae.
Admittedly, up until then I had never eaten a $10 sundae, let alone any dessert that was ordered from an incredible menu the size of two laptop computers. I told my daughter that I needed to come back with my friend Donald Trump to try the $1,000 Golden Opulence Sundae (since my journalist budget is not in the cards right now). I am sure it's Trumptastic!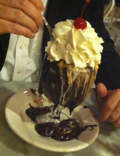 Bottom line (and yes, I am getting to the topic of REITs next): Serendipity 3 is a gem. No, it's a gold mine and I will definitely visit again. I witnessed the self destruction of the best ice cream sundae ever. Words cannot describe the taste, let alone the feeling of satisfaction, so maybe this picture is worth a thousand words:
Serendipity in Finance
Indeed Serendipity 3 is one chic restaurant and the catchy trademark name is defined (on the company's website):
Ser-en-dip-i-ty ((NYSE:N)): the art of making happy discoveries, or finding the unexpectedly pleasant by chance or sagacity.
The restaurant's hip website also provides a more detailed description of serendipity:
Invented by eighteenth century wordsmith Sir Horace Walpole, it evoked the ancient legend of the three princes of the island no longer known as Serendip.
Now in the financial word serendipity is used to describe the acquisition of a business (or for purposes of this article a REIT) in which an unexpected windfall occurs prior to the deal. Often serendipitous value occurs with simply a hunch or possibly insight that adds value prior to making an investment. For purposes of this article, I will refer to serendipity in the context of strategic intuition.
The Serendipity REITs
As mentioned above, I was a little apprehensive about paying $10 for an ice cream sundae. At first I did not see the value in spending $25 for my daughter and I to enjoy a sundae that could be purchased at McDonald's for 1/5 of the cost. Of course I did not argue since my oldest daughter wanted to try it out and the trip was part of her high school graduation present.
But as a friend told me one time,
When you pay in peanuts, all you get are monkeys.
Ladies and Gentlemen: My Serendipity (intuition) tells me that we should all prepare for the future. In such, we should not be investing in lower quality REITs but stay on course with high quality ones. As many of you know, last week was a "tipping point" as Uncle Ben Bernanke's lone comment suggested uncertainty in the timing of Fed stimulus easing:
If we see continued improvements and we have confidence that is going to be sustained, then we could in the next few meetings…take a step down in the pace of purchases.
Regardless of the uncertainty of "when" interest rates will begin to increase, it's clear that investors should begin to prepare now. What better time. In one of my favorite books, The Most Important Thing, the author Howard Marks wrote:
Investing consists of exactly one thing: dealing with the future.
A rising interest rate environment should be considered a risk (for any investor), but it is also a positive signal that the economy is recovering. Jobs mean retail sales and retail sales mean rents get paid. Obviously for REIT investors, rising rents are good as that also increases the likelihood of dividend increases. That holds true for many other sectors, including self-storage, lodging, office, industrial, and even student housing.
My biggest concern with rising interest rates has to do with the lower quality REITs. In that, I mean the REITs that own facilities with lower quality assets in smaller (secondary and tertiary) markets. When rates do begin to rise, the debt costs for many small businesses, franchisees, and "mom and pops" will be impacted the greatest.
Around ten years ago, I was a franchisee and I had multiple pizza stores scattered across two states. My average debt level for each of the restaurants was around $150,000, and had I owned these stores today, I would be concerned that my margins would be substantially impacted due to increased expenses that would, in turn, squeeze my ability to pay rent and make a profit.
As I found out (the hard way), smaller markets are considerably more risky as there are just not enough people (with jobs) with disposable income to make purchases, buy houses, eat out, or even pay $10 for a large pizza with one topping. When rates do begin to rise, the smaller markets will feel the pain and the REITs that own properties in these smaller markets will suffer.
Speaking from experience, there is a greater margin of safety when you invest by the "law of large numbers". In other words, pursue a REIT investment strategy where you select REITs that own properties in major trade areas (NFL markets) or along coastal markets where barriers to entry are the highest.
It's Time to Separate Lollipops from Lemons
Post (Great) Recession, all REITs have been on a winning streak. Through April 30th (2013) of this year, there have been 100 equity REIT transactions (IPOs, secondary offerings, preferreds, and unsecured debt) totaling over $29.14 billion.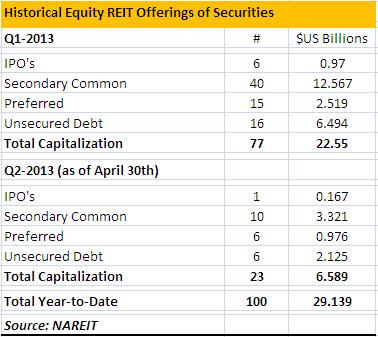 The number of REITs has climbed steadily from 11 in 2008 to 133 (as of April 30, 2013). Note: Chambers Street Properties (NYSE:CSG) listed on May 21st. See my article here.

The overall growth in the REIT sector can be best illustrated with this chart below. In 1971 the market capitalization for the US equity REIT sector was around $1.5 billion (12 REITs ) and today (133 REITs) the industry has mushroomed into a dominating $634 billion industry that represents 133 REITs and a vast variety of new categories, including data storage, campus housing, cell towers, prisons, solar power, farming, and more to come (possibly gaming).

It's important to understand that all REITs are not the same. As mentioned above, I am concerned that "lower quality" REIT portfolios will be impacted when interest rates rise. In addition, I am also concerned that REITs with higher leverage could be impacted. As most know, I don't consider the mortgage REIT sector to be a defensive asset class as the returns are not risk-aligned, especially when you compare the historic returns. It would seem that mortgage REITs would generate four to five times more profit, given the same amount of leverage, but that's not the case.
To test that theory, I selected a random sample of mortgage REITs: Annaly Capital Management (NYSE:NLY), American Capital Agency (NASDAQ:AGNC), Two Harbors (NYSE:TWO), Hatteras Financial (NYSE:HTS), and MFA Financial (NYSE:MFA). I also selected a random sample of equity REITs: Realty Income (NYSE:O), National Retail Properties (NYSE:NNN), Federal Realty (NYSE:FRT), Tanger Factory Outlet Centers (NYSE:SKT), and W.P. Carey (NYSE:WPC).
In all of the four periods (1-year, 3-year, 5-year, and 10-year) the equity REITs "crushed" the performance of the mortgage REITs. In fact, year-over-year, the random sample of equity REITs performed 187% better than the random sample of mortgage REITs.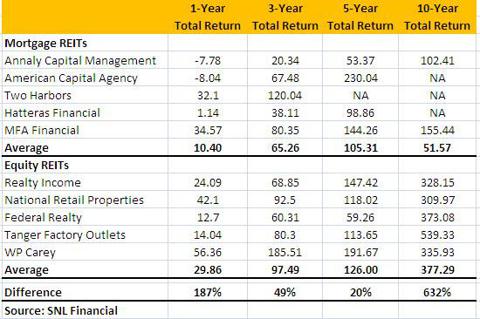 Up until last week, it was difficult to recommend many of the higher quality REITs since valuations were in the "fairly valued" to "expensive" ranges. However, thanks to a much needed market correction, I'm feeling like there could be a "serendipity" opportunity. After all, in just around sixty days, the share price of Realty Income has retreated back to its fair value (P/FFO is 19.2x) of $45.45.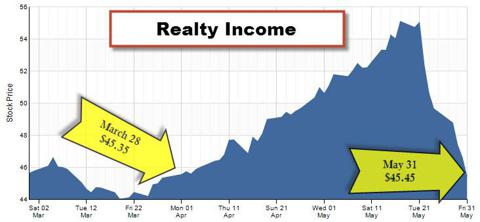 I think the title to this article is fitting as the recent message from Mr. Market has been somewhat of a harbinger and the serendipitous investor should take two or three steps back and begin to think about the future. In a recent article I explained:
The markets have reset and that has created some buying opportunities. Since REITs are income oriented equities, it's important to establish some target price points (based on yield) and determine if there are REITs that are worthy of ownership. In my opinion, the recent market correction has created somewhat of a window of opportunity for REIT investors, and the expected reverse of fortune has now turned into a shopping occasion.
Now before you get excited, I have not seen any "blue chip" bargains. In other words, there are no "blue light specials" for "blue chip" REITs. However, I do think that REIT investors should begin to separate the "lemons from the lollipops". The low quality REITs (with low-quality assets and with low-quality balance sheets) may not be able to managing interest rate risk as well as the higher-quality cousins. In periods of uncertainty (like now) it's important to examine the stalwart REITs and much like the whip cream on my sundae, the cream always rises to the top.
Ben Graham was perhaps the most gifted at managing risk in uncertain times and he wrote about it (in The Intelligent Investor):
The defensive investor must confine himself to the shares of important companies with a long record of profitable operations and in strong financial condition.
Graham also taught that dividends are vital as he explained:
Paying out a dividend does not guarantee great results, but it does improve the return of the typical stock by yanking at least some cash out of the manager's hands before they squander it or squirrel it away.
Graham is right. Had he been around today he would have especially loved REITs since there is no opportunity to "squirrel" cash since REITs are forced to pay dividends!
My fellow Seeking Alpha writer, David Fish, also loves dividends. In his DRiP Investing Resource Center he produces a monthly dividend report that lists all US companies that have paid and increased dividends for at least five years or higher. Fish groups the stocks in the three buckets: Dividend Champions (25+ years in a row of dividends paid and increased), Dividend Contenders (10-24 years in a row of dividends paid and increased), and Dividend Challengers (5-9 years in a row of dividends paid and increased).
Much like ordering off of the menu of Serendipity 3, I have provided my fellow REIT investors with an appetizing menu of REIT options (below). Furthermore, the list of eleven REITs are grouped based upon the same dividend "buckets" used by David Fish.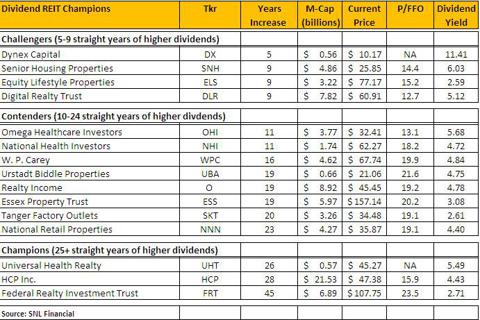 As you invest in or rotate out of REIT securities, it's important that you consider companies with lasting differentiation. By chasing some of the higher paying dividend stocks you could be sacrificing quality. It's important that you have knowledge that enables you to recognize risk as the potential for loss when things go wrong.
As Howard Marks (The Most Important Thing) wrote:
A skilled and sophisticated investor can look at a portfolio in good times and divine whether it's a low-risk and high-risk portfolio.
Marks, a brilliant investor I might add, went on to explain:
Controlling the risk in your portfolio is important and worthwhile. It's the investor's job to intelligently bear risk for profit. Doing it well is what separates the best from the rest.
Source: SNL Financial
Disclosure: I am long O. I wrote this article myself, and it expresses my own opinions. I am not receiving compensation for it (other than from Seeking Alpha). I have no business relationship with any company whose stock is mentioned in this article.