Recently, US markets have pulled back as investors have taken some profits on the worry that Fed stimulus may wind down as the economy improves. The Dow is about 425 points off its intra-day high, and US Treasury yields have gone higher, with the 30-year hitting a new 52-week high on Friday.
With equity markets pulling back, a number of stocks have as well. One name in particular is one I called for a pullback in last month, and it has come. Philip Morris (NYSE:PM) dropped $1.51 on Friday, losing more than $3.00 on the week. The stock is now under $91.00, nearly $6.00 of the recent 52-week high. For those that are looking to enter the name or accumulate more, this may be the opportunity you were waiting for.
Current expectations:
As we move further away from earnings season, you won't see too many analysts change their estimates for a company like Philip Morris. However, there will be some changes to the company's forecast, so I must mention where things are now. When comparing Philip Morris to others in the space, I look at three other names: Lorillard (NYSE:LO), Altria (NYSE:MO), and Reynolds American (NYSE:RAI). The following table is one I've used in several articles for this industry. It shows the currently expected growth in terms of both earnings per share and revenues. These are the analyst estimates for 2013 and 2014, as well as a two-year total. I've also provided each company's dividend yield as another way to compare these names. The yellow highlight indicates the leader in that specific category. I'll show two versions of the table, one from my last update, and the one from now.
(Expectations as of 5/1)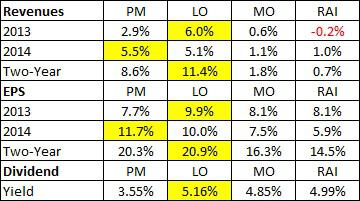 (Current expectations)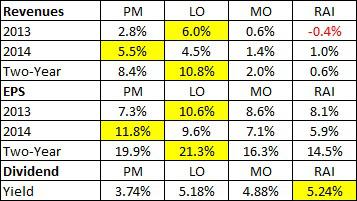 Since my last update, analysts have come down a bit on Philip Morris' revenue estimate. The average revenue forecast has been cut from $32.30 billion to $32.25 billion for 2013 and from $34.07 billion to $34.02 billion for 2014. In percentage terms, you can see how the 2013 and two-year totals have come down. Philip Morris still leads these four names in terms of 2014 expected revenue growth. On an earnings per share front, 2013 and 2014 estimates have each been cut by two cents. While Philip Morris still leads the 2014 earnings per share growth category, the reduction in the two-year total has the company a bit further behind Lorillard for second place for the multi-year figure. Also, thanks to the reduction in the stock, the dividend yield has risen about 20 basis points since my last update.
Lorillard has seen its 2014 revenue forecast cut from $5.17 billion to $5.14 billion, which obviously has taken down its 2014 and two-year growth totals. However, analysts have raised their earnings per share forecasts by two cents for this year and one penny for next year. That has pushed up the 2013 growth forecast. While the 2014 growth number has come down, it is due to the higher growth forecast in 2013. Because the 2014 forecast was only raised by a penny compared to two cents in 2013, the math just doesn't catch up. However, the two-year total is the most important number, and it is on the rise. Lorillard has maintained its 2013 and two-year total leadership positions for both revenue and earnings growth. It has lost the lead in dividend yield for now, but still has a solid 5.18% annual yield.
Altria has seen its 2013 revenue forecast decrease slightly from $17.61 billion to $17.60 billion. However, the 2014 forecast has been upped from $17.81 billion to $17.85 billion. On an earnings per share front, the 2013 forecast has been increased by a penny to $2.40. Since the 2014 forecast has not been changed, the two-year total is the same, with some different growth numbers for each year. Thanks to a small decline in the stock price since my last update, Altria's yield has inched up to 4.88% on an annual basis.
Reynolds has seen its revenue forecast cut from $8.28 billion to $8.27 billion for 2013, and by a similar amount to $8.35 billion for 2014. That means that the 2013 and two-year forecasts have been reduced. The company's earnings per share forecast has not changed since my last update. There is big news for this name, however. The company in early May raised its dividend from $0.59 to $0.63 a quarter, or $2.36 to $2.52 annually. Even with the stock rallying almost two percent since my last update, the annual dividend yield has jumped by 25 basis points. Now at 5.24% as of Friday's close, Reynolds has the highest annual dividend yield of the four names on this list.
Philip Morris versus rising interest rates:
One fear that may be causing Philip Morris shares to come down is rising interest rates. This can hurt the company and the stock in a couple of ways. First, I've been detailing some potential worries over the company's debt load. The company's debt (liabilities to assets) ratio stood at 107.30% at the end of Q1, up from 84.5% just two years earlier. That means that the company has negative equity, since there are more liabilities than assets. At the end of Q1, the company's debt load stood at nearly $25.6 billion.
While rates have been low, the company has taken advantage of that fact. Most don't expect rates to stay low much longer. In fact, they are starting to rise already. When this debt for Philip Morris comes due, if the company needs to refinance it, it will face higher interest rates, and that means more interest payments. That will ultimately mean lower profits, meaning less money for dividends and buybacks.
But the bigger concern has been one talked about in the markets lately. With interest rates rising, high paying dividend stocks become less attractive. Consumer names that have 4.00% annual dividend yields are more attractive when the 30-Year Treasury is at 2.90% than when it is at 3.30%. The chart below shows how the 30-Year Treasury rate has risen sharply in recent weeks, now at a 52-week high. While it may not be the best time to buy bonds just yet, yields are a bit higher than they were a month ago, and some investors feel that dividend stocks are less attractive.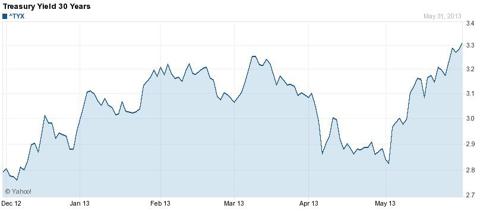 (Source: Yahoo! Finance)
However, I would argue that rising bond rates could make Philip Morris a more attractive name for the time being. Why is that? Well, Philip Morris has a fair amount of growth. Projected revenue growth over two years is 8.6%, a world of difference from the 1.8% or less growth that Altria and Reynolds give you. All of these names have decent earnings growth, primarily thanks to stock buybacks. It is the potential revenue growth that separates Philip Morris, and Lorillard as well.
It is that stock buyback that separates Philip Morris. The company has pledged to buy back $18 billion worth of stock over 3 years. That's $1.5 billion per quarter on average, something that has made Philip Morris an investor favorite over the past year and a half. The combination of growth and a solid buyback is what led me to initially recommend this name under $70 back in November 2011. That was well before the then current buyback plan ended (in 2012), which is when it announced the new $18 billion plan.
At the end of Q1, the company still had roughly $13.6 billion left on this buyback plan, as per its 10-Q filing (page 54). The company spent $1.5 billion in Q1, and its $6.0 billion target for 2013 means that you can expect another $1.5 billion or so in Q2 as well. With the stock at its lowest point since late March, you can figure the company might be stepping in these days to purchase shares while they are low. Just like I've recommended to investors, it is better to buy at $91 than $96. The company's buyback has certainly worked in the past. The table below shows the weighted average number of shares (basic and diluted) for Q1 over the past four years, in millions. In three years, that share count is down by 12.35%, quite impressive.

Current Valuations:
You could have the greatest company on earth, with great growth, dividends, buybacks, etc., but that doesn't mean it will be the best investment. Sometimes, it all comes down to valuations. If that "greatest company" is just too expensive, it might not be worth it. As those who follow me know, Philip Morris' valuation is one item I've tracked extensively in the past. The following table shows valuation metrics for each company in this article, as of my last update and now.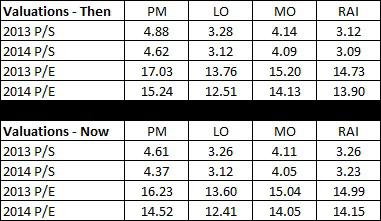 Philip Morris' valuation numbers have come down a bit since my last update. That seems logical given the nearly $5.00 decline in the stock price since then. Lorillard and Altria have seen small declines as well. Reynolds has seen an increase in its valuation, thanks to a rise in the stock price and a decrease in revenue estimates. Anyone that has read my continuous coverage of Philip Morris knows that PM shares trade at a premium. Investors have been willing to pay for the solid amount of growth and the sizable buyback. I've continued to track that premium, on both a price to sales and price to earnings basis, with the results found below (compared to my last update).

This is one of the largest declines in the premium I've seen from one update to the next. The current premium is also one of the lowest I've seen in doing these updates. I'm not saying that Philip Morris will be back to $95 in two days, but with the premium coming down this much, it is looking like a decent time to buy. There's a reason that this premium hasn't been this low this often, which tends to favor the long side of this name.
The analyst take:
I always like to look at what the professional wall street analysts think when it comes to the names in this space. The following table shows the average analyst rating, where a 1.0 is a strong buy and a 3.0 is a hold. The table also shows the average, or mean, price target currently, and the upside to that target from Friday's close.

It is not surprising that Philip Morris has the highest analyst rating. PM has been near the top in terms of analyst ratings in almost all of my updates. But this time around, the stock has the most upside to the average analyst target as well, and that hasn't been the case in the last few updates. Lorillard has owned the top spot, but not this time. I've also mentioned that Philip Morris tends to hit a short-term bottom when the analyst upside reaches the 8% to 12% (or more) range, while the time to stop accumulating is in the 3% to 5% (or less) area. At my last update, the upside to the target was just 2.92%. The average target has come up by $0.63 since my last update, and the stock has come down. With more than 9% upside to the target, Philip Morris is back in the sweet spot for accumulation.
Technical factors:
I don't use a lot of technical analysis in my work, but there are sometimes where you need to. Over the last couple of Philip Morris updates, I've shown how the company has traded in a range, and that Bollinger bands show decent buy and don't buy points. You can see in the 6-month chart below that we seem to be at one of those buy points yet again. Philip Morris shares pull back when they hit the upper Bollinger band, and find support at the lower band. We are at the lower band now, and the shorter-term charts show us just below it. The last time that happened was in December 2012. Shares went slightly lower from there and reached a low around $83. Since then, it had been a nice march higher until the recent pullback. If the stock were to pull back any further, it seems like $88 to $90 could be the next level of support. I don't see us going too much further than that, unless we get some large piece of news that changes the equation, or a huge market pullback.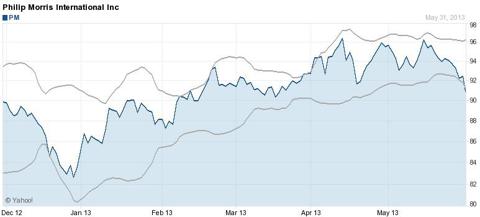 (Source: Yahoo! Finance)
Final Thoughts:
The recent decline in shares of Philip Morris make for an attractive entry point for new investors, or a chance for current investors to accumulate more. The company's growth profile has not changed much, while the dividend yield has risen by about 20 basis points in a month. The premium that Philip Morris trades at compared to others in the space has come down quickly to a very low level. Technical factors also suggest that Philip Morris may be reaching a short-term bottom. I recently picked up some shares, and I may be looking to add more if we go any lower. Philip Morris has encountered another one of its "patented pullbacks", and previous ones have not lasted long. I wouldn't be surprised if the company's buyback fires up a bit here while shares are low, and if it is buying shares, shouldn't you be?
Disclosure: I am long PM. I wrote this article myself, and it expresses my own opinions. I am not receiving compensation for it (other than from Seeking Alpha). I have no business relationship with any company whose stock is mentioned in this article.
Additional disclosure: Investors are always reminded that before making any investment, you should do your own proper due diligence on any name directly or indirectly mentioned in this article. Investors should also consider seeking advice from a broker or financial adviser before making any investment decisions. Any material in this article should be considered general information, and not relied on as a formal investment recommendation.