Over 14 million shares of Stratasys (NASDAQ:SSYS) valued at $1.1 billion will be released from lockup this week and are expected to flow into the market, pushing down SSYS' share price dramatically. This will be the first opportunity for many of these shareholders to sell shares on the open market. SSYS' CEO, directors and largest shareholders are expected to be amongst the sellers of these shares. The released shares are equal to nearly 1 month of average trading volume.
Following the merger between Stratasys and Objet Geometries on December 3, 2012 Objet shareholders received over 40% of Stratasys shares. Over 90% of the shares issues to Objet shareholders were locked up for a period of 6 months following the merger. The lockup of all these shareholders will end on Tuesday June 4th, 2013. The locked up Objet shareholders own collectively over 14 million shares of SSYS valued at over $1.1 billion (based on May 31, 2013 closing price of $84.05 per share).
These shareholders, until this week, never had the opportunity to sell shares in the public markets due to the fact that Objet was a private company. Several of them invested in Objet as early as 2002 and have been waiting patiently for the opportunity to sell shares and bank millions of dollars.
Many of the locked up shares are owned by directors and officers, who are subject to Blackout Period restriction, another trading restriction which will come into effect on June 15, 2013. This restriction applies to directors & officers and starts prior to the close of the upcoming financial reporting period and ends once results have been publicly released. Stratasys's second financial quarter closes on June 30, 2013, and the company will be reporting its Q2 results on July 29, 2013. Effectively, shareholders such as Elchanan Jaglom (Director and Chairman of the Executive Committee who owns 4.79 million shares worth over $400 million), and CEO David Reis (who owns 685,470 shares worth over $57 million) have 9 trading days from the end of the lockup period until the start of the Blackout period. If they do not sell shares in this period, their next opportunity to sell shares will be on July 29.
The combination of factors expected to boost the selling pressure in the near future is the following:
June 4th is the first opportunity in years to sell shares for significant shareholders;

On June 15th, the blackout period commences, restricting insiders from selling until July 29; and

The current valuation of SSYS is exceptionally high in Wall Street terms (extremely high P/E ratio).
Over the last 3 months, the average daily trading volume in SSYS shares has been 747,333 shares according to Yahoo Finance.

Click to enlarge
The expected sales pressure from shareholders such as Jaglom is over 20 times the daily average volume (i.e. nearly a complete trading month!), and is expected to place heavy downward pressure on SSYS share price.
According to the company's F4 statement August 6, 2012, the restricted shareholders which were part of Objet management team prior to the merger, own collectively 6,063,182 shares, valued at $509 million. Directors of pre-merger Stratasys own an additional 600,000 shares, worth another $51 million.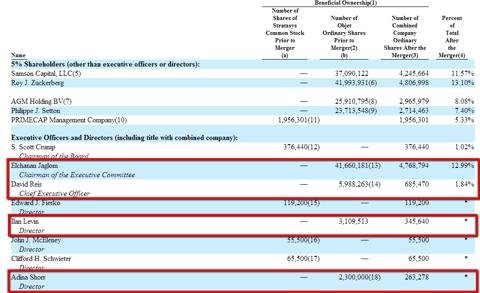 Click to enlarge
Major shareholders of Objet who received SSYS shares that have been locked up until June 4, 2013, own nearly 14 million shares, worth over $1.1 billion! It is important to note that for these shareholders, this will be the first opportunity to dispose of shares in the public market, since their Objet shares never traded on any stock exchange. We estimate that many of these shareholders will take opportunity of their ability to sell shares immediately.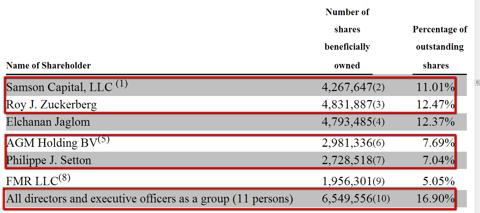 Click to enlarge
Over the coming weeks, we therefore expect heavy selling pressure to exceed any buying interest in SSYS shares, resulting in pressuring the shares down dramatically.
Stay tuned!
Disclosure: I am short SSYS. I wrote this article myself, and it expresses my own opinions. I am not receiving compensation for it. I have no business relationship with any company whose stock is mentioned in this article.