Vanda Pharmaceuticals (NASDAQ:VNDA) is making a stunning come back this year as FDA finally approved its schizophrenia drug Fanapt. But the story is far from over, and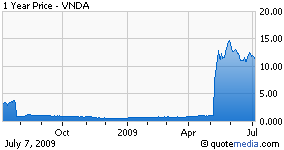 there is every reason to believe VNDA is still heavily undervalued and has huge upside potential. This is a potential giant market for Vanda if it can steal market share, and also makes Vanda a likely takeover target for large pharma. At more than a $15 billion market in 2007 and growing faster than many other markets, if Vanda can steal just 10% of this market, it makes for $1.5 billion in sales, and with 26.7 million shares outstanding, Vanda would price around $56, $28 if it takes just 5% of sales.
Currently, based on Vanda's website, it is not recruiting any salesforce. Also, there is no news that the company is raising money from investors. Apparently, it is looking for partnership or to sell the company outright. This does not come as a surprise, as in Feb, 2007, when its share price was still in mid-30s, Vanda already hired JP Morgan to find a partner for its experimental drug or to sell the company.
Here are a few quick facts about Vanda Pharmaceuticals:
The schizophrenia drug market is worth over $20 billion in 2009.
3 of the top 10 prescription drugs globally were schizophrenia drugs, with revenues of $3 billion or more each. They are Seroquel by AstraZeneca (NYSE:AZN), Risperdal by Johnson & Johnson (NYSE:JNJ) and Zyprexa by Eli Lilly (NYSE:LLY).
As recently as 2008, Merck (NYSE:MRK) paid Addex Pharmaceuticals $702 million to help "develop" a schizophrenia drug. Vanda's Fanapt is already approved and ready to market.
In the last 2 months, both Lundbeck (OTC:HLUKY) and Schering-Plough (SGP) have had setbacks with their schizophrenia pipeline.
With their FDA approval, Vanda stands a very good chance at becoming the new king of schizophrenia drugs as its drug has better safety profile than those already on the market. Other antipsychotics, used to treat patients with severe mental disorders, have been linked by the FDA to weight gain, diabetes and other side effects. Vanda has said that in clinical trials, iloperidone, which it will market as Fanapt, didn't cause "clinically meaningful" increases in weight, blood sugar or cholesterol. Schizophrenia patients also tend to change to new therapy.
The company also is developing an insomnia drug Tasimelteon that is in the final stage of testing normally required for approval.
Let's take a look at Vanda'a stock. There are only 26 million shares outstanding. That's not a lot for a biotech company, which shows how well management has handled the balance sheet. Almost half of the 26 million shares are held by SAC (Steven Cohen), Fidelity and Kevin Tang.
Vanda also has an injectable form of Fanapt which is only administered once every four weeks. This will be a huge benefit to patients that are challenged by taking daily doses of the tablet form.
Then it comes to the question of how to evaluate the buyout price. A precedent case is the 2007 buy out of New River Pharmaceuticals by Shire plc (SHPGY). On Feb, 20 2007, Shire plc acquired New River Pharmaceuticals Inc. for $64 per share, or approximately $2.6 billion in total, in an all cash transaction. At that time, New River had only about 10 employees, with a market capital less than $200 million, and its drug VYVANSE™ (lisdexamfetamine dimesylate) was for Attention Deficit and Hyperactivity Disorder ("ADHD"). The current total US ADHD market is only worth $3.3 billion, which is far less than schizophrenia. Based on the facts I listed above, you can easily come to the conclusion VNDA is still heavily undervalued.
Some amateur investors who have been negative on VNDA said a partner will only give VNDA high single digit royalty, that is completely not true. A most recent example is Elan (NYSE:ELN). On July 2, Johnson & Johnson said it was spending $1 billion to acquire a minority stake in the Irish drug maker and take over development of Elan's Alzheimer's disease drugs. Elan's rights to bapineuzumab and its other Alzheimer's drugs have been whittled down to 25% from 50%. That means, in a partnership involving advanced stage drug, the royalty usually comes about 50% or even higher.
Morningstar has given VNDA a 4-star rating with a $20 fair value estimate and a $50 sell target.
Disclosure: Long VNDA.