ARM Holdings (NASDAQ:ARMH) and its partners have been salivating over and hyping to the extreme their attempts to gain traction on Microsoft's (NASDAQ:MSFT) Windows OS. While many of us have believed this whole time that Intel's (NASDAQ:INTC) introduction of low power Atom parts would effectively kill Windows RT stone dead, it is now plainly obvious to even the most ardent Intel bears (and ARM bulls) that Windows RT is done for and that Intel - and its sidekick Advanced Micro Devices (NYSE:AMD) - will own these new Windows form factors going forward and allow Microsoft to take computing device share back from the Google (NASDAQ:GOOG) Android ecosystem.
It's The Small Tablets That Sell
When the iPad came out, it was a smash hit and sold like hotcakes... until the iPad Mini came out. Since that time, there has been a rather dramatic shift towards the Mini-sized tablets while larger Android/iOS devices seem to be languishing. Windows 8 convertible tablets at 10" seem to be doing okay, but that's probably because businesses and more work-oriented individuals like the 2-for-1 value proposition of an Atom or Core based 10" tablet. The Nexus 10 and the iPad 4 are hardly productivity devices.
But the trend among consumers really seems to be towards smaller tablets that supplement existing computing devices rather than supplant them (although my view is that "regular computing devices" will themselves become more tablet-like and portable). Google and Apple (NASDAQ:AAPL) are taking full advantage of this trend with the Nexus 7 and iPad Mini, respectively, but Microsoft has been heretofore absent from this race. The Windows 8 market share gains in tablets has been nice for both Intel and Microsoft but the real momentum won't build until the smaller devices are here.
Acer + Microsoft + Intel = Win?
Well, Acer - one of the leading PC OEMs - just officially announced its Icona M3 tablet which is based on Intel's Atom Z2760 "Clover Trail" chip. It's an 8" device that ships with full Windows 8 (not RT, but full Windows 8), a copy of Microsoft's Office, and for an extra $80, it comes with a full-sized keyboard. The tablet (without keyboard) is a mere $380.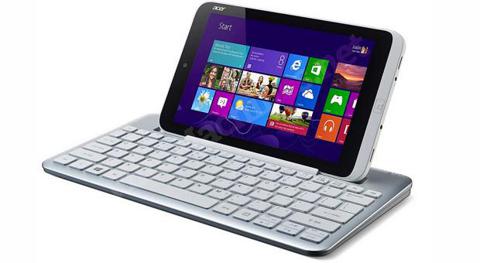 So, you've got a device that's only slightly more expensive than the $329 iPad Mini, but the value proposition here is clear: it's a full Windows 8 device that can connect to all Windows 8 compatible peripherals, run all Windows 7 programs, and on top of all of that comes with a pretty nice processor as far as 8" tablets go.
It is very tough to see how devices such as these, that offer a full PC in such a small package, will not do fairly well in the marketplace given the current trends in consumer devices.
So, How Does Intel Win?
A common argument is that Intel can't build a tablet chip - well, that one's been untrue for a while and will get even less true when "Baytrail" launches. Intel makes good low power tablet chips today, and X86 compatibility gives a home-field advantage on the Windows platform.
But more importantly, this shows that Intel can do low cost, low power chips while still maintaining good margins. People forget that we are discussing businesses whose jobs it is to make money. Do you think Qualcomm (NASDAQ:QCOM), Nvidia (NASDAQ:NVDA), and others are designing mobile SoCs for 25%, 30% or even 40% gross margins? Absolutely not! These are typically in the realm of 50% for the fabless companies using ARM IP (meaning they have to pay foundry margin + ARM royalties + initial architecture/processor licensing fee), so without this overhead, Intel should have no issue selling Atoms for 55%+ gross margins.
The issue has been the idea that raw margin dollars will be lower on these devices... naturally. But this is only a problem if you assume that for every Atom sold, Intel is losing a "Core" processor. Here is the problem with that argument:
Tablets are not eating too heavily into high end "Core" sales (which Intel has indicated have been strong), but instead the lower end "Pentium" and "Celeron" lines, which have ASPs more in the $35-50 range.
At these price points, there is likely to be rather substantially more unit volume, so for each "Celeron" or "Pentium" that is cannibalized, there may be 2 or more "Atoms" sold, which should lead to overall unit/revenue/gross margin dollar growth.
The low end of the PC/convertible space itself becomes more attractive with fanless, longer-battery life designs based on the revamped "Atom" core, which should not only stimulate additional demand, but should help to eat into the market share of Apple/Google based devices
In short, I think that "Haswell" and "Baytrail-M" will keep the more "traditional" PC segments flat to growing, while tablets in the 7" to 10" range will drive meaningful unit upside at solid gross margins for Intel even at these low chip costs.
The "myth" that ARM-based designs have an inherent cost advantage should be more broadly "busted" in short order as these cheap and capable tablets based on Intel's chips roll out, all while Intel's gross margin profile is preserved and top and bottom line growth occurs.
ARM vendors will have an incredibly tough time getting Windows RT off of the ground with Intel so aggressively pushing full Windows 8 devices. AMD should benefit as well as it gets to ride the wave that Intel appears to be driving.
Disclosure: I am long INTC, NVDA, QCOM, MSFT, AMD. I wrote this article myself, and it expresses my own opinions. I am not receiving compensation for it (other than from Seeking Alpha). I have no business relationship with any company whose stock is mentioned in this article.
Additional disclosure: I am short ARMH