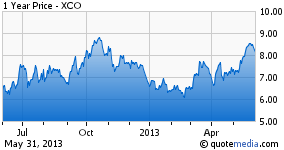 Exco Resources (NYSE:XCO) is an oil and natural gas producer with operations in the Haynesville, Marcellus, and Permian regions.
Shares of XCO are down about 60% from the initial takeout offer proposed by the current CEO in 2011. Shortly thereafter, natural gas prices tanked and the company's finances were strained; the stock dropped as low as $5.85.
Though shares have rebounded to $8.13 as of last Friday's close, the company looks cheap at a market cap of $1.75 billion, annual FCF of $1 billion, and several intermediate-term catalysts.
Cost Cutting - Exco has been aggressively cutting capital spending and is guiding for $1 billion in 2013 FCF. Its capital budget for 2013 is 45% lower than it was in 2012 at $273 million, and well costs in the Haynesville shale have declined 12%. On a YOY basis, Q1 direct operating costs per Mcfe were down 30%.
Sale of TGGT Holdings - TGGT is a midstream business with operations in East Texas and North Louisiana. The company has a 50% stake in TGGT, and believes it can obtain $500-$700 million for its share. Management said it's talking to a few interested bidders on its most recent conference call, so it seems more likely than not that a deal gets done before the end of the year. The proceeds would be used to pay down some of the $1.33 billion in debt.
Significantly improved balance sheet - Exco had a severe liquidity crunch as natural gas prices were bottoming, but the company has been paying off a large portion of its debt. Long-term debt declined from $1.85 billion in Q4 2012 to the current $1.33 billion. Of this debt, roughly $750 million is in the company's 2018 7.5% senior unsecured notes, and the remainder is essentially limited to a credit agreement of about $500 million. A sale of aforementioned TGGT would leave XCO with $500-$700 million to either tender for some of the outstanding notes or pay back the credit facility. The terms of the facility state that XCO cannot pay a cumulative dividend of more than $50 million over any four consecutive quarters, so my guess is that would be the primary debt target.
Strong Shareholder base - management also stated on the call that it knows ten people who cumulatively own 70% of the stock. Howard Marks' Oaktree owns 17%, Wilbur Ross (who also serves on the board) owns 13.7%, and Invesco (NYSE:ICS) owns 14.5% for a group total of ~45%. CEO Doug Miller owns about 1.5%, and board member/energy guru Boone Pickens owns about 4.5%. That's a little over half the outstanding shares accounted for, and most of these guys have entry points well above the current price of $8.13.
"Shareholder friendly" management - Or at least interested in increasing the value of their equity. The current CEO Doug Miller tried to take XCO private in 2011 for $20.50 a share in a leveraged buyout proposal, and has been very open about the possibility of trying to go private again or even changing the structure to an MLP (see conf. call Q&A). The company pays a 2.3% dividend.
Strong hedging program prevents significant downside, and natural gas price outlook is bright - 65% of the company's 2013 nat gas production has been swapped at $4.17, so a surprise collapse in prices as we move into the second half of the year shouldn't be catastrophic. I don't foresee such an event taking place anyway; if you read the quarterly reports of the other major producers like Chesapeake (NYSE:CHK) it's clear that they are being extremely cautious about bringing gas to market. Industry nat gas rigs held steady at 354 last week, four away from the lowest level since 1995.
Disclosure: I am long XCO. I wrote this article myself, and it expresses my own opinions. I am not receiving compensation for it (other than from Seeking Alpha). I have no business relationship with any company whose stock is mentioned in this article.