Even with continual margin pressures in North America and news of a slow down in Latin America, analysts maintain a high target price and expectations for Schlumberger (NYSE:SLB) and below I have outlined what factors I believe will help the company outperform the market over the next couple of years.
The Company
Schlumberger, originally founded by two brothers, has grown to become the largest oil and gas equipment and service company in the world with a current market cap of $98.57 billion. Per the company's 2012 annual report:
Schlumberger supplies a wide range of products and services including seismic acquisition and processing, drill bits and drilling fluids, directional drilling and drilling services, formation evaluation and well testing, well cementing and stimulation, artificial lift and well completions, and consulting, software, and information management.
Simple translation: Oil and gas companies pay Schlumberger and other service companies like Halliburton (NYSE:HAL) or Baker Hughes (NYSE:BHI) to analyze a reservoir and use their expertise to extract the oil or gas from the ground. Since every service company has their own technologies and methods, and every reservoir for that matter is different, there is really no way to compare exactly which company is the best so most contracts or jobs are determined by bidding, past work history, and availability. This plays to the favor of larger service companies like Schlumberger because they can leverage their name and scale to obtain and focus on more profitable jobs (more on that later).
High Expectations and Share Performance
Currently trading for $74.06 per share, analysts have a mean target price on SLB of $90.43 per share which indicates a potential gain of 22% this year. Comparatively, this is much higher than the implied price target gain built into the shares of Exxon (NYSE:XOM) and Chevron (NYSE:CVX), 3% and 5.5% respectively, but very close to the price target implied gain for HAL of 21%. Even though, as you can see below, HAL (and pretty much everyone else) has outperformed SLB significantly over the past three years.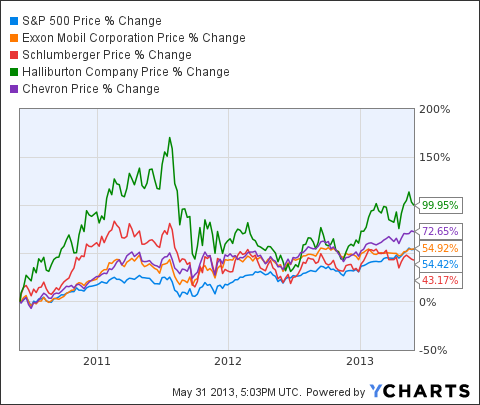 Also important to note is the fact that SLB has not performed as well as the S&P 500 (NYSEARCA:SPY). I point this out because the market is near its highest point ever and, should there be a pullback, SLB's underperformance could protect it from a dramatic fall as much as it could make it easier for SLB to outperform the market from its lagging current valuation.
Recent Performance
In the first quarter of 2013 SLB had revenue of $10.67 billion, down 4.53% from the previous quarter but up 7.56% from the first quarter of 2012. Looking back, the top line quarterly YOY growth has averaged 13% over the last five quarters. Similarly, gross margins have improved on average 12.8% YOY for the last five quarters, and were $2.226 billion in the first quarter of 2013, or 20.87% of revenues. Income margin of 11.8%, or $1.259 billion, was slightly below the 5 quarter net income margin average of 12.79%. Finally, EPS of 0.94 in the first quarter brought the trailing twelve month EPS total up to $4.08 for a TTM P/E of 17.89 at its current price of $73.03.
From all of this, we find growth YOY but an obviously weaker performance when compared to the last quarter of 2012. However, SLB was able to maintain its superior margins by allocating assets to more profitable locations and use of its efficient technologies. Each company in this space has their own formulas and methods that impact costs as much, if not more than, revenues and this directly affects the amount of money each company is able to extract from each project/job. As you can see below SLB has maintained a far superior lead on profit margins when compared to its closest competitors.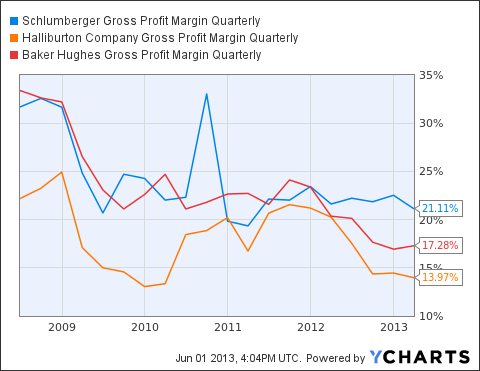 SLB Gross Profit Margin Quarterly data by YCharts
Focus and Advantage
This brings us to a discussion on SLB's technologies and asset allocation. The recovery of most oil reservoirs is approximately 35%, with gas roughly double and offshore approximately 10%. This leaves a lot of room for improvement and it's SLB's technologies that I believe significantly help the company maintain its superior margins. Since each reservoir is different, SLB has developed many technologies that monitor and map the flow and shape of the reservoir to help them execute or position the rigs, pumps and fracturing techniques in the spots most likely to maximize recoverability. As stated earlier, each reservoir is different and so the efficiencies of each company can not be judged exactly but we can assume that the efficiencies of each company, coupled with asset allocation directly, show up in the margins.
Following the revenue by activity and locale and then looking at the assets behind each activity and location helps give an idea of where the company's advantage is as well as how well they are capitalizing on it. Below is a look at revenue, income and assets by service.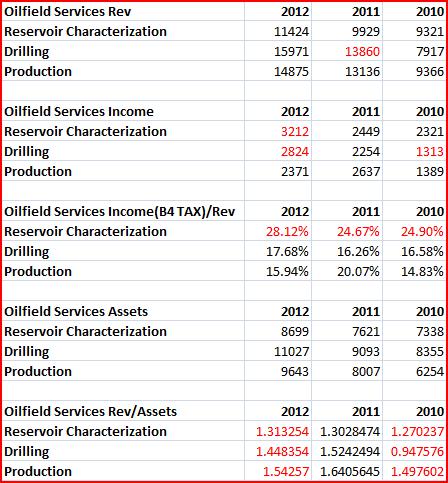 From this table, we can see that of the three revenue generating activities drilling has grown the most over the last three years, helped by a 75% increase from 2010 to 2011 and then another 15% gain in 2012. Of these activities, the highest income generator has been reservoir characterization which also has the highest margins, between 24.67% and 28.12% over the last three years. For these activities, SLB added between 16% to 21% more assets to each service which, as you can see from the last section of the graph, is a positive because over the last three years SLB has been able to increase the revenue produced for each dollar of assets employed.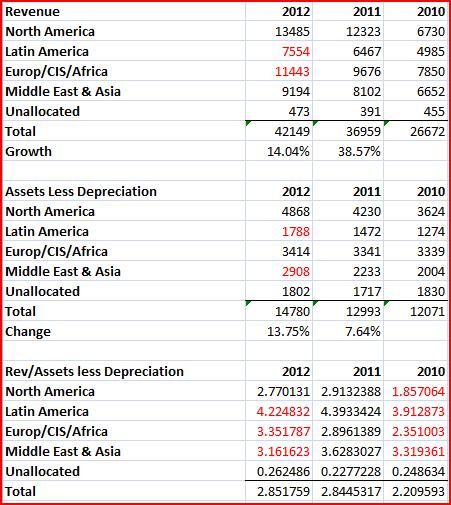 Breaking up the revenues per location we see that SLB has doubled revenue from North America, helped by a 35% increase in offshore, but had the highest growth in Latin America and Europe/CIS/Africa last year. The company has been targeting these higher margin areas by increasing assets in the Middle East by 30% and in Latin America by 21.47% last year. This expansion abroad is very favorable for the company and as you can see, while revenue/assets has grown significantly from 2010 to 2012, management is focusing capex by investing in the most profitable areas.
Valuation
Schlumberger is an interesting stock to follow because while it has managed to provide steady gains and returns for investors, its stock continues to be volatile which is somewhat of a gift because it allows multiple opportunities to pick up shares at cheaper prices. Currently, shares trade 10.6% off their 52 week high and 24.9% above their 52 week low at $73.03. As discussed earlier, they have lagged the performance of their competitors and are only up 5.79% YTD. While the recent pullback may be premature, the company does foresee a short term decline in investments by the majors which has a direct impact on their production. With this in mind, I think this is the perfect time to put SLB on the watch list because, as you can see above, the company is becoming more efficient and allocating more assets to more profitable projects. Most of the other companies in this space, like Halliburton, are also doing the same but at a much slower pace and still with the majority of their revenue streams in North America where margins have been declining.
SLB has an EV/EBITDA of 9.19 compared to HAL's 7.24 and BHI's 6.5. This would indicate it is selling at a premium but HAL and BHI's PEG of 0.8 indicate that an investor is paying more for their growth because SLB's PEG (per Morningstar.com) is lower at 0.6. I think that comparatively, this is fair and indicates that SLB's superior margins warrant the higher premium but the market is underpricing the company's growth. Also, as I said earlier in the article, analysts are expecting shares to appreciate 22% to $90.43, which is comparable to the expectations for HAL, but seem more plausible because unlike HAL, SLB has not been having to reserve a material amount for pending lawsuits. Just last quarter for instance, HAL had a pre-tax charge of $1.0 billion related to the Macondo well incident.
Bottom Line
The fluctuation in the price of oil and gas will always play a major part in how well the stocks in service companies like Schlumberger trade because their prices directly affect capital expenditures and in turn the amount of available jobs for these companies. Apart from that, it appears that SLB's slower moving shares now make them compelling as an investment because the company continues to become more efficient and invest more in the most profitable areas. SLB's reliability and avoidance of material losses even furthers my conviction in the company. I have over the years considered SLB as my long-term trading company because its wide price swings almost predictably allow for profitable buying and selling of the shares. And, at its current valuation, now appears to be a great time to pick up shares, and even more so if they pull back further.
Sources:
Schlumberger Annual and Quarterly Reports
Halliburton Annual and Quarterly Reports
Disclosure: I am long SLB, HAL. I wrote this article myself, and it expresses my own opinions. I am not receiving compensation for it (other than from Seeking Alpha). I have no business relationship with any company whose stock is mentioned in this article.