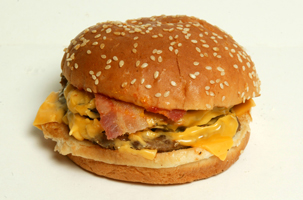 So-called "value" menus offering fast foodies a variety of options for a buck or less have proved popular for customers looking for a recession-friendly snack. But a new $1 menu play – a double cheeseburger – from Burger King (BKC) may change the game.
That's right, two patties for one dollar. While the initiative has not yet been approved, this could be a major summer value introduction.
The impact would be a significant lift to Burger King traffic trends, according to UBS analyst David Palmer, but it would also be a hit to food costs. He told clients that the new double cheeseburger would present a more than 15% increase in food cost (as a percentage of sales) than the current $1 offering – the Whopper Jr.
"The introduction could hurt traffic trends at burger competitors, and encourage competitive response," Mr. Palmer said.
Additional discounting at fast food, which represents 78% of industry traffic, could further limit a recovery in mid-scale and casual dining sales, he added.
UBS estimates that Burger King's U.S. same store sales fell 3% to 4% in June, after 4% to 5% declines in May. Mr. Palmer trimmed his earnings per share estimates for the fourth quarter ($.36 to $.34) and fiscal 2010 ($1.53 to $1.48) to reflect "somewhat lower sales and less food cost relief as a result of discounting."
He also cut his price target on the stock from $17.50 to $17.