Ivanhoe Mines Ltd. (IVN) has verbally confirmed that an investment agreement between the company and the government of Mongolia has received approval from the heads of the country's two major political parties in Mongolia, according to Desjardins Securities analyst John Redstone.
The agreement, which gives the government a 34% stake in the cash flows of the Oyu Tolgoi project, now awaits final approval from parliament.
"The parliament hopes to have the agreement approved before the beginning of Nadaam, a national festival beginning on July 11, 2009," Mr. Redstone said in a research note.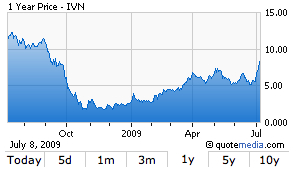 He does not expect this to pose a significant problem and is increasing his price target on Ivanhoe shares to C$12 from C$9.40. This accounts for the company's increased ownership in the Oyu Tolgoi mine, since the government was expected to hold a 51% stake.
It also reflects specific details obtained from a news release by Mongolian securities firm Frontier Securities. The release indicated that the massive copper and gold project is now subject to an upfront payment of between $125-million and $225-million, along with a windfall tax of 68% on the profits from the mine.
With a long-term copper price of $2 per pound, Mr. Redstone does not believe the 68% windfall tax will be applicable to the project. Therefore, it is not included in his model. It assumes that the project will come on stream in 2013 and that Ivanhoe will be responsible for building the mine infrastructure, including the mill, smelter and power plant.
The analyst expects Rio Tinto (RTP) will convert its debt and interest into Ivanhoe stock, and exercise all its warrants following the conclusion of a successful agreement with the Mongolian government for the development of Oyu Tolgoi. This would result in Rio Tinto holding more than 256 million shares of the Vancouver-based miner, or 42.7% of the share it would then have outstanding. Rio Tinto would be able to increase its holding to 46.65% through purchases in the market, Mr. Redstone added.