We always find it interesting how talk about the US taking control of its oil reserves seems to creep up at or near market tops. That is why we were a bit alarmed to see this article today. The US does benefit from higher energy prices as oil rises and does not have to risk any capital in the exploration of these resources. Could the rewards be greater if the government did implement a program like Norway? Absolutely. But one does have to think about the consequences and inefficiencies which would permeate the economy then. For instance, would we be drilling in North Dakota and Texas for liquids or a dry nat gas state such as Colorado because of the way they voted in the recent elections? Stick to what you do best we say and let capitalism do its work.
Chart of the Day:
We wanted to include this chart so one can see why we doubt that a move is made. Prices have been relatively stable and have kept below $100/share thanks in large part to the oil boom from shale drilling. So long as America's exploration companies are doing their best to keep prices below world prices, and they have, then there is absolutely nothing to complain about. The cheap oil and extremely cheap natural gas has been one reason that America's economy has recovered stronger than many regions of the world.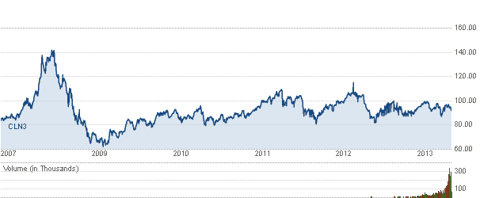 Chart courtesy of Yahoo Finance.
Commodity prices this morning are as follows:
Gold: $1396.20/ounce, up by $3.60/ounce
Silver: $22.405/ounce, up by $0.162/ounce
Oil: $92.09/barrel, up by $0.12/barrel
RBOB Gas: $2.774/gallon, up by $0.0191/gallon
Natural Gas: $3.975/MMbtu, down by $0.009/MMbtu
Oil & Natural Gas
We were sellers a few weeks ago in order to lower our risk as we closed out of our trading positions. We left some money on the table as we documented via our morning commentary, but it was due to our being early. Leaving that money on the table was fine, but we left our long-term investments alone as the indicators were not against us. We were recently asked where the indicators stood and we still think that they are indicating we are in a bull market. Simply look at Cheniere Energy (NYSEMKT:LNG) which still trades near highs. Until that name breaks through its uptrend, we are not concerned about the long-term viability of our energy picks and neither should readers. It has served us all well over the 18 months or so as an indicator and shall be entrusted until it is no longer properly indicating the market's moves.
Iron Ore
Vale (NYSE:VALE) continues lower and it broke the $15/share level on Friday with shares finishing the session at $14.40.share as shares fell over 4.6% on volume of 30.9 million shares. This downtrend will continue so long as investors around the world fear that China and India will be having problems attaining their growth numbers. The problems are not Vale specific, but industry specific. To be correct, let us call them commodity problems. Mechel Steel (NYSE:MTL) faces these same issues and with its proximity to China it might have even bigger problems, especially with the losses which have been piling up. Shares here were down over 15%, and things could get worse for investors moving forward if we do not see an uptick in growth in Asia. A Japanese turnaround could help.
It has been an ugly few months for Vale shareholders and shares have lost roughly a third of their value from the highs. It can still get uglier and will unless China and India see a pick up in growth.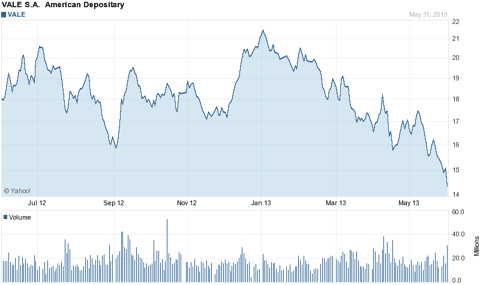 Chart courtesy of Yahoo Finance.
Solar
If the summer pullback has begun we would look to the solar stocks to show some serious vulnerability here. The rally has been fueled by some good news, yes. One must also remember that it has also enjoyed the bulls slaughtering the bears and that itself has created some easy gains which inflated the entire industry. SunPower (NASDAQ:SPWR) broke below $20/share on Friday and we would look for a serious retracement at some point as the shares have risen with almost no resistance since breaking back above the $10/share level recently. Watch these names if we head lower as they seem ripe for bears to once again establish positions.
Are we going to see a pullback or is this simply another base building moment for the next step higher?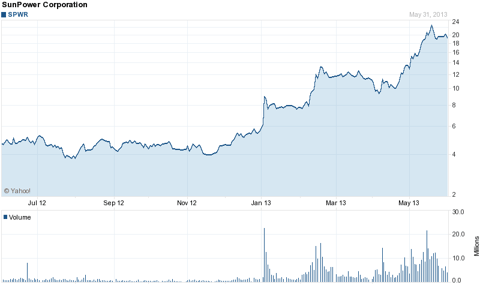 Chart courtesy of Yahoo Finance.
Precious Metals
The spin-off Sibanye Gold Ltd (NYSE:SBGL) was one of the better performers in a down market on Friday as many commodity names sold off into the close with the general market. One thing that investors need to pay attention to is that the world is changing. In Africa we have terrorism attacks on mines and workers seeking large pay increases. This is altering the miners' worlds and could lead to revaluing of the businesses. More concerning for investors is that we are getting more and more reports of the commodity supercycle ending and that is undoubtedly due to the fall in gold and silver prices. The latest article we found is located here. It is always worth reading what others think, even if one disagrees.
Disclosure: I have no positions in any stocks mentioned, and no plans to initiate any positions within the next 72 hours. I wrote this article myself, and it expresses my own opinions. I am not receiving compensation for it (other than from Seeking Alpha). I have no business relationship with any company whose stock is mentioned in this article.