How bad was the return for the utility component of the S&P 500 in May? It was the worst relative performance versus the S&P 500 (NYSEARCA:SPY) since November 2001, the month preceding the Enron bankruptcy as graphed below.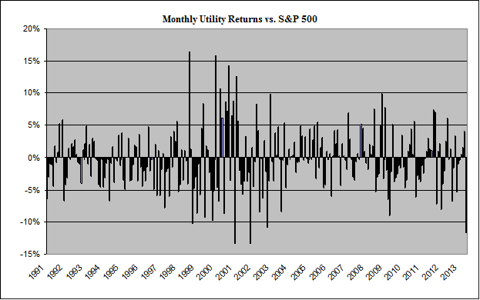 Source: S&P 500 Utilities Sector TR Index; S&P 500 TR Index
So what happened? The increase in Treasury yields disproportionately disfavored bond-like stocks with high dividend payouts including utilities and telecom. The trailing dividend yield on the Utilities Select Sector SPDR ETF (XLU, 3.86%) and the Vanguard Telecommunication Services ETF (VOX, 3.19%) are meaningfully higher than what is paid on the S&P 500 (1.95%). Investors punished equity sectors with more fixed income-like return streams. The graph below shows the cumulative return of these sectors year-to-date relative to the S&P 500. These sectors went from strong outperformers through the end of April to meaningful underperformers in the span of four weeks.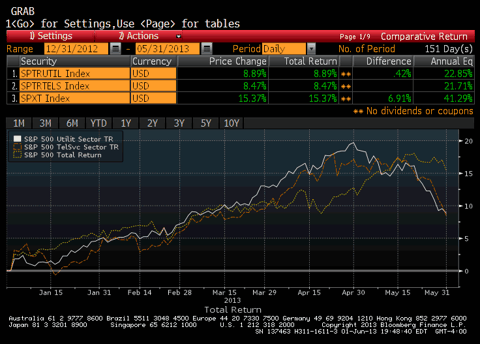 Source: Bloomberg; Standard and Poor's
So are utilities now cheap? A famed value investor certainly thinks so. Warren Buffett's Berkshire Hathaway (BRK.A, BRK.B) purchased Nevada regulated utility NV Energy (NYSE:NVE) for $5.6bn in late May, making Berkshire's MidAmerican Energy Holdings the largest U.S. utility by number of customer accounts. Below is a select listing of utilities in the S&P 500 Utilities Index. Each company on this table has a higher indicated dividend yield than NVE, trades at a lower multiple of forward earnings, and has produced a negative total return over the last month.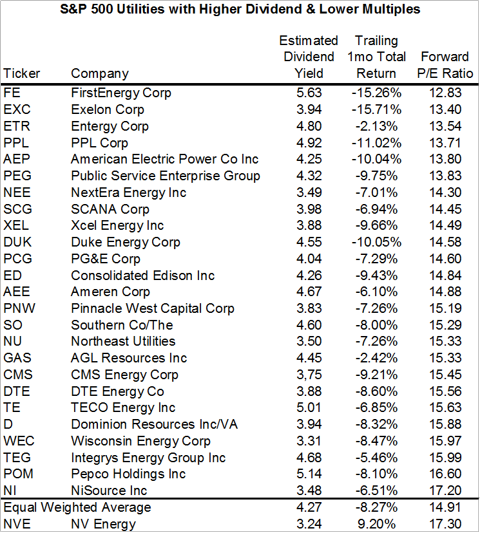 Comparison Versus Bonds
For the pounding that interest rate sensitive stocks took in late May, the yield on XLU is still higher than the yield on iShares iBoxx Investment Grade Corporate Bond Index ETF LQD at 3.85%. For the same cash flow stream, I would rather own the equity upside of being a utility shareholder than be the leverage provider by owning their corporate bonds.
The -9.05% return on XLU was larger than the -6.24% return on the Barclays Long Treasury Index (NYSEARCA:TLT). As a portion of QE3, the Federal Reserve is buying $45 billion of Treasuries per month (in addition to an equal amount of agency MBS). Long duration Treasuries, the securities most directly impacted by a tapering of monetary accommodation, actually outperformed utility stocks over the last month.
Conclusion
I believe that the utility sector is cheap, and should be viewed as increasingly attractive to the Income Investing community on Seeking Alpha. While the company list above details both gas and electric utilities, fully regulated and a mix of regulated and unregulated business, and features companies located in geographies with different growth trajectories, these utility stocks are still collectively trading at a 14% discount to the price Berkshire Hathaway just paid for NV Energy. Consider this a margin of safety discount to a purchase made by an investor that has a long history of traditionally not paying full sticker price.
Since utilities sold off in part on the belief that the end of quantitative easing is being pulled forward relative to market expectations, I would like to share my own view. This Federal Reserve Board of Governors has made it a point to increase communication - putting a date (mid-2015) on the continuation of floored Fed Funds rates, communicating the timing of asset purchases, and publishing bank stress tests. Over the last two weeks, the market has been whipsawed due to the commentary of various Fed officials - receiving mixed signals on the future of monetary accommodation - a direct departure from their policy of increased communication. Before the Fed can begin reducing purchases, they needed to send a "warning shot" to the market and gauge the impact. Because a large negative market move could reduce household wealth and send a negative feedback loop throughout the still recovering economy, the Fed needed to first gauge the impact of the potential for tapering purchases. I believe that the ultimate timeline for the reduction of monetary support is still data dependent, but the Fed now has a greater appreciation for the short-term impact of an eventual reduction in purchases. I still do not believe that the Fed will reduce its pace of purchases before the end of the year, and I do not believe that we will see ZIRP end until 2015. (For support to my arguments on Fed policy -I controversially called QE3 in February 2012 while also getting its form - agency MBS - and its linkage to the unemployment rate correct.)
For the same reasons utilities outperformed through April, they are an attractive alternative to anemic returns in fixed income in a still uncertain economic environment, I expect utilities to outperform the broader market over the short to intermediate term in part due to their attractive valuations relative to the recently announced Berkshire/NV Energy deal and in part due to my belief that we will see a partial reversal of interest rate induced selling pressure.
Disclosure: I am long SPY. I wrote this article myself, and it expresses my own opinions. I am not receiving compensation for it (other than from Seeking Alpha). I have no business relationship with any company whose stock is mentioned in this article.