Intel's (NASDAQ:INTC) Haswell release looks very promising. All of the benchmarks featured on Anandtech.com were favorable, and show how far Intel has come regarding integrated graphics. But the end user will pay a premium for these products. So as Intel gets hyped up over the next few days during the Haswell launch, I would like to give investors a few points to keep in mind.
You Get What You Pay For
Haswell has a varied array of on-die graphics available to be able to compete at many different price points. The following four graphics below will outline some of the various configurations of Intel's Haswell graphics lineup, as well as pricing for some of the models. On the 1k unit pricing for the mobile SKUs, fellow Seeking Alpha contributor Russ Fischer notes that high volume price is typically 55% of the 1k unit price. I cannot verify that number, but I will use 55% of the 1k unit price for the mobile offerings to provide a conservative estimate. The desktop prices are most likely within a few percent of what consumers will pay at a retail store.
(click to enlarge)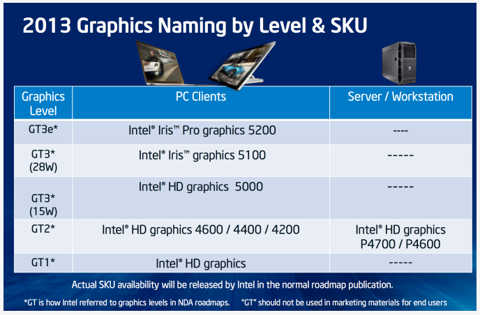 At the top of the heap, you have Intel's Iris Pro, which is actually impressive for an iGPU solution. It manages playable frames in several demanding titles at lower resolutions, which is actually a pretty good accomplishment for an iGPU. Gamers wanting to play the latest games in full HD will still need to invest in a discrete GPU. As you trend down the chart, as you'll see below graphics performance tapers off. Users wanting Iris Pro for desktop applications will have to wait for the i7-4770R.
The graphics below show which graphics solutions are available on various CPUs.
(click to enlarge)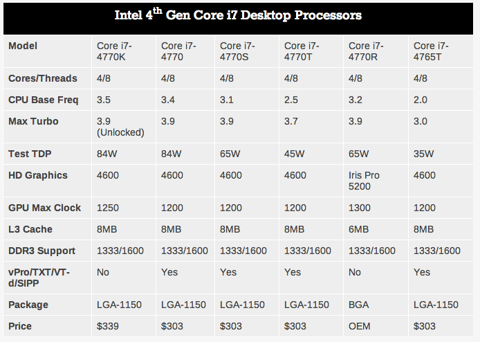 The following two graphics are taken from Engadget.com
(click to enlarge)


Relating Price to Performance
Below are a few benchmarks that I use to demonstrate the various levels of performance so a comparison can be made to price.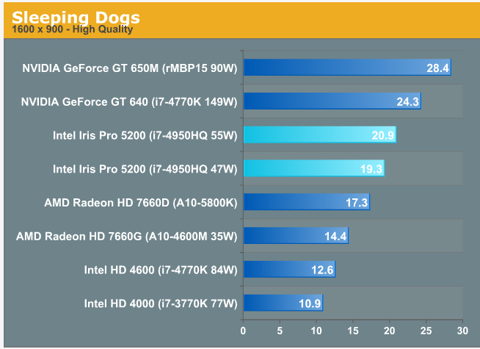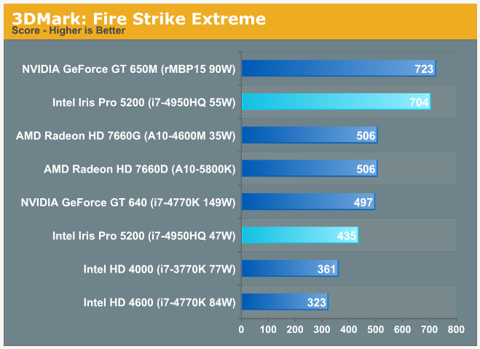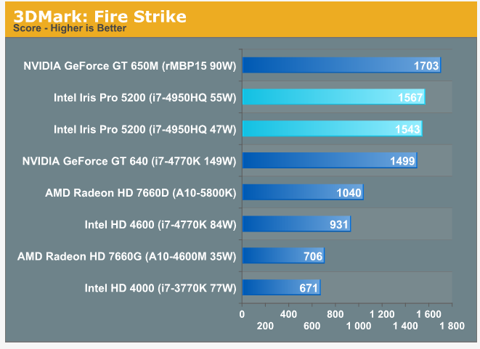 Three benchmarks here is sufficient to demonstrate a very loose price per performance comparison. Using 55% of the 1k unit price for the cheapest offering with Iris Pro graphics is roughly $257. So $257 is the price that a hardware vendor will probably spend on the CPU. Iris Pro achieves roughly playable frame rates in many titles at 1366x768 resolution. And these are demanding titles, so it should be more than adequate for light gaming or older titles.
Finding prices that an OEM would pay for an A10-4600m is fairly difficult, but with a little poking I am using a $75 price tag for my estimates. This should be very conservative, as it does not discount for the 1k unit pricing applied to the Haswell mobile offerings. If the 55% discount were applied, it would bring the price to roughly $40.
As you can see from the above benchmarks, the $75 mobile, Advanced Micro Devices (NYSE:AMD) 35W mobile A10-4600m essentially ties with the $339 i7-4770k desktop CPU on all accounts. For perspective, OEMs will most likely pay a little less than half of the desktop price for a mobile core i3/i5 processor with HD4600. These benchmarks are by no means all inclusive either. If you look at encoding/compute benchmarks, the i7-4770k has orders of magnitude greater performance than an AMD mobile APU. The A10-4600m also loses to Iris Pro on all but one account in the 3dMark Firestrike Extreme benchmark, and that appears to be an anomaly that I noticed only in this particular benchmark. The AMD A10-5800k retails for $130 on newegg.com, and handily beats the almost 3x as expensive i7-4770k in most instances of gaming benchmarks, but again fares worse in computationally intensive tasks. The A10-6800k is due to be released soon and will replace the A10-5800k.
Will Intel's Iris Pro Be Replacing Discrete GPU's?
No, or at least Anand thinks Nvidia (NASDAQ:NVDA) will hold onto its gamers. Here's what Anand had to say (to paraphrase if you'd like to skip, no regarding gaming, but good for ultrabooks.)
For the past few years Intel has been threatening to make discrete GPUs obsolete with its march towards higher performing integrated GPUs. Given what we know about Iris Pro today, I'd say NVIDIA is fairly safe...

Where Iris Pro is dangerous is when you take into account form factor and power consumption. The GT 650M is a 45W TDP part, pair that with a 35 - 47W CPU and an OEM either has to accept throttling or design a cooling system that can deal with both. Iris Pro on the other hand has its TDP shared by the rest of the 47W Haswell part. From speaking with OEMs, Iris Pro seems to offer substantial power savings in light usage (read: non-gaming) scenarios. In our 15-inch MacBook Pro with Retina Display review we found that simply having the discrete GPU enabled could reduce web browsing battery life by ~25%.
Many investors were under the impression that the Iris Pro graphics would nullify the need for a discrete GPU in regards to gaming. I do not believe this will be the case. As for light gaming, the Iris Pro would be more than adequate, but most users in this category could probably get away with the A10-4600M at a fraction of the price. The A10-5750M has been announced, but I have not seen any benchmarks for a better comparison.
Image taken from THG: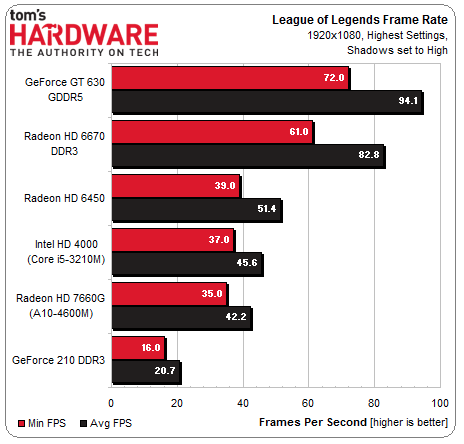 League of Legends is one of the most popular PC games. You can see the A10-4600M averages 42.2 FPS, which is more than playable.
Dota 2 is also another very popular title. Taken from THG: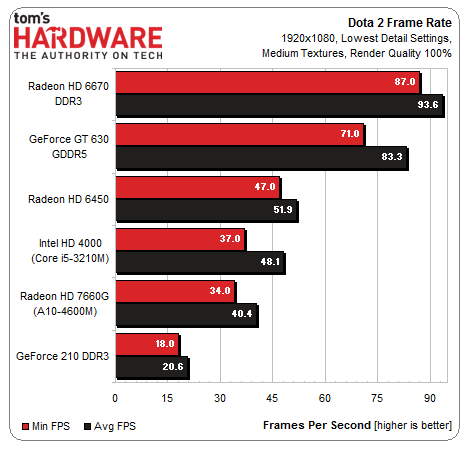 I did not cherry pick these games to demonstrate AMD's ability. I choose these two games in particular because according to pcgamer.com they are the most popular games in the world.
Premium Laptop Sales
Where Haswell really has a chance to shine is for users who desire more computing power with a great battery life. But I am not convinced this will apply to the majority.
CNN.com aired an article in October of 2012, regarding firms slashing projected sales of ultrabook style laptops. One point made was that ultrabooks were too expensive - they would be more attractive at lower price point. In a follow on article in April of this year they noted that PC sales suffered their largest drop since the IDC had started tracking PC sales in 1994. These Haswell CPUs will be aimed at higher-priced ultra books. Note the initial offerings of Haswell are the most expensive, so as Intel rolls out its Core i3/i5 offerings the price of these ultrabooks should come down.
Apple had the following to say during its most recent earnings call:
Turning to Mac, we sold just under 4 million Macs, which is a 2% decline from the year-ago quarter. IDC estimates that the global personal computer market contracted by 14% during the March quarter. We experienced strong year-over-year growth in desktop sales following the December quarter launch of our stunning new iMacs, offset by a decline in portable sales given a weaker personal computer market overall.
Even Apple's premium MacBook line suffered during the downturn. I have a previous article regarding Microsoft's (NASDAQ:MSFT) upcoming Windows 8.1 release in which I detail how tablet sales are quickly outpacing PC sales. My article also contains IDC information regarding smartphone sales. I think Intel's tablet and smartphone offerings is where there is potential for large revenue growth.
Summary
I think Haswell's more expensive offerings may be coming a little late unless we see a resurgence in the broader PC market. As the price of tablets and PCs come down, I do not see the vast majority of consumers world wide wanting to return to spending the premium for these laptops. Meanwhile, tablets are expected to outpace PC sales by 2017. At roughly $257 to an OEM, the i7 CPU alone is priced above retail price of many popular tablets. Dota 2 and League of Legends are two of the most popular games in the world currently, and both are playable on the now 1-year old A10-4600m, which is due for a refresh.
The Haswell offerings above are the most expensive. Over the next few weeks we will see additional SKUs for Core i3/i5 at cheaper prices. But these will still most likely be priced higher than the AMD offerings I am referring to, but the i3/i5 Core processors will not perform as well as their big i7 brethren.
My thesis weakens if ultrabooks sustain a rise in sales, and is strengthened if ultrabook sales slump while cheaper PCs and tablets see a rise in sales. I expect to see an initial uptick in sales from consumers (like me) waiting for these product refreshes to buy a new laptop, and even Intel's desktop line may see an uptick from buyers that have been holding out for Haswell. The trick will be if these sales can be sustained.
I am long Intel -- I like its prospects. Recently there was a headline posted on Seeking Alpha regarding Intel doubling in the next five years. This may be a very strong possibility -- but my position in Intel is somewhat dismissing Haswell, or at least the Core line of CPUs. Intel's technology definitely has potential. Engadget was very impressed with a gaming laptop offering from MSI. The laptop survived a battery torture test for 4.5 hours -- 2 hours is considered an accomplishment in this test. But the laptop also boasts a $2800 price tag. I like the example though because it shows the power savings capable from Intel, even in powerful devices. But I am much more interested in seeing the lower price offerings Intel brings to the table. In some applications, Haswell is expected to have a 50% battery life increase. By the end of the year we should start seeing 'Intel Inside' on more tablets and sometime next year on the back of smartphones. If the company carries its 22 nm process advantage and extended battery to these segments via its Bay Trail SoC line at the right price, Intel will be very competitive. Another Seeking Alpha contributor details Intel's growing prospects in storage solutions. These growing segments are where I am looking to see Intel shine, and not the PC market. If I am wrong and PCs do see resumed growth, that is an added bonus for INTC longs.
Disclosure: I am long INTC, AMD. I wrote this article myself, and it expresses my own opinions. I am not receiving compensation for it (other than from Seeking Alpha). I have no business relationship with any company whose stock is mentioned in this article.
Additional disclosure: I may add to either my AMD or INTC position at any time.