A couple months ago we saw the purchase of H.J. Heinz Company (HNZ), a diversified food processor. Many criticisms have surfaced as to the value of this transaction. I thought I'd look into some other food processors and see where they are. The first one that popped into my head was J.M. Smucker Company (NYSE:SJM). Why Smucker? Because I'm a kid at heart and I was eating ice cream with Magic Shell at the time.
Smucker had $5.91 billion in revenue these past twelve months. The company currently has $9,184,454 in assets and $3,924,218,000 in liabilities. When looking at the balance sheet we see very little fluctuation in numbers. J.M. Smucker is a conservatively financed company.
J.M. Smucker has paid a dividend since 1960, a year after going public. The current dividend sits at $2.08 with a 2.10% yield. Over the past 20 years Smucker has increase its dividend by 368%. Smucker has a payout ratio of 42%.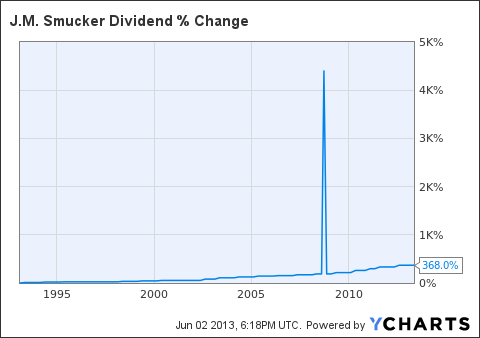 SJM Dividend data by YCharts
Current earnings for Smucker are $4.71 for the past twelve months. The Graham number is at $71.68. Earnings for the past seven years are as follows.
| | | | | | | | | | | |
| --- | --- | --- | --- | --- | --- | --- | --- | --- | --- | --- |
| Year | 2012 | 2011 | 2010 | 2009 | 2008 | 2007 | 2006 | | AVG | 25 P/E |
| EPS | $4.06 | $4.01 | $4.15 | $3.11 | $3.00 | $2.76 | $2.45 | | $3.36 | $84.00 |
We see steady earnings for Smucker which is what we want. However, based on its current price of $100.00 a share, it's overpriced by quite a bit.
Challenges
J.M Smucker is a company that wants to return long-term value to its shareholders. We see this in the dividend increases over the long term. There are many food companies in existence today. One way Smucker grows is by acquiring other brands. We see this with the merger of Folgers in 2008 and International Multifoods Corporation in 2004.
In both of these transactions shares were used to help purchase both companies which means that current stock holders saw their equity in the company diminish. In order to keep this under control shares need to be repurchased to ensure shares do not continue to rise. This also helps with future dividends as shares are bought back, less dividends need to be paid out. In the same 20-year period the outstanding shares of Smucker have increased by 668%, versus the 368% for dividends. This is down from its 2008 high at an increase of 770%.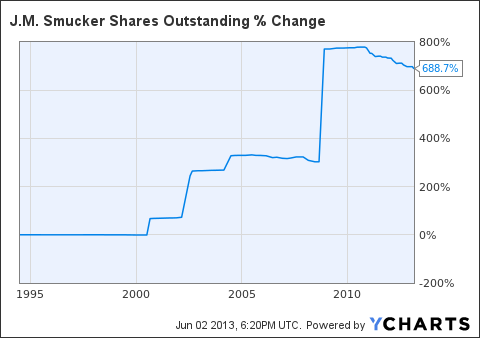 SJM Shares Outstanding data by YCharts
Conclusions
At the current price I would not open a position into Smucker, no matter how delicious Magic Shell is. Earnings continue to steadily grow which is good. Dividends grow as well with the earnings. At a payout ratio of 42%, which is not high at the moment I would be concerned with the ability to continue the growth as well as returning value as shares are used in order to acquire more brands.
If a buyback program is not in place to retire shares this will eventually catch up to itself and the return on value will greatly diminish or collapse altogether. Smucker is buying back shares but I'd want to see more buybacks as another merger or acquisition will greatly increase the shares once again.
It's always wise to know what your time lines and investing goals are. Right now Smucker's price is too high for me and the balance between growth and value needs to be adjusted a little more.
Disclosure: I am long IBM, KO, MPC, WMT. I wrote this article myself, and it expresses my own opinions. I am not receiving compensation for it (other than from Seeking Alpha). I have no business relationship with any company whose stock is mentioned in this article.