Curis (CRIS) is currently trading at $3.76 per share and is valued at $302.82 million.
Conclusions on Curis' Valuation
The estimated market value of skin cancer and Basal Cell Carcinoma drugs, all drugs, is approx. $1.9 bn annually;
The Curis drug, Erivedge® (vismodegib), now has been approved and is a drug for the treatment of Basal Cell Carcinoma, to the tune of $75,000 per patient;
My valuation of this drug, to Curis, assuming a global market for the drug of $1.9bn annually, a 7.5% royalty stream from the net sales of the drug for Curis and Roche capturing 35% of this market, is approximately $300-340 million, basically the value of Curis today;
Given that there are 4 other cancer drugs that are currently in Phase 1 and Phase 2 trials, essentially buying Curis today means you are buying a company that is giving you a "free option" on its ability to "monetize" the value of these 4 drugs, which are currently being valued at zero;
As to the question of what this free option is really worth, the best way to value this is by attempting to assign probabilities to an expected value to the cash flows to Curis of these 4 drugs. This is quite a complex matter, which I will write about in another article;
I would recommend following this company, and maybe buying on weakness, as there is no obvious catalyst at the moment to make the stock go much higher on Erivedge alone. The catalyst for buying the stock will come from announcements on the other 4 drugs in the pipeline.
As can be seen from the graph below, over the past 10 years Curis has not been the best investment, as the company's stock has bounced around $1 to $6. At present it is in the mid range of this price range.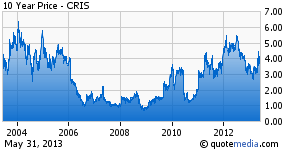 What is interesting is that now that Curis has finally delivered a real drug, namely Erivedge® (vismodegib), and yet the stock value has languished at below $4.00. I contend that this valuation is underwritten by the Erivedge drug alone, so barring any collossal mistakes from management, this is a stable value for the company, with little downside from these levels.
In January 2012, Erivedge was approved by the FDA as the first and only FDA-approved medicine for people with advanced forms of basal cell carcinoma. Curis earned a $10 million milestone payment from Genentech as a result of the FDA's approval of Erivedge in this indication and the Company is also entitled to receive royalties on Genentech's net sales of the product.
Curis does not own the cash flow stream from Erivedge® (vismodegib) directly, the drug is owned by Roche through a Genetech partnership. As such Curis will only receive Royalty payments for this drug. At present the Genentach royalty cash flow payments which are not disclosed, accrue to pay down a $30 million loan which carries a very high interest rate, of 12.25%. According to a Curis press release this loan is non recourse to Curis.
Given these circumstances, the valuation of this Curis cash flow is somewhat problematic. If I estimate a 7.5% royalty, then the value of this drug, then making some assumptions about the cost of capital for Curis, normalized over the 20 year period that we anticipate the Erivedge royalty stream for a $75,000 annual patient cost in developed markets, I arrive at a valuation that is approximately equal to the current value of the company.
(see spreadsheet below):
| | | | | | | | |
| --- | --- | --- | --- | --- | --- | --- | --- |
| Curis Drug Pipeline | Stage of product development | Est. Curis share of market | Valuation in $ M Share of Market | Patient Population affected p.a. in US | Patient Population in EU and Australia | Conversion Rate, Total annual Market inc Competition | Estimated Life |
| | | | | | | | |
| CUDC-427 Erivedge | Marketed | 35% | $6,611.33 | 800,000 | 900,000 | $1,912,500,000.00 | 20 |
| GDC-0449 Operable | Phase II | 20% | $0.00 | | | | |
| CUDC-427 (IAP Inhibitor) | Phase I | 20% | $0.00 | | | | |
| CUDC-907 (HDAC, Pi3K inhibitor) | Phase I | 20% | $0.00 | | | | |
| Debio 0932 | Phase i | 20% | $0.00 | | | | |
| | | | | | | | |
| Total Value of Drugs Developed | | | $6,611.33 | | | | |
| | | | | | | | |
| 7.CUDC-427 Erivedge PV of Royalty stream at 7.5% | | | $495.85 | | | | |
| Less taxes on PV of Royalty Stream at 30% | | | $148.75 | | | | |
| Financial Loss Quarter 2 | | | ($5.00) | | | | |
| | | | | | | | |
| Net Estimated Value of Curis only on Erivdege Cash Flow | | | $342.09 | | | | |
| Less Debt | | | ($30.00) | | | | |
| Current Market Value | | | $302.82 | | | | |
| | | | | | | | |
| Premium to Market Value | | | 3.06% | | | | |
In order to evaluate Curis's overall potential, I would assign probabilities to the outcomes of the drug development potential of GDC 449, CUDC 427, CUDC 907 and Debio 0932. I would then discount back the cash flows and arrive at an expected value which is just an estimate. The usefulness of this method of valuation is that we can see how effective management has been at realizing the potential of the undoubtedly great science of the company. I would wait to buy these shares, until we have more clarity on the situation relative to the business model the company is developing to realize some of the amazing science, see Curis Science below.
Recommendation: I hold these shares bought at various levels, and am very interested in the new drug potential of this company. However, as a long term investor, I am at the "show me the money" stage, and would very much like more clarity on how the company's business model will enable it to generate returns for its investors.
On Curis Science:
Human cancers are shown to have genetic alterations in components of multiple, intersecting signaling pathways, or networks, that are selected over several generations of cell division and support survival, growth, and invasion of the cancer cell. These genetic alterations afford the cancer cell a malignant phenotype, which results in the formation and maintenance of a tumor. We believe that targeting these critical components and signaling pathways, either singly or in combination, could provide more effective drugs and improve outcomes for cancer patients. We are developing small molecule drug candidates that are designed and discovered internally or acquired through license, which target a number of critical components and pathways altered in different human cancers

Curis is developing several proprietary clinical-stage small molecules in testing for various cancers, including antagonist of IAP proteins CUDC-427, dual PI3K and HDAC inhibitor CUDC-907 and EGFR/Her2 and HDAC inhibitor CUDC-101.

Curis' collaborator Genentech (Roche) is commercializing Hedgehog pathway inhibitor Erivedge® (vismodegib) in the U.S. for advanced basal cell carcinoma. Roche continues to seek approvals for Erivedge in several different territories in this lead indication and is also testing Erivedge in less severe forms of BCC. Several additional clinical studies are ongoing under collaborations between Genentech and the National Cancer Institute and independent study investigators.

Curis licensee Debiopharm is also conducting clinical studies on HSP90 inhibitor Debio 0932 in patients with advanced lung cancer and expects to initiate additional testing in patients with renal cell carcinoma during the second half of 2013.
Disclosure: I am long CRIS. I wrote this article myself, and it expresses my own opinions. I am not receiving compensation for it (other than from Seeking Alpha). I have no business relationship with any company whose stock is mentioned in this article.