Let's look at the U.S. dollar over the last 3.5 years. With the exception of June 2010, when the dollar traded as high as 88.80, the 84/84.50 level has served as stiff resistance. It appears a triple top pattern is being established on the weekly chart over the last three weeks. The horizontal red line shows the dollar's three failed attempts -- Aug. 2010, July 2012 and May 2013 (it seems, so far).
Stochastics are starting to roll over and I'm anticipating a 50% Fibonacci retracement to unfold. This would drag prices under 81.00, where the greenback traded in early 2013. This retracement would put futures under their 20-day and 50-day MAs on the weekly chart… which are kind of a big deal. As of this post, on the daily chart June futures are under their 20-day MA for the first time since May 9th and on the precipice of breaking below the 50-day MA, now just 15 ticks away from current trade.
So, why is the U.S. dollar's action so closely monitored?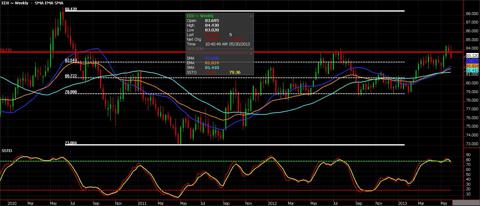 Click to enlarge
Because we're in the middle of a currency war! Nations around the globe are in a race to weaken their currencies. So far, the Japanese are in the lead, but quick on their tail are a number of European nations. The greenback's near 7% gain since February 1 only confirms what I've said before -- the dollar is just the best house in the worst neighborhood.
With market participants eying the possibility of QE3 being tapered off, central bank meetings, GDP figures, payroll data, unemployment figures and perceived inflation levels will be in the limelight in the coming weeks.
As for trade ideas, if you're not willing to be short the dollar… let's look to buy commodities and non-U.S. dollar currencies… instruments that typically exhibit an inverse relationship with the greenback. In my opinion, we could see short-term appreciation in energies, metals, cocoa, all European FX crosses (euro, swiss and cable) and commodity currencies (loonie, aussie and kiwi).
Risk Disclaimer: The opinions contained herein are for general information only and not tailored to any specific investor's needs or investment goals. Any opinions expressed in this article are as of the date indicated. Trading futures, options, and Forex involves substantial risk of loss and is not suitable for all investors. Past performance is not necessarily indicative of future results.
Disclosure: I have no positions in any stocks mentioned, and no plans to initiate any positions within the next 72 hours. I wrote this article myself, and it expresses my own opinions. I am not receiving compensation for it. I have no business relationship with any company whose stock is mentioned in this article.