This morning, Kodiak Oil & Gas (NYSE:KOG) announced that it is acquiring additional Bakken and Three Forks producing properties and undeveloped leasehold in the Williston Basin of North Dakota from Liberty Resources, a Denver-based private oil and gas company, for $660 million in cash.
The Transaction
Kodiak will acquire approximately 42,000 net acres located in McKenzie and southern Williams Counties, N.D. The acquired leasehold includes 35 controlled 1,280-acre drilling spacing units. Importantly, 90% of the acreage is held by production. The southern Williams County lands, approximating 14,000 net acres, are adjacent to Kodiak's Polar core operating area (acquisition acreage shown in light yellow on the map below). An additional 25,000 net acres are located in McKenzie County to the west of the company's Koala and Smokey areas (the "Ursid" area). The acquired properties appear to be contiguous, well delineated blocks.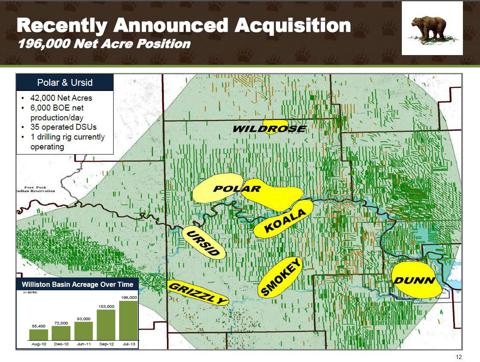 Click to enlarge
(Source: Kodiak Oil & Gas's June Investor Presentation)
Net oil and gas production included in the pending acquisition is currently ~5,700 Boe/d and is expected to increase in the near future as completion operations are currently underway.
Kodiak expects to fund the acquisition from its revolving credit facility. The company stated in its press release that it is working with its banking syndicate to complete a redetermination of the borrowing base to reflect its year-to-date completion activities and pro forma for this proposed transaction. Kodiak "will also evaluate all available financing alternatives."
Upon closing, Kodiak expects to initially run a seven-rig operated program, with one of the rigs operating on the lands to be acquired. Based on the additional capital expenditures for the acquired properties net of cash flow from those assets, Kodiak anticipates investment and projected cash flow "to be more or less equal" for the remaining part of 2013.
Valuation Analysis
The transaction appears to be reasonably valued, although by no means a "steal" taking into account the quality of acreage being acquired. I attribute approximately $250-$325 million M&A value to existing production and wells-in-progress included in the transaction (based on the very limited operating data disclosed and using certain decline curve assumptions). That implies approximately $335-$410 million paid for the undeveloped acreage and translates to valuation of ~$10,000-$12,500 per undeveloped acre, assuming that 80% of the acreage being acquired is undeveloped.
It is important to note that the Ursid area acreage, which represents almost two thirds of the acquisition acreage, is located at the edge of what is currently considered to be the play's proven high-prospectivity area (the "Full Development Mode" area shown in dark gray on the map below). It remains to be seen if drilling economics in this part of the play can compete with Kodiak's existing core operating areas.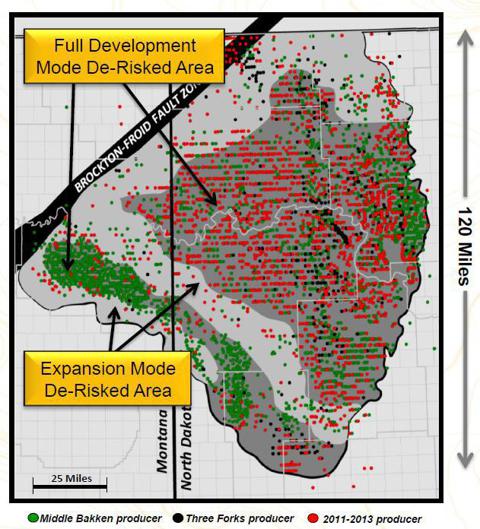 Click to enlarge
(Source: Continental Resources' May 2013 Investor Presentation)
Implications for the Stock
While Kodiak's press release indicates that in the aftermath of the acquisition its capital spending will stay within operating cash flow for the remainder of 2013, the transaction substantially increases the company's leverage and will likely use up almost all availability under the company's revolver (assuming the borrowing base is increased). While borrowing under the revolver provides a "bridge," a permanent financing solution is clearly required. A 100% bond re-financing is conceivable, given the company's strong operating results and expected production growth, but unlikely: Kodiak may not be able to avoid issuing some equity this time, either in the form of a straight common stock offering or a convertible financing. Both would bring into the spotlight the full per-share impact of the transaction and may put some downward pressure, at least temporarily, on the stock price.
Strategic rationale of the acquisition raises some concern, albeit not a major one. Given that Kodiak already has a decade plus-long inventory of drilling locations (which may prove to be even greater as Deeper Three Forks potential is unlocked), the acquisition effectively consumes the liquidity that could be used to accelerate the development of existing high-quality drilling inventory. Some of the acquired acreage, if of inferior quality, may not be called upon for many years and would represent a "negative carry."
While the company's desire to grow its footprint is understandable, it is hard to expect that many "bargains" can be found in the Bakken's highly competitive and increasingly transparent M&A market. Having said that, it is important to note that Kodiak's management has done a formidable job in building out the company's asset base in what later proved to be the core of the play through acreage acquisition and delivering strong operating results. In the long run, this transaction may prove no different.
Overall, the transaction has neutral implications for the stock value. Some financing-related headwinds would not be a surprise.
Disclaimer: This article is not an investment recommendation. Any analysis presented herein is limited in scope, based on an incomplete set of information, and has limitations to its accuracy. This article is not meant to be relied upon for investment decisions - please consult a qualified investment advisor. The information upon which this material is based was obtained from sources believed to be reliable, but has not been independently verified. Therefore, the author cannot guarantee its accuracy. Any opinions or estimates constitute the author's best judgment as of the date of publication, and are subject to change without notice.
Disclosure: I have no positions in any stocks mentioned, and no plans to initiate any positions within the next 72 hours. I wrote this article myself, and it expresses my own opinions. I am not receiving compensation for it (other than from Seeking Alpha). I have no business relationship with any company whose stock is mentioned in this article.