The consumer goods industry is a part of most portfolios, as it provides an inflation hedge and additional diversification benefits to the overall portfolio. The giants of the consumer goods industry, like Procter & Gamble (NYSE:PG), Johnson & Johnson (NYSE:JNJ) and Kimberly-Clark Corporation (NYSE:KMB), have become expensive over the past few years due to their resilience and growth. I am aiming to value PG while identifying its price return potential and growth prospects.
Company Background
Founded in 1837, Procter & Gamble owns the most popular brands that have strengthened its niche in the consumer market. You may know Gillette, Oral-B, Pantene, Duracell and Olay, which are sold in over 180 countries. The large product base has rendered PG irreplaceable. Beauty & grooming, and household care are two main global segments of the company.
(click to enlarge)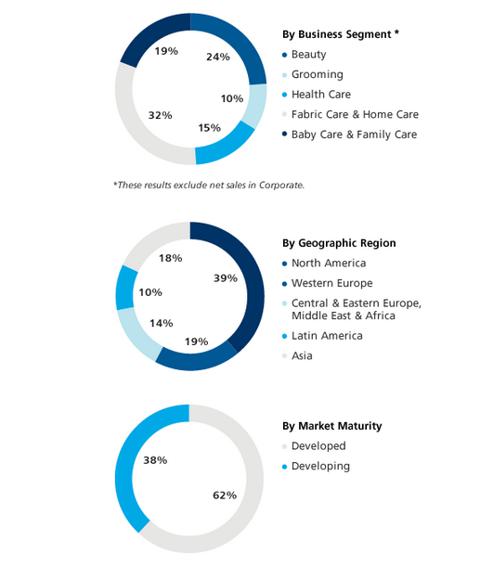 Source: Company Website
What do the Numbers say?
Compared to its main rivals, PG has the best statistics in many categories over JNJ, KMB, and the average in the consumer goods industry.
(click to enlarge)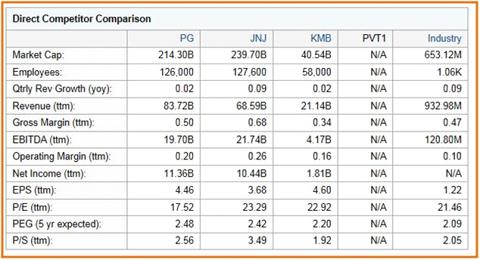 Source: marketconsensus
From the set of companies chosen, PG has a higher revenue, net income and PEG ratio than its two rivals and the industry average. PG seems to be undervalued compared to JNJ and KMB, as well as the overall industry.
Reasons to Invest in Procter & Gamble
It is built to last! Procter & Gamble has the most diverse global platform of any consumer goods company and has experienced the greatest success with some of its mega-brands: Head & Shoulders, Olay, Bounty and Pampers. These are strong brand names, which allow PG to maintain its pricing power, helping it combat its high cost with high demand from customers.
It has great stability. Consumer-based companies are a source of easy returns when the economy turns weak. Procter & Gamble grows steadily. It has a consistent revenue stream and is targeting earnings-per-share growth of high-single to low-double digits.
It has the William Ackman Factor, which is critical in every great stock. William Ackman is an investor who invested up to 2 billion dollars, which gives him enough to find ways to make changes to the company. Given the massive size of Ackman's position, he'll have lots of incentive to keep the pressure on P&G, which will provide a nice floor to the stock.
It's the perfect dividend stock for any serious investor. It has increased its payments to stockholders for 57 consecutive years.
(click to enlarge)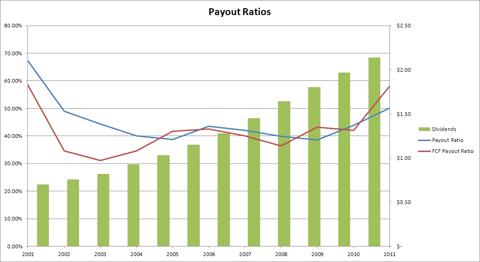 Fundamental Analysis & Return Potential
Procter & Gamble's average high dividend yield for the past 5 years is 3.27%, and 2.72% for the past 10 years. PG's free cash flow has been great since FY 2001, with every year reporting a positive cash flow. The payout ratio has averaged 44.0% since FY 2003, peaking in 2012 with a 58.5% ratio. The dividend payout ratio is currently at 68%. PG's average Return of Equity is 17.1% since 2006.
(click to enlarge)

Comparing PG with JNJ and KMB, one observes that the company's valuation is quite suppressed in the market. Its multiples are far lower than JNJ, whereas its P/E and P/B ratios are lower than KMB. Each of the multiples results in a higher price compared to the currently prevailing market price of PG. Being conservative, I allocated a higher weight to the lowest of the target prices. Even with the conservative perspective in sight, PG is offering a humongous upside potential of 64% from its current price level of $80.86.
Forecast
The chart shows the historical high and low prices since 2001, and the forecast based on the average PE ratios and the expected EPS values. In 10 years, the EPS would be $6.78. Slapping an average PE of 17.30, will give a price of $117.25. Over the next 10 years you'd also receive $38.89 in dividends for a total return of 197.50%, which is good for a 7.04% annualized rate.
(click to enlarge)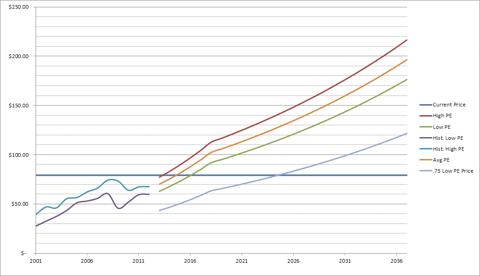 Conclusion
In conclusion, it is accurate to say P&G is a stock worth purchasing. It is expected to grow in revenue and net income in FY 2013. The current company's fundamentals and suppressed market price makes PG a profitable investment. Considering its plan to focus on marketing its product line to the needs of the faster-developing nations, which will add further to its success, PG becomes gold to dig for. Procter & Gamble is a definite buy.
Disclosure: I have no positions in any stocks mentioned, and no plans to initiate any positions within the next 72 hours. I wrote this article myself, and it expresses my own opinions. I am not receiving compensation for it (other than from Seeking Alpha). I have no business relationship with any company whose stock is mentioned in this article.