Earnings Preview- Week 1 June
Company #1: Dollar General Corporation (NYSE:DG)
Earnings Date: 4-June-2013
Average Expected EPS: 0.71
EPS One Year Earlier: 0.63
Expected Revenue: $4.24B
Revenue One Year Earlier: $3.90B
What To Watch For
As the 'creation' of more cost-conscious consumers comes into play after the recent recession, we believe that discount stores will continue to have good results even after economic recovery. DG is currently the largest discount store retailer in North America with 10,557 stores currently operating in this region. The company has plans to increase this number by 635 until the end of the fiscal year.
For earnings this quarter, we should keep an eye for an increase, if any of same store sales. Same-store sales need to stay positive to show continued momentum seen in last quarter's 3% growth. A decline in sales will be a major disappointment. Another item to watch in earnings is the company's margins. Over the past three years, DG has increased operating margins from 9.8% to 10.3%, and it is important for the company to continue to expand those margins. One of the ways that they have done this is to offer more tobacco products, which tend to have a higher margin than consumables and staples. If margins are stagnant, it could signal that DG is having trouble passing on higher prices and/or is not seeing continued growth in tobacco, which is key to their success moving forward.
Growth in store numbers is also expected to be a big driving force when it comes to improved results. Management stated that 50% of planned capital spending is going to be used on investment in store growth and development through FY2013. Good results in new stores will be important, but same-store sales growth is still more important.
DG's current PE stands at 18.33 and its Forward PE is 13.93. These multiples show solid value as we look for PE to be around 18 and future PE to be below 15 to buy on value. Therefore, expectations are not high moving into the earnings report, and a beat would be likely to help DG move more strongly.
Historical Analysis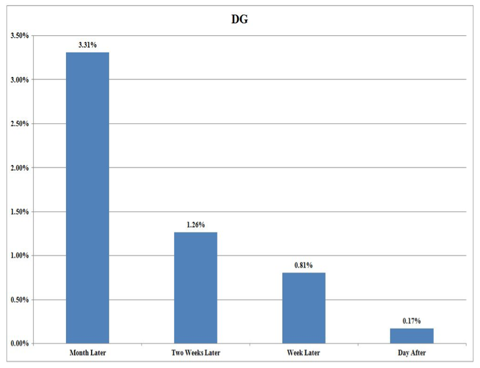 During the last 6Q DG has beaten EPS estimates, and we expect this to continue this quarter. On average for these last 6Q, DG has beaten estimates by $0.04 with the largest beat being $0.05 for three out six of the quarters. As mentioned, positive results are expected to continue with average EPS estimates having a 12% increase from year ago EPS( 0.63 to expected 0.73). With that said, how has the stock price moved in the 6 most recent quarters after beating estimates? The chart above proves that if significant gains are to be made, then one should wait one month after earnings are reported as this time period gives the biggest returns, 3.31%.
Key Developments
This quarter was characterized by better than expected results when it came to key economic indicators. This can be seen for example, with a better than expected consumer confidence index reported in May. This index reached its highest level in more than five years as it came in at 76. Although a discount store, we believe that DG will benefit from increased consumer confidence as a result of consumer loyalty attained during the recession. DG also announced that it was seeking to hire 10, 000 new employees in May. This further emphasizes its strong growth and the need to fill vacancies that are presented as a result of this.
Company #2: The J.M Smucker Company (NYSE:SJM)
Earnings Date: 6-June-2013
Average Expected EPS: 1.15
EPS One Year Earlier: 1.10
Expected Revenue: $1.34B
Revenue One Year Earlier: $1.36B
What To Watch For
EPS estimates for SJM this quarter are up 4% from previous year estimates. Over the last 6 quarters SJM, has beat estimates 3 times and it seems this quarter will add to this. The stock is up 19.03% year/date.
It's has been reported that the slide in food sales volume in 2011 and 2012 has ended and this should help SJM's earnings this quarter. Additionally, its coffee business has continued to be successful over the years, with just last quarter US coffee retail reporting a 27% increase. Continued success of coffee has also been helped by a partnership with Green Mountain Coffee Roasters (NASDAQ:GMCR), who recently posted great results driven by higher k-cup volumes. Some are expecting a slowdown in volumes for K-cups from SJM, but the company's non-coffee volumes are expected to be solid. Additionally, margins should be expanding as a result of coffee prices.
We should look for an increase in margins because of the announced decrease of 6% in coffee prices for products sold under the Folgers and Dunkin' Donuts brand. This decrease occurred because of green coffee costs declining. Offering coffee at discounted prices should have attracted more consumers to their brands, thus increasing revenues and likely margins.
SJM's PE is currently 21.53 while industry average is 27.9. Forward PE is currently 17.62. We believe the stock is reaching a point where it is correctly valued, so a miss here would hurt the stock fairly significantly, whereas a beat is more likely expected by the market already.
Full-year EPS estimates are $5.24 whereas revenue estimates are at $5.90 billion. This adds up to a 9% and 7% increase for the same period in the previous, further emphasizing the success that management expects to have.
Historical Analysis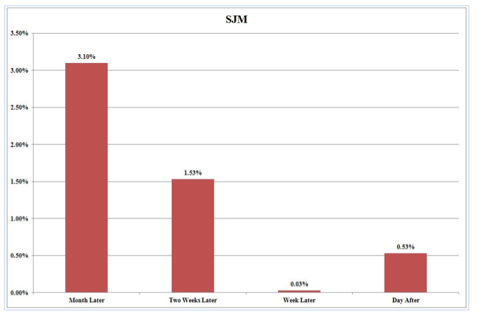 From the chart below you can see how the stock price has done in 4 different time periods after it has beaten earnings as we expect it to do next week. As with DG, the best time period is one month after reported earnings provided it beats. In this time period we can expect to see a 3.10% increase in stock price therefore we would recommend keeping the stock for that time period.
Key Developments
SJM announced that it was decreasing coffee prices by 6% for items sold under the Folger and Dunkin' Donuts brands. This occurs as a result of the constant decrease in coffee costs. This would make SJM products more accessible to consumers.
Company #3: Hovnanian Enterprises Inc. (NYSE:HOV)
Earnings Date: 5-June-2013
Average Expected EPS: -0.05
EPS One Year Earlier: 0.02
Expected Revenue: $408.61M
Revenue One Year Earlier: $341.70M
What To Watch For
Recent news in housing indexes has not done much to give analysts a positive view on HOV's earnings. Consensus EPS comes in at -0.05, while one year ago reported EPS was 0.02. The negative earnings this quarter may continue to occur as a lull in East Coast hoe buying occurs, but the end of negative results could be near an end. The company is expected to return to profitability this year, and this may actually be a buying point for HOV.
For March, the government reported that building permits had jumped more than expected for the month of February, while recently the Case/Schiller home price index was released stating that home prices saw the biggest increase in 7 years. This news gives us the belief that home markets are steadily improving. Revenue is expected to have a year/year increase of 20% as estimates came in at $408.61M.
As mentioned, what is key for HOV is the recovery of the economy, whereby families have enough money to continue building houses. This has been helped tremendously by current low interest rates. As result of this we should expect an increase in the number of net contracts. Last quarter there was a 24.6% increase and we can expect a similar number this quarter.
HOV currently has no PE as a result of negative EPS. Forward PE is currently at 12.53, which is low making us believe that it is undervalued. As a result of this, we should be able to see some gains after earnings especially since this could be the end of the red.
Historical Analysis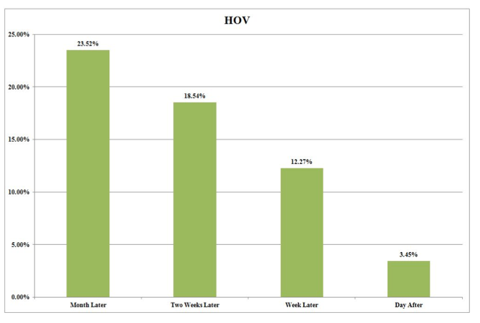 HOV has beaten estimates for their past 5 earning periods and although EPS is expected to decrease, we still expect it to beat these estimates. With this said, we can see below how the stock reacted after beating estimates during the last 5 quarters.
From the chart we can see that the further away from earnings we go, the higher the returns can be made. We believe that gains of 23% can be made in the near future as a result of announced earnings and the ever improving housing market. HOV is one of the stocks that we really like going into earnings as a result of the consistent large returns that have been made in the recent past.
Key Developments
The continuation of the Federal Reserve Policy that keeps interest rates low will continue to help the ever improving housing market as the economy heads into recovery. This will boost home builders like HOV as more consumers have enough income to spend on homebuilding. Other than that, the company had a quiet quarter.
Company #4: VeriFone Systems, Inc. (NYSE:PAY)
Earnings Date: 5-June-2013
Average Expected EPS: 0.47
EPS One Year Earlier: 0.64
Expected Revenue: $440.29M
Revenue One Year Earlier: $479.36M
What To Watch For
Average EPS analyst estimates for PAY this quarter comes in at 0.47, a 26% decrease from the same period in the previous year. Last quarter PAY beat all expectations reporting a 15% revenue growth year/year and an EPS increase of 38%.
As earnings are released we should look for a continued increase in new net domain names for the company. This is a great indicator of how the company is currently doing. Last quarter it reported a 2million increase in net domain names and we should look for this to continue increasing or to at least stay the same if quarter estimates are to be met.
In the past three months, PAY dismissed its CEO and announced that its immediate focus will be creating value for stakeholders namely shareholders. It was also announced that PAY is looking to increase exposure into the electronic payment systems industry in the future, signaling one of the main ways in which the business can grow. This 'payments-as-a-service' electronic payment grew by 25% during the last 12 months and there has been an effort to accelerate the implementation of this internationally with direct mention to Australia and New Zealand.
PAY's PE is currently trading at a high 32.40 while industry average is at 20.3. Forward PE is at 10.4 Pay has had a tremendous decrease in stock price as a result of the last few earnings and this may have already been priced in when calculating forward PE.
Historical Analysis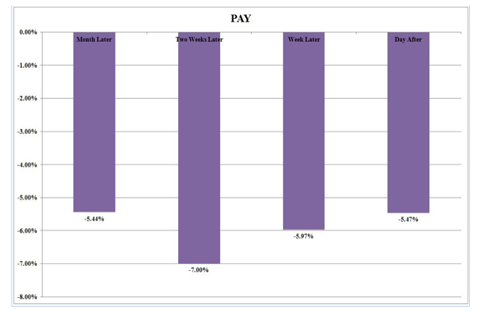 PAY is a stock that normally takes a huge plunge after announced earnings. This occurs if it beats or misses earnings as can be proven in the last six earnings periods with the chart below. During these last six earning periods, it has beaten estimates 5 times and still the stock price decreases. The decrease in stock price is normally more than 5% so we would say that traders should stay clear of the stock during earning periods. The time period with the greatest decrease is in the 'two weeks after earnings' period where the stock plunges to depth of -7%.
Key Developments
This quarter PAY dismissed its CEO, and the company said its focused more on shareholder value. While the announcement is positive, results needs to follow.
Disclosure: I have no positions in any stocks mentioned, and no plans to initiate any positions within the next 72 hours.
Business relationship disclosure: The Oxen Group is a team of analysts. This article was written by David Ristau, one of our writers. We did not receive compensation for this article (other than from Seeking Alpha), and we have no business relationship with any company whose stock is mentioned in this article