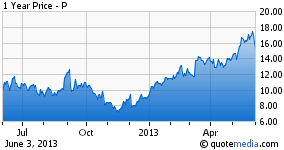 Pandora (NYSE:P) is up more than 64% year to date but the Internet radio company could be on the way out.
Internet radio service giant Pandora launched on the Web in 2005. The company lets its users create radio stations based on a favorite artist or song, then, through the Music Genome Project, lets users fine tune their respective stations by isolating which characteristics the user prefers, such as "major key tonality" or "prominent percussion".
As of the end of April, Pandora was responsible for 7.33% of radio listening in the U.S., up from 5.86% compared to the same month last year. As of the company's most recent financial results, active users were at 70.1 million, and growing roughly 35% year over year.
Fundamentals
The end of Pandora's 1Q14 also showed that total GAAP mobile revenue jumped 97% year-over-year, to $83.9 million, while non-GAAP mobile revenue rose 101% year-over-year, to $86.7 million. Mobile listener hours also grew, rising 47% year-over-year. The company's share price soared in response. Pandora reported earnings on May 23, 2013. Earlier that day, the company had traded as low as $16.01. By the end of trading on May 24, Pandora had reached a new 52-week high of $19.37.
Issues at Hand
However, the boost was not to hold. Aside from the momentum that tend to occur after a company posts glowing quarterly results, and naturally ebbs afterwards, Pandora was hit hard on June 3, dipping as low as $14.72, after news that technology leader Apple (NASDAQ:AAPL) inked a deal with Warner Music Group, adding to its existing deal with Universal Music Group and bringing the company one step closer to debuting its own Internet radio service. Rumor is that Apple is also in talks with Sony Music Entertainment. Add to this Pandora's long standing competitors like Spotify and IHeartRadio and Google (NASDAQ:GOOG)'s launch of a similar service last month, and it is just a matter of time before Pandora starts to lose market share.
Pandora does have an advantage in its use of the Music Genome Project -- tailored listening is bound to appeal to many listeners. Pandora is also less expensive. Pandora One subscribers, that is hose users who pay for unlimited, ad-free listening, pay $36 a year. In comparison, Google Play Music All Access users pay $7.99 if they subscribe before the end of June ($9.99 regularly). However, tech giants like Apple and Google are going to have more resources to leverage.
A Changing Market
In addition to the issue of competition figuring into Pandora's future success, there is a much larger matter behind the scenes -- Operating costs. Under Apple's new deal with Warner, Apple is giving Warner 10% of ad revenue -- more than twice what Pandora pays.
Now, granted, Apple has some issues to iron out in its deals. Factors like royalty rates and how long the company can offer a streaming music service before launching ads are still figuring prominently in its negotiations but it stands to reason that music companies are not going to want to charge Pandora less -- making for a very real risk that the company could see its operating costs increase down the road, if not sooner. Further, part of the reason that Pandora was able to see such massive gains last fiscal quarter was that it began to cap listeners on mobile devices, limiting free listening to 40 hours per month and, in so doing, reducing royalty costs.
Conclusion
Some of Pandora's descent is going to be the result of momentum; the market will correct itself. The company is simply doing too well right now. There may still be time for a shorter term play as the market corrects itself -- after all, Pandora is trading at just $15.14 right now and the company has a one-year target estimate of $19.89, making for an estimated return of over 31% -- but how long will Pandora continue to do well when faced with rivals like Google and Apple? My guess is not very long.
Disclosure: I have no positions in any stocks mentioned, and no plans to initiate any positions within the next 72 hours. I wrote this article myself, and it expresses my own opinions. I am not receiving compensation for it (other than from Seeking Alpha). I have no business relationship with any company whose stock is mentioned in this article.