Gravity (NASDAQ:GRVY) shares were quietly rising yesterday in a reaction to its first quarter financial results reported Wednesday morning.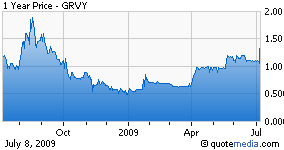 Net income came in at $4.1 million, reversing a prior year loss. It also appears to be the company's first profit in some time.
The GeoTeam® is attempting to uncover further details on the Gravity story. The company did not provide much information on its future outlook and impetus for growth. Part of the improved net income results was due to less amortization expense related to a prior acquisition. More puzzling is the fact the company did not provide EPS data in its press releases. Using the 2008 year end outstanding share count of 6,948,900 (27.1 million ADR), the GeoTeam® calculated a first quarter fully tax adjusted EPS figure of $0.49 (0.12 ADR). Using 6,948,900 as the share count seems like a fair assumption due to verbiage in its SEC 20F Filing (Filed June 30, 2009, page 80):
We believe that our available cash and cash equivalents and net cash provided by operating activities will be sufficient to meet our capital needs through at least the first quarter of 2010.
There are reasons to view this story with trepidation:
The company essentially has one product source:
"Due to the highly dependent revenue structure on Ragnarok OnlineTM , the Company is in need of diversified revenue structure, global market expansion and new business initiatives for sustainable revenue growth."
No business direction was provided in the company's press release. Thus, we are not sure if this quarter's profitability can be sustained.
No earnings per share data was provided in the company's press release.
We were unable to locate an investor contact person in the United States.
Company derives a good deal of revenue from royalty and licensing activities.
The

GeoTeam

®

has not thoroughly dissected the company's financial statements.
The

GeoTeam

®

is not absolutely confident that we used the correct share count to calculate an implied first quarter EPS figure.
Nonetheless, at its current price, the GeoTeam® is coding Gravity as a low tier special situation play. The key to the Gravity story will be its ability to diversify its product line and consistently generate profits. The stock may still exhibit some short-term price momentum due to:
The company attaining profitability.
Book value per ADR share as of the first quarter was $2.31.
Cash per ADR share as of the first quarter was $1.63.
Significant event- The company recently regained compliance with NASDAQ.
GeoTeam® urges investors to perform their own due diligence before making an investment decision.

Disclosure: Long GRVY