After Michael Dell's remark about a significant acquisition and a series of capital market activities, there has been a lot of speculation about Dell's (NASDAQ:DELL) acquisition targets. In April 2009, Dell sold $500 million worth of 5-year notes and in May it hired David Johnson, M&A head from IBM. Dell again sold $1 billion worth of debt around mid June. "Rumor" lists even tried to identify the target segment as data storage, services or software.
In any case, it looks like this may be the right time for Dell to diversify away from the PC business as assets are still cheap and Dell does need to switch direction to grow further. Here are some of the targets mentioned in Dell's "shopping lists" published by UBS, Avian Securities and Bernstein Research analysts: Acer, CommVault (NASDAQ:CVLT), Perot Systems (NYSE:PER), Salesforce.com (NYSE:CRM), Sun (JAVA), Data Domain (DDUP), 3PAR (NYSE:PAR), Compellent (NYSE:CML), Palm (PALM), Citrix (NASDAQ:CTXS), CSC, 3Com (COMS) etc.
Incidentally, it looks like this is a "hot list" of potential acquisition targets for anyone, as two companies out of these twelve, Sun and Data Domain, have already been acquired. Acer might not be a good target for Dell as it is quite big for Dell to swallow and it is an amalgamation of Gateway (GTW), eMachines and Packard Bell. Certainly there is a big mess from those mergers and acquisitions that still needs to be taken care of at Acer.
Actually, Acer is already neck and neck in the worldwide PC and notebook market with Dell and it is a close number three in the US, which makes me wonder whether Acer's management would even be interested in being Dell's target. Here is some data on the PC market from Acer IR (pdf warning).
Salesforce.com is in a completely different and very specialized business from what Dell is doing right now and it does not really help Dell against any of its competitors. Citrix, with a market cap of ~ 5.5B, and CSC, with a market cap of ~6.5B, are also too big to be Dell's targets (after looking at $1.5B debt offerings that Dell put out).
Although 3Com is mentioned as one of the possible targets, it's a big bag to buy for what Dell is interested in, the data center switching component. IP telephony, Routing and Network management may not be the markets Dell wants to get into. Extreme Networks, at its current price levels, may be a better option. Recently Extreme Networks also tested and approved integration of its switches with Dell's EqualLogic SANs solutions. Compellent is the smallest of the three data storage players in the list and it still needs to prove itself.
At present, Dell has better options in CommVault and 3PAR. Recently, Dell announced its intention to get into smartphones and handheld music markets and Palm may provide the right platform for it.
Here is some financial data on possible targets: Perot Systems, 3 PAR, PALM, CommVault and Extreme.
click to enlarge images

The market cap of all these companies is certainly in target range based on Dell's debt offerings. Looks like Perot Systems is the only Texas based company in the list and has home advantage. Revenue per employee is low for Perot systems but considering that it is a pure services company and a lot of its headcount is in low cost countries such as India and Philippines, it should be OK.
In data storage area, although CommVault's high gross margins are very attractive, it's purely a software play probably more suitable for Microsoft (NASDAQ:MSFT) or VMware (NYSE:VMW). 3PAR is the only company that grew last year in this list. Perot Systems' headcount of 23,100 could be a significant issue for Dell and there is some overlap in services it offers.
However in the service providers market it may still be OK to merge with a large player as you get more accounts that you did not have, and Dell will also get a lot of low cost geography headcount which in my opinion is a plus in current times. Extreme Network is cheapest of all and Palm's revenue per employee is in line with Dell's.
Here is also some strategic data on these possible targets for you to look at:

Perot Systems already has a strong strategic relationship with Dell. It could certainly provide a one-up advantage to Dell against IBM and HP (NYSE:HPQ) (with EDS) competition in its IT services business. 3PAR has a lot of web 2.0 type customers and it could possibly open new channels for Dell. Extreme Networks would provide some help against HP ProCurve and it's probably the only competitive independent switching systems company left in the market after Brocade's (NASDAQ:BRCD) Foundry Networks acquisition.
Here is the stock performance of these five companies in the last six months.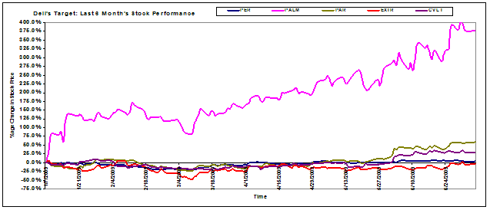 Palm is almost 400% up while 3PAR and CommVault are almost 50% and 25% up respectively. Extreme Networks and Perot Systems are trading at the levels where they were six months ago mostly untouched by the recent S&P run. Palm, at current price levels, is certainly not a cheap asset now as compared to its value three months ago.
Unless Dell has a real dream of getting into the smartphone business, and as quickly as possible, it would be too much of a change for Dell to start dealing with wireless service providers at once, and this acquisition may not actually benefit Dell's existing business by providing new sales avenues as much as Dell would like. Extreme Networks' market cap and total impact on Dell's existing business are both on the lower end of the spectrum. Perot Systems looks like a valid acquisition target for IT services and so does 3PAR for data storage market. David Johnson's hiring would also point to Dell's possible services ambition.
Although it would probably never happen, mainly because of geopolitical issues, another what-if scenario Dell's management should consider is an Acer-Lenovo merger or Acer going down the top PC vendors list to acquire again. Dell's need for more and more diversification out of PC market becomes much more real then. Even if, let's say, Dell acquires Acer and becomes a top PC vendor, margins in this market and the threat of another vendor from a low cost area rising again to capture more share will not justify such a bold move. Dell should look more towards the HP and IBM business model.
Disclaimer: Long DELL, PALM, PAR, EXTR