The Niobrara of the DJ Basin gets little press when compared to the Bakken and Eagle Ford. This play extends from Platte and Goshen counties in Wyoming to Elbert County in Colorado. I first covered this play in January of 2011, as Samson Oil and Gas made a huge discovery in Goshen County. This turned out to be an excellent trade as it sold this acreage to Chesapeake (NYSE:CHK). It did not turn out well for Chesapeake, as it has struggled to develop this acreage. Goshen County is not the top prospect, as Wattenberg Field in Weld County, Colorado has been the outperformer. This stacked play is prospective the Niobrara A, Niobrara B, Niobrara C, Codell, and Greenhorn. The Niobrara B is in full development mode, while the other source rocks are currently being tested. I will cover this specific area, and provide reasons to invest in the top small cap operators in Wattenberg Field.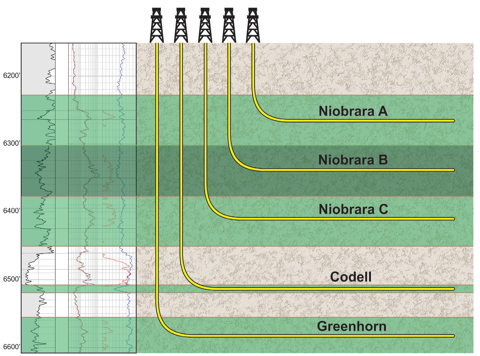 Click to enlarge
Noble (NYSE:NBL) is too large to be considered for this article, but it offers good data on development. It continues to be the biggest player in the Niobrara. It has de-risked more acreage than anyone in Wattenberg Field. This is an important area for Noble, as it has provided significant production growth. The table below provides data on how its wells are producing, and compares this to the Bakken and Eagle Ford.
| | | | | | | |
| --- | --- | --- | --- | --- | --- | --- |
| Well | Depth | Thickness | EUR | Liquids | Costs | Lateral |
| Niobrara Short Lateral | 8200 | 300 Feet | 335 MBoe | 65% | $4.5 | 4500 |
| Niobrara Long Lateral | 8200 | 300 Feet | 750 MBoe | 65% | $8.3 | 9100 |
| NE Niobrara Short Lateral | 8200 | 300 Feet | 345 MBoe | 85% | $4.9 | 4500 |
| Eagle Ford Short Lateral | 8000 | 250 Feet | 450 MBoe | 65% | $6.0 | 5500 |
| Bakken Long Lateral | 11000 | 115 Feet | 600 MBoe | 86% | $9.5 | 10000 |
The above table helps to paint a picture as to the general economics of oil wells in other U.S. plays. It has good thickness and depth, and decent liquids production. Well costs are low. Keep in mind that this is an average. The oil window of the Eagle Ford near Gonzales County produces much better EURs than the table provides. In this area, some operators are producing EURs of 1000+ MBoe. The same could be said in the Bakken near the Nesson Anticline in northeast McKenzie County. The well costs look a little high as well, and again this varies significantly. That said, the Niobrara looks very good on paper, and should continue to improve as operators get more comfortable in the play.
Bonanza Creek (NYSE:BCEI) may be the best way to play this area. This was an IPO flop, but made some investors look like geniuses. Bill Costello, Portfolio Manager/Research Analyst at Westwood Holdings Group has been on this name, which is up over 100% over the past 12 months. It currently trades around $37/share, and looks to be headed to $45/share over the next 12 months. A recent EPS miss provided a buying opportunity, but the sell-off wasn't warranted as it reaffirmed annual production guidance. I recommended and bought the stock on April 16th at $34/share. I sold the position at just below $40/share. The stock is beginning to look attractive again.
Bonanza Creek is currently developing the Niobrara B in Wattenberg Field. It has 4 rigs running. Well Costs are $8 million with EURs of 750 MBoe. It has drilled two and the second well had costs of $7.1 million. These numbers are for "extended reach" laterals, which Bonanza is now moving towards as early development focused on short laterals. It is using 40 stage fracs for its ERLs. Its first completion was good. Its 30-Day IP rate was 795 Boe/d with 76% of production being oil. The 60-Day was 680 Boe/d and 70% oil. Its B bench short laterals model to a 313 MBoe with 62% being crude. 30-Day IP rates average 458 with well costs of $4.2 million. Payout is in 1.5 years at today's WTI price. I liked Bonanza's initial results in the Niobrara C and Codell. These are short laterals. The table below provides IP rates.
| | | |
| --- | --- | --- |
| | Niobrara C Boe/d (Oil%) | Codell Boe/d (Oil%) |
| 30-Day IP | 444 (79%) | 370 (81%) |
| 60-Day IP | 383 (74%) | 367 (75%) |
| 90-Day IP | 340 (70%) | 335 (73%) |
The C bench looks to be as good if not better than the B bench. It's too early to say, but I am encouraged by its first well. The Codell has a higher percentage of crude and higher well pressures, but its first well lagged the B and C bench. In the 2Q, Bonanza will complete one extended reach lateral in the B bench. Three C bench wells will be spud and two Codell wells. Two wells will test 40-Acre down spacing. It plans to drill 72 gross Wattenberg Field wells this year. Costs continue to decrease in the DJ Basin. Drilling times have decreased, and completions costs continue to pull back. Its new water contract will decrease trucking costs, as it is closer than sources used last year.
PDC Energy (NASDAQ:PDCE) is the third largest leaseholder and producer in Wattenberg Field. It has 3 rigs running. PDC currently doing short laterals with 16 to 20 stages. Well costs average $4.2 million. EURs run between 300 and 500 MBoe. This year should see a marked increase in production as it starts pad drilling development. It is experimenting on spacing between the Codell, Niabrara B, and C. Last month, PDC began the 16 well Waste Management pad. This is the tightest well spacing test to date. It is important to note the location of PDC's acreage. Wattenberg Field varies in production from one area to the next. The center produces the largest amounts gas. This decreases in acreage to the outer edges of the field. The center or core of this acreage has the highest EURs. On average, this is 500 MBoe. The table below shows the differences in production by area.
| | | | |
| --- | --- | --- | --- |
| Area | Oil | NGL | Gas |
| Inner Core | 32% | 28% | 40% |
| Middle Core | 47% | 28% | 25% |
| Outer Core | 66% | 16% | 16% |
In the first quarter, PDC grew liquids production in Wattenberg Field by 16% year over year. The increase in liquids production positively affected it cash margin. This was double the average for all of 2012. The realized price of crude was lower than the first quarter of 2012, but this was offset by higher gas and NGL pricing. 83% of PDC's production came from Wattenberg Field in the first quarter of 2013. Of the 17 wells spud, 11 were in the DJ Basin. 4 were horizontal Niobraras and 7 horizontal Codell. PDC also participated in 10 non-operated Wattenberg Field projects.
PDC is very happy with the results of its horizontal program in Wattenberg. It states the Codell continues to outperform its Niobrara wells. It continues to garner data from all three benches of the Niobrara. There are rumors of down spacing to 20 acre spacing, but PDC is currently only confirming 40-acre or 16 wells per section. It will test 20-acre spacing later this year. On May 30th, Wunderlich increased its price target to $67/share. My estimates are not as optimistic, but still has upside at $58/share.
Synergy (NYSEMKT:SYRG) could grow at a faster clip than the other players on this list. The risks are higher, but so is the possible reward. To date, Synergy has been a vertical operator and horizontal Wattenberg non-operator. It has participated 11 wells to date. As of last month, it began a horizontal Niobrara operated program. Its Wattenberg Field acreage is to the north and outside the inner core. More important is its NE Wattenberg acreage. EURs are a little lower in this area, but it produces approximately 80% oil. Synergy's acreage is to the east of Bonanza Creek's purchase of its Hog Farm Prospect for $10640/acre. It is to the south of Noble's East Pony Prospect. East Pony EURs are 345 MBoe with average 30-Day IP rates of 620 Boe/d.
Its vertical Wattenberg program produced oil and natural gas growth of 87% year over year. Synergy believes it will be able to maximize production through a deep vertical program followed by horizontal in the Codell and Niobrara benches. In February, it brought an additional 16 wells to sales bringing the total to 134. Synergy has participated in 10 horizontals to date as a non-operator. It has used this Wattenberg experience to learn how to develop its own operated program. It has participated with Noble, PDC Energy, Bill Barrett (NYSE:BBG). Its first operated horizontal wells will be comprised of Codell and Niobrara wells drilled from one or two paths. It will begin using 80-acre spacing. The area currently supports 40-acre, but it's being conservative. It plans to infill later. Synergy has had an exciting quarter. It has closed an agreement with Vecta Oil and Gas. This added acreage at a very low per acre cost. A test hole will be drilled on this acreage in the fiscal first quarter of 2014. It successfully closed on the integration of Orr Energy, which added to current production. Synergy has recently received 30 notifications of pending wells on its acreage. The bulk of these wells will be started this year with some rolling over into 2014. It is important to note that Wattenberg will continue to get busier in more specific areas. Pad drilling will up inventories quickly in the better areas.
In summary, the Niobrara has been one of the best plays in 2013. Most had discounted the DJ basin as gas heavy without regard for the area as a whole. Wattenberg Field at its core produces just 32% oil or 60% liquids. Economics improve at the outer edge, where oil production increases to 66% or 82% liquids. EURs decrease here, but the higher percentage of oil improves rates of return significantly. To the northeast of Wattenberg, crude production increases to 80%. NGL production adds another 5% to liquids production. Early indications point to this as the best in play, but we are too early to prove this.
Well costs are low, using 5000 foot 20 stage laterals. The average is $4.2 million heading lower. Pad drilling not only decreases costs, but allows 40-acre spacing. There is no reason to believe down spacing to 20-acres is improbable. There are rumors this is happening in Watterberg Field, so hopefully we get positive news on this front. Completions work continues to decrease in cost, as zipper fracs allow for several wells to be stimulated at the same time. The Niobrara B bench has been largely de-risked. The Codell has also seen increased activity. The Niobrara C has had much less development, but looks to be tested in several large pad wells this year. Of the 16 well pads being drilled, most are going with 6 in the Niobrara B, 4 in the C bench and 6 in the Codell. Extended reach laterals are also lowering costs per foot. These 9000 foot 40 stage laterals allow each well to have a greater area of stimulation while decreasing the number of vertical feet per well. At $7.1 million per well, the operator can increase EURs to 750 MBoe. Noble's most recent Niobrara 9000 foot laterals model to an average of 1000 MBoe. Pad development could provide decent growth in good small cap operators. Since the pad is generally all drilled before completion work is done, larger costs will show up before production hits the balance sheet. The same can be said for production as pads come on line around the same time. We could see bottom line misses early in 2013. In the second half of the year, these same operators could beat top and bottom line numbers as all these pads are turned to sales. Due to this, I will continue to look at buying the above operators on dips.
Disclosure: I am long SYRG. I wrote this article myself, and it expresses my own opinions. I am not receiving compensation for it (other than from Seeking Alpha). I have no business relationship with any company whose stock is mentioned in this article.
Additional disclosure: This is not a buy recommendation. The projections or other information regarding the likelihood of various investment outcomes are hypothetical in nature, are not guaranteed for accuracy or completeness, do not reflect actual investment results, do not take in consideration commissions, margin interest and other costs, and are not guarantees of future results. All investments involve risk, losses may exceed the principal invested, and the past performance of a security, industry, sector, market or financial product does not guarantee future results or returns. For more articles like this check out my website at shaleexperts.com. Fracwater Solutions L.L.C. engages in industrial water solutions for oil and gas companies in North Dakota. This includes constructing water depots, pipelines and disposal wells. It also provides contracting services for all types of construction at well sites. Other services include soil remediation. Please contact me via email if you are interested in working with us. More of my articles and other pertinent information on the oil and gas sector, go to shaleexperts.com.