AT&T (NYSE:T) presents an above-average opportunity for at least the second half of 2009 because of its continued growth prospects with the reduced price iPhone/iPhone 3GS, attractive valuation, and remarkable yield. These characteristics outweigh my fears related to the uncertainty surrounding the Department of Justice probes and risks that AT&T will lose its exclusive contract with Apple (NASDAQ:AAPL) for future iPhones to Verizon (NYSE:VZ) or another competitor. Fundamentally this is a sound company that just happens to be surrounded by a lot of market noise.
The iPhone growth story has been written and reported ad nauseam so I will keep this brief: the iPhone trumps the competition. RIMM is a great company with a strong business (and growing consumer) presence but it lacks the breadth of apps or ease of use to really compete with the iPhone. Palm's (PALM) Pre is the talk of the town but it will have severe difficulty breaching Apple's walled garden or being able to reach critical mass with consumers. There is little debate that the iPhone has been anointed as the de-facto popular smart phone right now so investors may as well enjoy the ride similar to MOT (MOT) during the Razor craze (take note of MOT's chart before, during, and after the Razor era for a warning tale).
In terms of valuation, with a trailing PE of less than 12 and forward PE of less than 11, I believe that AT&T's growth is being underestimated. Despite sales being relatively flat TTM and the economy still uncertain, I cannot fathom T's EPS growth falling by half as some analysts predict. While the liquidity ratios are lower than I usually like for stocks I recommend (.5 quick and .6 current), they are in-line with the industry averages: with a market cap well in excess of $100B, this should not even be an issue.
The return on assets and on investment are both greater than the industry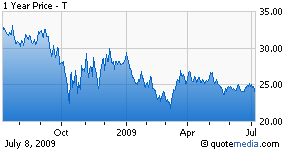 averages (4.8 and 7.8 versus 4.1 and 7.3, respectively) indicating management effectiveness yet the company is trading at a twenty-five basis point discount of price-to-book. The only additional thing that I would like to see management do is repurchase some shares, but with the yield, I cannot complain.
The dividend yield in excess of 6.7% is robust and appears safe, although the payout ratio over 75 is entering the danger zone. Given the fact that cash from continuing operations alone is virtually high enough to cover all other cash obligations, you have a certified cash cow; however, I do not envision T raising its dividend much (if at all) in the future. The yield is already significantly higher than historic averages and I anticipate capital expenditures to ramp up as T continued to develop/expand its network to keep pace with the iPhone traffic.
In closing, I do not believe that the DoJ inquiries will have a material impact on AT&T, although I do see the elevated uncertainty slowing its stock price appreciation in the coming months (but, hey, that's what the meaty yield is for!). These type of exclusive agreements are nothing new and have existed for entertainment software (read: videogames) since the birth of the industry. With the economy in such poor shape and talk of a second stimulus, I hardly think investigating the telecom industry and luxury phone contracts will become a priority. AT&T should be able to keep its exclusivity with Apple because AT&T needs Apple and is far more willing to subsidize its phones than other carriers would be. Now that AT&T has eaten from Apple's growth tree, I do not see it giving that growth up very easily. At the very worst, AT&T has lots of new subscribers locked-in with two-year contracts that should lessen the blow of potentially losing the exclusive contact.
Disclosures: I am long T, AAPL, and RIMM. I hold an immaterial position in MOT.