Jackson-Hewitt Tax Service (JTX) is the second largest "brick-and-mortar" tax preparation firm, trailing only H&R Block (NYSE:HRB) in returns filed. The company operates primarily on a franchising model, where franchisees open locations and pay royalty and advertising fees back to the parent, although recently the company has moved towards more company-owned stores, as a large franchisee came under DOJ investigation for tax fraud in 2007, hurting the brand name.
Historically, Jackson-Hewitt has focused on lower income filers, which are more likely to use physical locations instead of online software, and also are more likely to get a refund anticipation loan [RAL], which come with huge interest rates if they are not paid off quickly.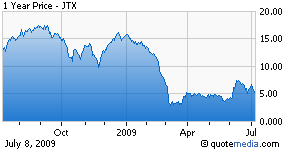 Not so long ago, Jackson-Hewitt looked like an attractively priced stock in a good industry. Tax preparation has a lot of desirable qualities. For one, it is not very capital intensive to sell franchises and collect royalties, allowing the company to grow revenues without requiring much expenditures, which in turn leaves more cash available for shareholders. Also, it is one of those "inevitable" businesses that Warren Buffett likes to talk about. Virtually every adult in the U.S. has to file a tax return, so there is almost no chance the market will just disappear or decline significantly from year to year. The stock's (then apparently) low price in early 2008 looked to be due to a one-time occurrence with a misbehaving franchisee, something that would hurt the brand for a year or so but then fade away. Unfortunately, things have snowballed downhill from there.
Today, Jackson-Hewitt sells at about 1/5th the price of early 2008, and the stock looks fairly valued. In late 2007, new management came on board, and the 2008 tax season was even worse due to the lack of an early season refund product, something that many of those low income filers relied upon. In 2009, the company offered a prepaid card option, but results continued to decline as many franchisees raised prices to get back lost returns from the '07-'08 debacles, a bad move in a weak economy. This also combined with the increasing trend of filers using online software to file returns, a market Jackson-Hewitt does not compete in. JTX saw a drop of 13% in tax return volume in 2009. Since 2007, the company has lost 20% of its business, suffered an operating margin decline from nearly 40% to about 19%, and delivered about 66% lower earnings per share. Bad momentum, indeed.
In June, the board of directors started to lay the groundwork for a turnaround or, maybe more likely, an auction of the company. Underperforming CEO Michael Yerington was replaced by H&R Block veteran Harry Buckley, and the board announced a relationship with Goldman Sachs (NYSE:GS) to investigate "strategic alternatives", which in Street-talk usually means a potential sale.
Some glimmers of hope exist. The company managed to negotiate an exclusive deal with Wal-Mart (NYSE:WMT) to add another 1,000 locations inside of their retail stores, which should slow or reverse the rate of tax return volume declines. An online tax prep product is planned for the 2010 season, though it will be an uphill battle against Intuit's (NASDAQ:INTU) TurboTax and Block's TaxCut. And there is always the potential of an outright sale of the company. Jackson-Hewitt's original founder, John Hewitt, took a 9% stake in JTX late last year, possibly in a bid to merge it with his Liberty Tax Service.
While these developments can give current shareholders some confidence, I can't recommend Jackson-Hewitt as a MagicDiligence Top Buy, or otherwise. RALs are an important part of JTX's business model, and banks are now shying away from them, making it a difficult proposition to continue offering them in the future. It will take time (and money) for any online product to gain traction.
There is still a significant amount of debt on the balance sheet, and not much cash. A lot of franchisee agreements (almost a third) are up for renewal soon, and there are a lot of disgruntled franchisees. There are few competitive advantages to make customers want to choose Jackson-Hewitt over any of its competitors. And the stock's earnings yield is not all that low, just 10.4%, much more expensive than most MFI stocks and probably a proper valuation given the cloudy future. At this point in time, MFI investors should steer clear of Jackson-Hewitt and look for something with a little more clarity going forward.
Disclosure: No position in any stocks discussed in this article.